Aluminum giant Alcoa (AA) reported second-quarter earnings that were slightly better than expected on Monday. Analysts had expected the company to earn $0.05 per share for the period, but the company earned $0.06 on revenue that beat consensus numbers, too, coming in at $5.96 billion. The firm also generated $246 million in free cash flow. Though we think shares are fairly valued, we continue to be impressed with the firm's ability to navigate challenging macroeconomic circumstances, and we think Alcoa's end market performance translates positively to other industries.
Year-over-year aluminum prices fell 18% and prices fell 4% sequentially, which negatively impacted both the top line as well as profitability. Alcoa continues to reduce capacity and improve efficiency, which should help lower the firm's profitability hurdle. Mid and downstream operations continue to be profitable for the firm, with its Engineered Products and Solutions segment posting a record operating margin of 19.9% in the second quarter. On the other hand, the Primary Metals segment swung to a loss, primarily due to weak aluminum pricing.
In spite of the large drop in aluminum prices, demand in several key end markets remains strong. Alcoa's aerospace segment is still expected to grow 13-14% for the year. CEO Klaus Kleinfeld noted that Boeing (BA) and Airbus (OTCPK:EADSY) have enormous backlogs that will continue to fuel growth going forward. We also think this bodes well for supply chain and components makers like EDAC Technologies (EDAC), Astronics (ATRO) and Precision Castparts (PCP). All three names are held in the portfolio of our Best Ideas Newsletter. We're huge fans of EDAC's future profit growth potential, given the massive recent increases in its backlog as the chart shows below: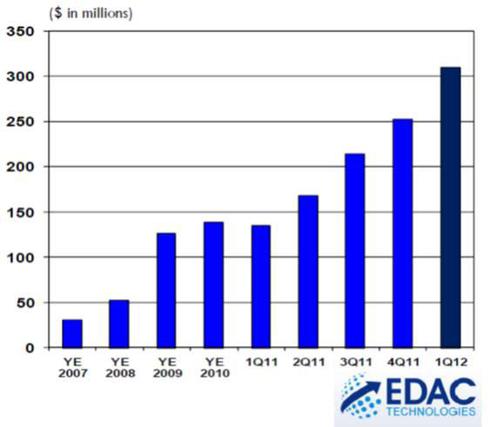 Image Source: EDAC Technologies
Additionally, Alcoa CEO Kleinfeld noted that the firm is increasing its outlook for its automotive segment. Alcoa expects the total segment to grow 4-8%, up from its previous outlook of 3-7%. Notably, this growth pace considers a -4 to -9% impact from Europe and a 10-14% positive impact from North America. This reflects positively on the US auto industry, and Alcoa specifically pointed to strong demand from one of our best ideas, Ford (F). Further, management acknowledged solid growth in heavy trucks as the refresh cycle will need to surface eventually.
Although Europe continues to be weak, Alcoa's results demonstrate that pockets of the economy remain robust, particularly aerospace and North American automotive. Further, Kleinfeld articulated that aluminum is not necessarily appropriately priced at current levels. The firm believes the commodity has been priced in harmony with other commodities, but that strong demand (Alcoa predicts up 7% for the year) and improved supply should ultimately lead to firmer prices that would benefit Alcoa.
Nevertheless, we think Alcoa is fairly valued. If shares dipped below $8, the low-end of our fair value range, we could become more interested. However, we generally do not like to invest in a company when its profitability is fully dependent on just one commodity and the price of that commodity is extremely volatile. The company also registers a poor score on our stock-selection methodology, the Valuentum Buying Index.
Disclosure: Firms mentioned in the article above may be included in our actively-managed portfolios.