American Eagle Outfitters (NYSE:AEO) is a staple clothing retailer in most US and Canadian malls that caters to the 15 to 25 year old demographic. It is in the process of expanding its concept store Martin + OSA to focus on the under served 25 to 40 year old market, as well as other new concepts that should be strong growth drivers in the future. AEO has very strong brand recognition with 12 to 19 year olds and is ranked 2nd only behind Nike in a spring 2007 survey by Teen Research Unlimited.
AEO opened it's first store in 1977 and has a loyal customer base that has grown up alongside the company. Since their core American Eagle stores cater to a younger crowd they have wisely decided to proliferate a new concept Martin + OSA. Many of AEO's customers that grow out of their core styles will now have an additional option to patronize AEO for another 10 to 20 years at this new concept (i.e. more sales/profits from existing customers).
AEO has not stopped there; it is also adding a sub-brand to the core American Eagle franchise called Aerie that first premiered in 2006 and has been successful according to management. Aerie will cater to women by offering intimate brands (i.e. bras, panties, etc..) as well as dorm room wear (hoodies, robes, boxers and more). This concept is being both integrated into existing American Eagle stores as well being built as a stand alone store due to it's success, so it looks like this is on its way to another successful concept (I will be following the financial metrics close on new concepts to ensure management is living up to historical returns). AEO has a strong online presence and ships their products world wide to at least 41 different countries.
AEO just announced its latest concept 77kids, which will focus on children ages two to ten. This is a brand extension of its core American Eagle Brand that will likely be popular with parents who grew up with this brand.
SWOT Analysis
For those of you new to the SWOT analysis this is a tool to help review a company's internal Strengths and Weaknesses as well as the external Opportunities and Threats to gauge how competitive AEO truly is vs. the rest of the industry.
Strengths
AEO has a plethora of strengths, which is why their financials have been so great over the years. They design their own lines and work with third party manufacturers abroad to get their final products into inventory. To date management has been successful in calling the trends and offering a compelling product consumers love to buy. AEO has performed superbly in merchandising and seems to keep inventory under control while offering an appropriate mix to minimize markdowns (this keeps margins high). AEO has a solid management team including their CEO who has been with AEO since 1999 (CEO since 2002). Mr. O'Donnell [CEO] was the COO of the GAP as well as various technology retailing companies. Mr. O'Donnell has done an impressive job implementing his IT knowledge to make AEO efficient (see the financial section for proof).
They have improved inventory mix and are in the process of testing new sales tools in some stores to enhance the shopping experience and drive more sales. AEO has over $600M in cash with $0 in debt, which is ample to help support their new concepts like Martin + OSA and Aerie as they are in start-up stages. These should be their future cash cows over the next ten years as they begin to mature.
Weakness
In terms of weakness the good news is there does not appear to be many. Its core brand is becoming partially saturated in the US and Canada, but still has a little room to grow and they have the rest of the globe to cover, which is only represented by the online presence today. While I view the new brand concepts as a long-term opportunity it could prove to be a distraction to its core brand in the short-term if these projects do not get resourced appropriately. There has been some concern that Martin + Osa are dragging the profitability of AEO, but management reaffirmed their commitment to this new brand this week. I also believe the lack of economies of scale will hurt the P&L in the short-term until they get a larger store base to spread the start-up costs to a large network.
Opportunities
As mentioned before AEO is launching two new concepts (Aerie and Martin + OSA) that appear to be successful, but time will tell as they build more units. They have also recently disclosed another new concept that will be highly leveraged off the core American Eagle brand, but different as it target kids two to ten. The new concept called 77kids will launch online in 2008 and consumers will begin seeing brick and mortar stores as soon as 2009.
I like the fact that they are targeting a new older and younger demographics with the Martin + OSA and 77kids concept as they will have a larger overall market to sell into and this age demographic is more willing to spend more per item so the average sales may be higher and the margins should be in line with historical figures assuming they are successful with merchandising.
The Aerie brand still targets the core 15 to 25 year old market, but adds additional variety (intimate apparel) that will draw more customers and may increase the average ticket sales driving up same store sales. On top of these three new concepts that could easily each turn into $1B+ brand, they are beginning to look at additional international expansion. It looks like they are currently looking for a partner that may have local experience in Europe, but we can wait and see how this progresses.
Threats
As rosy as a picture I painted above there are lots of threats that can derail this cash freight train, which include fashion changing without AEO getting the memo. If they do not plan their inventory levels and mix properly it could lead to larger than expected write downs (bye, bye margins). A second large threat is increased competition offering cooler brands and/or better pricing. Lastly we are beginning to experience a slowing economy and last time that happened AEO saw sales slow, margins decline, and a not so fun stock price.
The good news is the American consumer (especially in their target age group) has proven extremely resilient and a temporary economic slowdown is not detrimental to their long-term business and proves to be a great time to buy their stock (and maybe clothing) at a discount. The financial section will show that lots of bad news is already priced into their stock at the current level ($20).
Competition
images

The retail industry has always been and always will be a fierce battle ground. AEO has been in the business for 30 years and has earned its stripes with its core franchise, but with so many new competitors in malls and online they need to remain paranoid and innovative in order to profitably survive. Table 1 shows a list of just a few key competitors and how their financials stack up. AEO has a market capitalization of $3.5B, which is second only to its arch rival Abercrombie & Fitch (NYSE:ANF).
AEO has one of the lowest P/E ratios (11) and IRONICALLY the highest Net Margin (13.5%; this is fantastic but likely not sustainable).
AEO has an impressive owner's earnings yield (defined as Cash Flow from Operations [CFO] divided by market capitalization) of 18%.
The revenue growth rate looks low vs. the competition, but has averaged 15% over the past 5 years supported by three new concepts plus international expansion opportunities that should help support this in the future.
Financials
Looking in the rear view mirror AEO's prior 5 year financials have been extraordinary:
Net margins going from ~8% to ~14%
CFO (Cash Flow from Operations) growth 23% per year
FCF (Free Cash Flow) growth 26% per year
ROE (Return on Equity) 22% per year
ROIC (Return on Invested Capital) 18% per year
Graph 1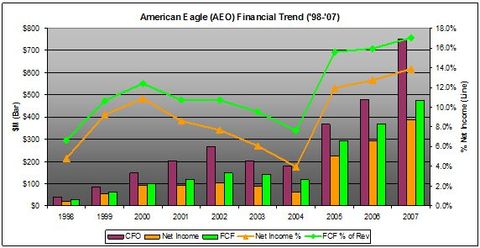 Looking at where AEO is today financially versus its stock price may leave some scratching their heads asking "Why is the stock price so low?...Is AEO going out of business?…Are we headed into a recession? These are the questions I have asked myself looking at the data, so let's walk thru it together. Graph 1 above shows a ten year history of AEO's financial trends with 2007 being the peak for all metrics. Free Cash Flow [FCF] as a percentage of revenue is at an all time high of ~17% versus their history of closer to 12%. Their net margin as a percentage of revenue is also at a record 14% versus 9%. Now I assume these will come down somewhat in the future as the economy slows and they launch new concepts. These new concepts will likely be a drag on earnings until they get traction and AEO realizes economies of scale. AEO should still continue to be a market leader driven by its low cost model and strong brand name.
Graph 2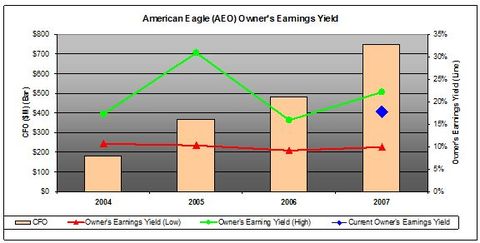 Graph 2 further illustrates AEO's success by showing the last 4 years Cash Flow from Operations [CFO]. Every year has been progressively better and AEO has increased CFO over the past 10 years by greater than 20% per year. This should be reason enough for high fives in the hallways! I plotted the CFO divided by market capitalization (Stock Price multiplied by Shares Outstanding) for the historical highs (green line is good) and historical lows (red line is bad). The blue diamond represents the current owner's earnings yield of 18%, which is getting near the top of the historical averages indicating there is value, but we could see further opportunity if AEO reports any bad news leading to an even lower stock price.
Graph 3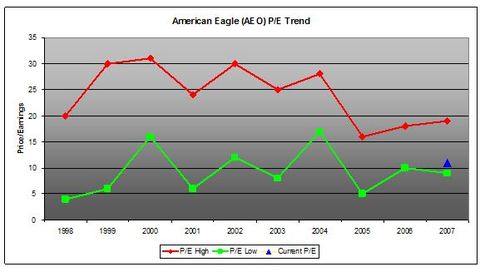 Graph 3 is the historical P/E (Price to Earnings) ratio trend over the past 10 years. This indicator like graph 2 shows we are not at the bottom, but much closer to the bottom than the top. The current P/E is 11 and AEO has traded in a range of 5 (Low) to 30 (High). If we assume flat earnings ($1.82), but the P/E goes to 5 that means the bottom is ~$9 and the top is ~$55.
Graph 4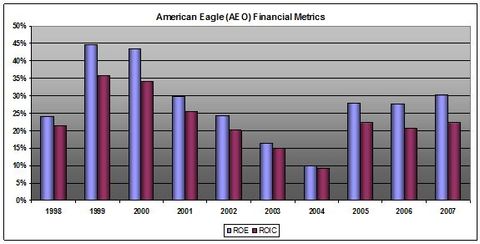 Graph 4 illustrates the last 10 years of ROE and ROIC. I like to target 15%+ for both these metrics and as you can see AEO significantly exceeded these targets in most years. The ROE has averaged 28% over ten years meaning investors have profited 28% on the equity the company maintains each year with the worst year still achieving a 10% return. ROIC has averaged 23% over the same time meaning management has been able to get a 23% return on every dollar of capital they invested into the company (not bad…they can invest my money anytime). Keep in mind AEO has three new concepts it is launching plus international expansion ideas so it can continue to invest the shareholders capital at these rates of return.
As you have now seen in the above graphs AEO has a solid ten year track record and I bet with the strong management, good designers, a strong balance sheet, and new concepts (Aerie, Martin + OSA, and 77kids) it will continue to succeed and work through slow economic times. I anticipate AEO will come back even stronger when the US economy begins its next growth cycle. The current stock valuation is not at historical lows, but is low enough to get me very excited about buying into a great franchise that knows how to print money legally.
Valuation
Now - the part you have been waiting for.
This is the best part of the newsletter where I provide my best estimates of what I think a company can be worth in the future when Mr. Market decides to realize the true value of the cash flows this company provides and revalue the stock price to historical norms. I have developed a set of proprietary tools over the years to help score a stock and provide estimates for the current and future intrinsic value based on numerous financial inputs and research. As you follow my monthly writings you will begin to see how this works and the relativity to the scores and future performance. For now, without any history I will provide you with my thoughts on what a reasonable intrinsic value is both today and five years out to show you what I believe the rate of return on this company may be.
The eighteen variables I used to score AEO generated a score of 81 out of 100, which will be more meaningful as I share more recommendations in the future. Some of the highlights of this score are the high insider buying of this stock at prices around $23-$24 per share. I love it when insiders buy large blocks of shares as they have the best knowledge of the future prospects and if they were not confident they would not lay $20M+ of their own cash on the line. I also like the high margins ~14% versus the competition (sub 10%). High cash, low debt, three new concept stores, and international expansion also boosted the score. Lastly a relatively low stock price to intrinsic value is the cornerstone of this pick.
As far as intrinsic value is concerned I believe this stock should be valued at $35-$40 per share today (2X the current price) and in five years could be as high as $55 per share (2.5X the current price). This would create an average return over the next 5 years of ~24% based on today's $20 price going to $55 in 5 years. I am assuming a cash flow growth rate of 12% over the next 5 years and a slight net margin erosion (back to ~10%) as the economy is likely to slow causing retailers to experience higher discounting than we've seen in the past couple years. The key risks to realizing the true value of this company are a slowing economy, merchandising missteps, and its new concepts not being successful.
I believe this is a great time to open a position or add to one if you are already an owner. I would consider adding an even larger position (double down) for every $5 drop in share price assuming the fundamentals of the business have not materially changed.
Disclosure: Author currently holds a long position in this security (AEO) as well as ANF and Charlotte Russe Holding (CHIC) (also shown as competitors).