NorthStar Realty Finance Corp. (NRF) issued an additional 2,800,000 shares of its existing 8.25% Series B Preferred Stock at a public offering price of $22.95 per share. The public offering price includes accrued dividends from and including May 15, 2012 to, but excluding July 16, 2012.
Details of the offering are:
| | |
| --- | --- |
| Issuer | NorthStar Realty Finance Corp |
| Issue | 8.25% Series B Cumulative Redeemable Preferred Stock |
| Ticker | NRFPrB |
| Offering size | 2,800,000 shares ($64,260,000) |
| Offering Price | $22.95 includes $0.35 in accrued dividend |
| Yield | 9.0% |
| Dividends | Quarterly 15th of each February, May, August and November |
| Use of Proceeds | Portfolio investment |
| Call Date | Currently callable |
If following a "change of control," the Series B Preferred Stock is not listed on the NYSE MKT (formerly known as the American Stock Exchange) or NASDAQ, investors will be entitled to receive cumulative cash dividends from, but excluding, the first date on which both the change of control has occurred and the Series B Preferred Stock is not so listed at the increased rate of 9.25% per annum.
Issuer Description
NorthStar Realty Finance's primary business objectives are to make real estate-related investments in order to produce attractive risk-adjusted returns and generate stable cash flows for distribution. The company's primary business activities include the origination, structuring, acquisition and managing of commercial real estate debt, commercial real estate securities and net lease properties. NorthStar also engages in asset management and other activities related to these assets.
A quick view of their asset profile:

VIE financed assets: $3,669,793M
Non-VIE financed assets: $1,382,202
Commercial Real Estate Debt - NorthStar's CRE debt business is focused on originating, structuring, acquiring and managing senior and subordinate debt investments secured primarily by commercial, multifamily and healthcare properties and includes first mortgage loans, subordinate mortgage interests, mezzanine loans, credit tenant loans and other loans, including preferred equity interests. Fancy way of saying CRE CDO manager (which is why a majority of assets are held in variable interest entities (VIEs).
Commercial Real Estate Securities - NorthStar's CRE securities business is focused on investing in and managing a wide range of CRE securities, including commercial mortgage back securities [CMBS], unsecured REIT debt and collateralized debt obligation (CDO) notes backed primarily by CRE securities and CRE debt (including a large chunk of their own CDO debt purchased at a discount).
Net Lease Properties - NorthStar's net lease properties business is focused on acquiring real estate that is typically leased to corporate tenants and healthcare operators. Their core net lease business invests primarily in office, retail and industrial properties. They also own, manage and invest in healthcare properties focused on mid-acuity facilities (i.e., assisted living and skilled nursing facilities).
Asset Management - NorthStar's asset management and other activities include managing our CDO financing transactions on a fee basis; sponsoring and advising on a fee basis, our non-traded REITs and acting as a special servicer for our owned (and potentially third party owned) CMBS.
Please note that this is not an analysis of NorthStrar Realty Finance, it is a "new" issue update and valuation assessment.
Relative Value
For purposes of determining value, the table that follows uses the following peers:
The peer selection was made to show how the security compares to other CRE mREITs, RMBS mREITs (as they are viewed as "lower" risk and MFA as it is the debt portion of the balance sheet and the benchmark Annaly), as well as a CDO/CLO manager as NRF derives income from the same business.

An equity snapshot of the peer group: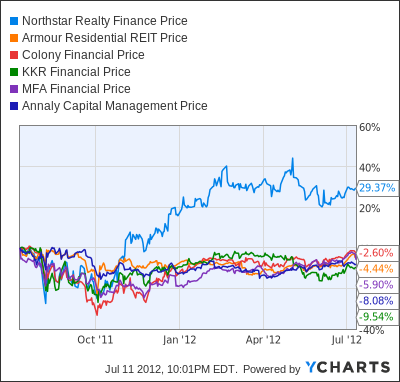 Over the last year, NRF has crushed their peer group with a 29% price appreciation (keep in mind it also yields over 11% at these levels).
Bottom Line: The preferred security being offered (re-offered) by NorthStar Finance is attractively priced versus peers. The equity yield "give up" of 227bps is attractive versus the other mREIT preferred stock and the pick-up to peer debt is attractive. While the security has passed its call date, it is obvious it will not be called (although that would be a home run). Based on my pricing analysis (not an issuer analysis), the security is attractive and warrants consideration.
Disclosure: I have no positions in any stocks mentioned, and no plans to initiate any positions within the next 72 hours.
Additional disclosure: This article is for informational purposes only, it is not a recommendation to buy or sell any security and is strictly the opinion of Rubicon Associates LLC. Every investor is strongly encouraged to do their own research prior to investing.