Exxon Mobil Corporation (XOM) is a $394.6 billion large-cap dividend champion and cash flow powerhouse. As of the end of 2011, Exxon operated over 37,000 gross wells. The company's scope and strength in the energy sector make it an intriguing long-term investment.
The company has raised the dividend payments for 29 consecutive years. The current dividend yield is 2.7%. This consistency in payouts demonstrates the solidity & reliability of the business. Whether you are looking to grow wealth over time or to produce income, Exxon Mobil provides the consistency that investors seek.
Exxon Mobil has a number of competitive advantages. One advantage is a balanced portfolio across resource types to meet global energy demand: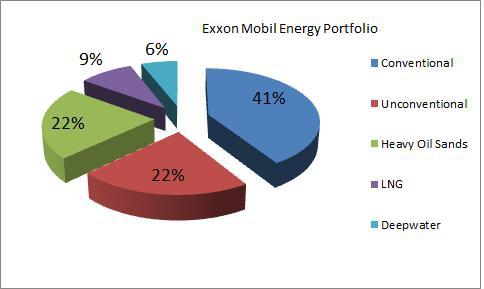 The XTO Energy acquisition has optimized XOM's unconventional resource base, giving the company exposure to large quantities of shale gas.
Another competitive advantage is the company's method of disciplined investing. The company is able to strategically start-up many new projects and still run free cash flow in positive territory. Twenty-two major project start-ups are planned for 2012 through 2014.
Operational excellence is another competitive advantage. This includes XOM's use of risk management, clearly defined policies & procedures, management accountability, and training of employees/contractors.
Global integration allows Exxon Mobil to create value through its business model. The company benefits from large economies of scale, shared support services, and maximization of technology.
The company's technology is state of the art and is built to solve the world's most challenging energy problems. Some of XOM's technology includes: extended reach drilling, seismic processing, arctic technology, and non-aqueous extraction.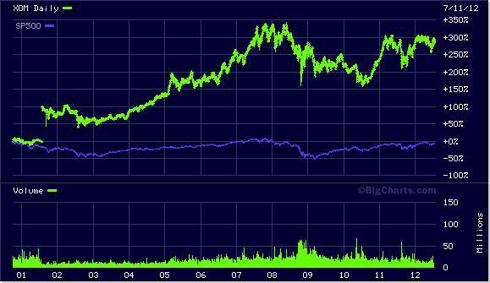 Exxon Mobil is currently undervalued with a forward PE ratio of 9.95, a PEG of 1.06, and a price to book ratio of 2.48. Another great valuation metric is its price to sales ratio which is only 0.88.
XOM pulls in cash just as well as it extracts oil. It has operating cash flow of $57.78 billion and free cash flow of $22.66 billion. The company does a great job balancing capital expenditures with dividend payouts.
The company is expected to grow earnings annually at 9.84% for the next five years. The combination of dividends and earnings growth provide a CAGR of 12.54%. This CAGR is more than enough for the company to continue to outperform the S&P 500.
Disclosure: I have no positions in any stocks mentioned, and no plans to initiate any positions within the next 72 hours.