Sometimes, tomorrow just doesn't come soon enough. When a business has a package that has to be delivered in the metropolitan region before the end of the day, who is it you're going to call? One of the best choices is Dallas, Texas-based Dynamex Inc. (Nasdaq:DDMX), a leading same-day delivery service that is proving to hold up even in a tough economy.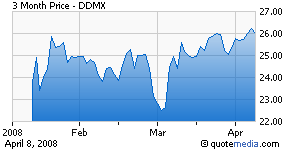 Dynamex has a series of business centers in major business regions throughout the United States and Canada, employing a fleet of delivery trucks and a computer-tracking system to keep things moving quickly. That makes it a good choice for hurried businesses that need reliable delivery from a company that has been around for more than a dozen years.
Its competition is mainly mom-and-pop shops or in-house delivery systems. Outsourcing to a reliable service is a cheaper alternative in a tough economy. "The economic cycle is still favorable for Dynamex," said Michael Friedman with Noble Financial Group.
On March 6, Dynamex delivered strong earnings for the second quarter of its 2008 fiscal year. Revenue increased 10.9% to $112 million, beating analysts' estimates of 6% to 10% growth. Net income of $3.4 million was down from the year-ago quarter of $3.7 million because of hardware and software upgrades and lower interest income. But earnings per share of $0.33 beat the consensus of $0.31 and reflected a 27% increase over last year's adjusted EPS.
Its stock price, however, has reflected investor concerns about the economy, perhaps too much so. Its 52-week (and all-time) high was $30.47 in late October. It then dropped to a 52-week low of $21.55 in early March as investors retreated on economic news. In his March 6 report, Alexander Brand at Stephens Co. wrote: "The stock has pulled back from $30 to $22 for no fundamental reason, and we think fundamentals will continue to be solid going forward."
Since then it has partially recovered, closing at $26.21 on Monday. Friedman recently downgraded his target price to $31 from $33, hedging in case the economy drags it down, but Brand is still looking for $35. All three analysts who cover the company rate it a "buy." Its market cap is $268 million.
One of the best fundamentals is its on-demand service, in which companies call at the last minute for immediate deliveries. Health-care companies are heavy users of this higher-margin business. When a hospital in Manhattan needs blood samples delivered to a lab in Queens immediately, it wants a reliable carrier to do the job. On-demand business accounted for 32.9% of sales last quarter, up from 32.5% a year ago.
The company has a $20 million stock buyback program in play, and could make some acquisitions of regional players. It added five new franchises last quarter, bringing the total to 45, almost double the number it had a year ago. It has nearly $9 million in cash ($0.87 per share,) no debt, and generates free cash flow every year. In fiscal 2007 it produced $12.9 million in free cash flow, and Friedman is projecting an additional $12.9 million this year and $14.2 million next year.
That's a big contrast to its only significant competitor, Velocity Express Corporation (Nasdaq:VEXP), which reported fourth-quarter revenues of $86.1 million, down from $102.3 million a year ago. Velocity also reported a net loss of $8.9 million, compared with a $13.4 million loss a year ago. The company is losing customers after a merger with competitor CD&L; its stock has dropped 93% in less than a year, to less than $2, and is in danger of being de-listed from the Nasdaq. "That's an opportunity for Dynamex to pick up the slack," said Friedman.
The biggest risks the company faces are relatively small: there's a low barrier to entry and overnight carriers could move in or Dynamex's own drivers, who work without a contract, could start their own businesses. But the company's experience and proprietary computer tracking and scheduling system give it an advantage.
In California, there's a class-action suit that includes Dynamex, asserting that drivers of delivery services should be classified as employees. Friedman thinks that big services, such as Federal Express and United Parcel Service, Inc. (NYSE:UPS), would be more vulnerable to that suit because their drivers have to conform to more company rules, including wearing company uniforms. Dynamex does not have any reserves for a potential cash payout.
The main concern for investors is still the economy, and whether it will reduce demand for delivery services. Despite his recent pullback on future earnings estimates and stock price, however, Friedman is looking for a compounded annual growth rate of 17% for the next five years.
After all, even when the economy is slow, sometimes things just have to move fast.
Disclosure: none