As the marginal effectiveness of television commercials continues to decline due to the adoption of DVR, it is more important than ever to be creative in methods of advertising. Look no further than the king of innovation, Apple's (NASDAQ:AAPL) CEO Steve Jobs, for the latest example of one who understands this evolution.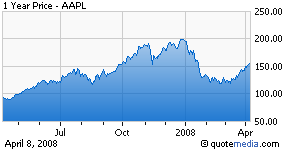 On February 18th, the partnership between Apple and American Idol was announced somewhat under the radar. American Idol's Simon Fuller and Steve Jobs came up with an agreement that gives iTunes exclusive rights to sell idol performances online along with Apple product placement and promotion during the show. With this weeks airing of 'Idol Gives Back' Apple is embarking on the sweet spot of this deal as the finale gets closer with only 8 contestants remaining. Last year, 'Idol Gives Back' raised $76 million for charity as ratings soared.
This year's episode will be even bigger and more ambitious as Robin Williams, Celine Dion, Forest Whitaker, Billy Crystal, Dane Cook, Kiefer Sutherland, Vanessa Hudgens, Ashley Tisdale, Jennifer Connolly, Elliott Yamin, Fantasia and Amy Adams join previously announced international talent and sports figures Bono, Brad Pitt, Reese Witherspoon, Miley Cyrus, Mariah Carey, Eli Manning, Peyton Manning, Fergie, Chris Daughtry, Carrie Underwood, Annie Lennox, John Legend, Snoop Dogg, Maroon 5, Heart and Gloria Estefan.
During this economic downturn, it is important to remember that Apple is a market share play. Even if weak consumer spending erodes overall demand for computers and phones, Apple could still flourish in such an environment as they march up the ladder of share gains. The American Idol partnership further cements Apple as the 'king of cool' and will only help the aforementioned cause.
In his predictions for 2008, Founder and President of Seabreeze Capital, Doug Kass mentioned that:
With the economy weakening and corporate profits tumbling, investors pay up -- real up -- for growth...Apple Computer will move into bubble status…(its) shares double in 2008 even as most equities decline.
Earnings season is now upon us and I expect many companies to report weak 1st quarter results based on the timid consumer and high commodity costs. This broad market theme should create a final entry point for those who want to be long Apple for the rest of 2008. I will be aggressively adding to my Apple position during any April weakness; I see this stock climbing to $300 by January 2009. There are too many catalysts to ignore. I will provide more in depth analysis in future articles.
Disclosure: Author has a long position in AAPL