It is widely believed that the ongoing drought that is hitting the heartland of America may indeed be one of the worst to strike in decades. Corn prices, as seen in the July corn futures graph below, have rapidly ascended nearly 40% higher from lows that were being set just a month prior. This event now well underway exposes an inherent weakness built inside the strength of American agriculture. Inflation is in part controlled by cheap American corn, as food prices are dictated by it. Corn, while subsidized by the government to be cheap, is still entirely reliant upon cooperative weather patterns to stay that way.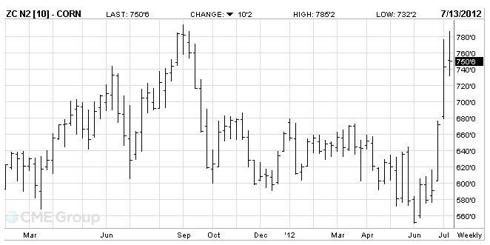 An Ongoing Problem
Many industries have come to rely on corn to be consistently cheap. Cereals, sodas, meats, ethanol, and even U.S. food donations have all come to depend on an abundance of low-priced corn. Most packaged foods have some form of corn-derived product used in its creation. In the 1980s, Coca-Cola (KO) moved away from sugar in order to begin using high-fructose corn syrup as a primary ingredient. This recent drought episode has even sent stable companies like Tyson Foods (TSN) and Sanderson Farms (SAFM) spiraling in steep declines. After all, as dominant producers of chicken and cattle, Tyson and Sanderson Farms are both heavily reliant on corn-based animal feed as an input resource.
The drought has also struck particularly hard against agricultural giant Archer Daniels Midland (ADM). As a producer of food, fuel (ethanol), industrial oils, and animal feed, out-of-control corn prices spell lower margins for the company on all these fronts and significantly decreases corporate outlook. While the futures market can in part help smooth out the volatility of input costs, the fact remains that price volatility ultimately degrades operational efficiency.
Agricultural price volatility doesn't appear to be waning anytime soon either. Consider the following circumstances that are already unfolding:
The hunt for agricultural land is beginning to bubble in light of undeniable food demand increases ahead.
Fears of "Peak Phosphorous" haven't even really begun to surface yet.
Alleged global warming could provide (or already is providing) some unpredictable weather.
Increased population and rising middle classes in the developing world have raised appetites for more meat, an unsustainable proposition.
Solazyme's Technology
One part of the solution to this food price volatility issue could be coming from a little known industrial biotechnology company named Solazyme (SZYM). For those unfamiliar with Solazyme's technology please refer to my other article found here. Solazyme raised $216 million last year in a public IPO that valued the company a little over $1 billion based on an $18 share price. Since its IPO, the company has largely fallen to its current price of $11.74 as of July 11, a discount of 35% resulting in the current market capitalization of $709 million.
What makes Solazyme's technology process unique to the cost of food can be summarized a single word: control.
The company has control over the input resource type.
The company has control over the growing environment.
The company has control over the outputted product type & quality.
Solazyme's technology can negate the yield and quality inconsistencies of weather by growing food in a controlled environment. The company utilizes standardized fermentation equipment and manually directs the environmental conditions of the process. It can also choose input resources ranging from sugarcane, to corn stover, to switchgrass, to forest residue, and etc. In can do this because it utilizes a heterotrophic process that converts carbohydrates (read "sugars") into food.
As for the food itself, the company is leading the way in producing healthier products at a discount to the cost of the products it's replacing. Through its joint venture with Roquette, Solazyme is able to provide replacements to the use of eggs and butter through its micro-algae "flour." In some respects, this flour can be used to replace traditional starches used for crackers and cookies. It can even be made to increase the taste and consistency in beverages such as soy milk or desserts such as ice cream. Such innovations can help replace the need for starches and animal feed (think eggs and butter) and can therefore affect the food chain in a very meaningful way. More about thought this can be found in my other article here.
A common misconception that frequently arises is the thought that utilizing sugar is no less different than a reliance on another commodity such as corn. Yet in light of advancing technology, this is far from the truth. The technology to convert cellulose into sugars allows for a seemingly limitless supply of dedicated feedstock material. Such technology is rapidly advancing towards a commercialized scale.
Yet even more promising technology could be found in the research of a company like Proterro that utilizes a non-crop-based, noncellulosic process to create sucrose. Proterro recently announced that it surpassed its productivity milestones which helps vindicate the idea that sugar production could achieved at a sustainable cost of less than $0.10/pound. Such innovations that vastly improve the efficiency of sugar production are likely to result in a sustainable commodity for generations to come. Perhaps it's no surprise therefore to see Solazyme's President and co-founder Harrison Dillon on the advisory board of Proterro.
Therefore, we see that there is much promise to said about this little talked about area of Solazyme's expertise. Much of the media's attention remains focused on the company's biofuel production, which is likely to play a very insignificant role in the company's revenues for years to come.
On the other hand, the planned construction of a 50,000 metric ton per year facility for Solayzme Roquette Nutritionals could equate to $125 million - $1 billion in revenues when fully operational. With a 50% stake in the joint venture, and no upfront costs to the plant's construction, Solazyme's relationship with Roquette is one that was clearly designed in Solazyme's favor. As the European starch giant Roquette paid for all the costs related to the joint venture, such a corporate maneuver should have investors at least raising an eyebrow as to the promising future Solazyme has in this industry space.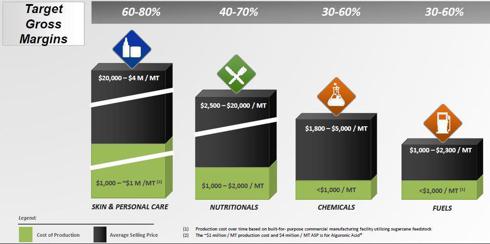 Disclosure: I am long SZYM.
Disclaimer: Please refer to my standard disclaimer found here.