Lockheed Martin Corp. (NYSE:LMT) is the headline developer/producer of the Joint Strike Fighter (the F-35). This is a program that is supposed to produce a total of 2,400 airplanes during the lifetime of the project. The program has been delayed by glitches in its onboard computer systems, cracks in structural components, and troubles with its electrical systems. In addition China's new J-20 fighter, which made its first test flight in Jan. 2012, is thought to be at least partially based on technology stolen from the US F-35 program. This makes many think that the F-35 may not provide enough of an edge against the Russian and Chinese planes. It makes some think that the size of the program should be more limited.
An Obama commission has recommended that $9.5B could be saved through fiscal 2015 by replacing half of the planned F-35 purchases with newer models of current fighters. It further advised canceling the Marine Corps short takeoff/vertical landing version of the F-35 as simply too buggy and too expensive. The Undersecretary of Defense for Acquisition Ashton Carter has already suggested that the program can be cut by 10% to 30% of its now $1T to $1.5T figure.
The recent Congressional fiscal 2013 budget proposal seeks to delay the purchase of several weapons systems. It would delay the purchase of 179 F-35 Joint Strike Fighter planes. These sell for about $133 million each currently. It would substitute older, cheaper planes in their place. That's almost $24B in revenue that LMT would not collect next year. LMT's total revenue for FY2012 is $45.69B. The current Congressional budget proposal would cut LMT's revenue by roughly 50%, although a small part of this might be regained through the sale of other older systems. Still the F/A-18E/F Super Hornet is made by Boeing (NYSE:BA). The F-14 Tomcat is made by Northrop Grumman (NYSE:NOC). The F-16 Fighting Falcon is made by General Dynamics (NYSE:GD). The Department of Defense previously decided to order no more of the F-22 Raptors, which is the one relatively new fighter made by LMT. Some are still scheduled to be delivered in 2012, but they will supposedly be the last. New sales of the F-18, the F-16, and/or the F-14 will not add to LMT's revenues.
Further the Department of Defense is already considering a 10% to 30% cut to this program longer term. It may end up cutting the program even more than that as the Congress gets more serious about cutting the federal budget in years to come. This is a real worry for Lockheed Martin . It is not just speculation. A $500B revenue loss would dramatically change LMT's prospects. Such a cut is being more seriously considered every day. Further the major advantage of these new aircraft over the old fighters is that they are stealth planes. However, rumors are floating around that stealth detecting radar already exists. Apparently during the long development process of the F-22, F-35, and other stealth planes, the engineers have had time to develop radar that will detect stealth signatures. This is just rumor to me, but as an engineer and a scientist I find it highly believable. This is yet another reason the F-35 program may get substantially reduced. LMT will be the main loser if it does. Even Sen. John McCain has called the F-35 program a scandal and a tragedy. Does that sound as if he will back it to the hilt?
In the short term, it looks very probable that the 179 F-35 purchases for 2013 will be delayed beyond 2013. At $133 million per airplane, this would be a $24B revenue loss for LMT in 2013. Analysts estimates do not reflect this. Some investors are aware of what the Congress is proposing, but most are not paying attention. They view LMT as a big lumbering behemoth that cannot really be hurt. With huge losses to current revenue expectations, it can most certainly be hurt. It is a sell; or if you are an aggressive trader, it is a short.
The two-year chart of LMT gives some technical direction to the trade.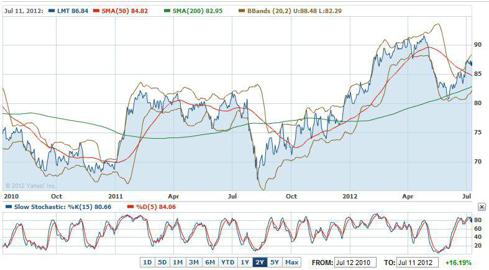 The slow stochastic sub chart shows that LMT is overbought. The main chart shows that the price line is near the upper Bollinger band (overbought). The 50-day SMA has turned dramatically downward since late April 2012. It seems set to cross the 200-day SMA heading downward very soon. This would be a big sell signal. The price line has rallied above both the 200-day SMA and the 50-day SMA in the recent overall market rally. Now that the overall market is again looking weak, the LMT price line is set up perfectly to fall dramatically downward. The current price is $86.84. The first area of support is at approximately $81. The next area of support is at approximately $67 to $69. It could easily fall to this level on the above news. Further descent may need more concrete news about the 2013 budget cuts or further F-35 program cuts. More definite news about significant longer-term cuts to the program may be necessary to see LMT go much below this. Of course, if the world economic news becomes bad enough, LMT could easily go lower on that basis. The 4.61% dividend should buoy the stock a bit, but that is not nearly enough to hold up a stock that may lose roughly 50% of its expected revenue for next year and possibly/probably far beyond that. It trades at a PE of 10.37, but how valid is that in the light of its likely revenue losses for 2013? The stock is a definite sell at this point. It is likely a great short opportunity.
Some of the fundamental financial data above came from Yahoo Finance.
Disclosure: I have no positions in any stocks mentioned, but may initiate a short position in LMT over the next 72 hours.