I have been watching Amazon.com (NASDAQ:AMZN) since Jeff Bezos took the company public in May of 1997. It has been a remarkable story, and an even more remarkable stock.
Bezos had a vision back in the late 90s that internet retailing was going to be the largest retail sector growth opportunity ever. He basically told everyone that he was going to take Amazon.com to the top of the internet retailing world and change retailing forever. At the time, the company made NO money and was just another "dot com" stock that many thought would vanish when the bubble burst in 2000/2001. Amazon actually had its very first profitable quarter in the 4th quarter of 2001.
Since that time Bezos has told anyone who would listen that the first priority for Amazon was to dominate via top line growth and eventually the profits will come. As a result, Amazon has always had a very high P/E which now stands at 180 with a future P/E of 80. For many investors this seems to signal that Amazon simply cannot make money and never will. It also has investors yelling that the share price of Amazon is far too high and ready to crash and burn.
Poppycock.
The Amazon.com Miracle
Take a look at this chart from 2010: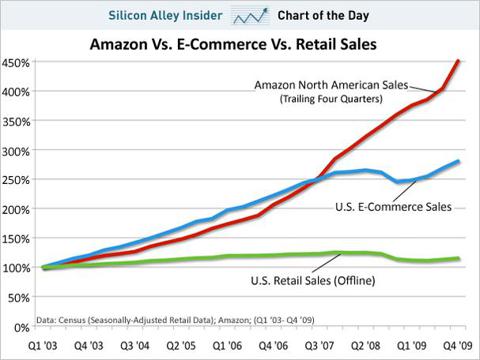 Amazon basically quadrupled all retail sales growth from 2003 to 2010 and nearly doubled ALL internet retail sales growth at the same time.
Here is another cool chart, from 2011: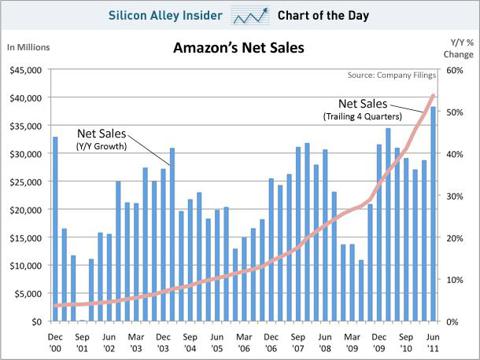 Net sales by Amazon.com has broken records year after year since 2000, even during the worst economic environment since the Great Depression. It is nothing short of spectacular.
Here is a YChart comparing revenue growth with other retailers, from early this year: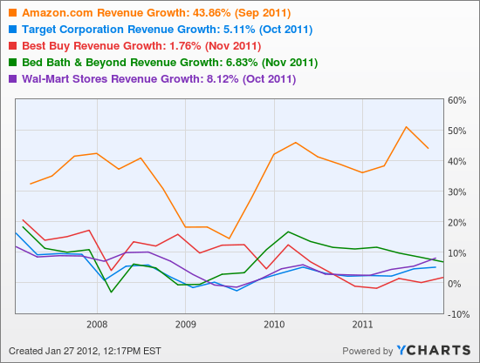 Five times Wal Mart's (NYSE:WMT) growth and twenty times Best Buy's (NYSE:BBY) growth is nothing short of mind blowing.
Here is another YChart done at the same time, comparing P/E ratios: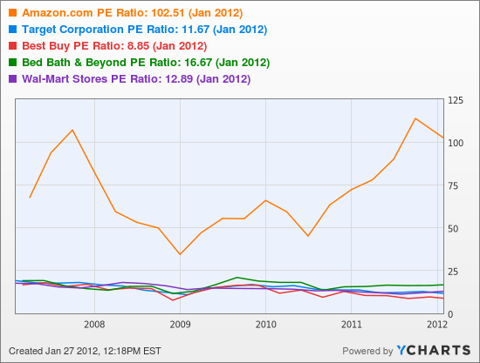 With Amazon barely profitable but continuing to grow revenues at an astronomical pace, the P/E looks just as ridiculously high as Apple's (NASDAQ:AAPL) P/E looks ridiculously low.
This Forbes article from 2011 tells the story:
"As major financial markets reel from economic stagnation, uncertainty and fear about sovereign debt failures and America's debt ceiling debacle, Amazon is achieving its highest valuation ever. Amazon blew out revenue and earnings expectations this week. How? By achieving record revenue growth. Sales are up 50% compared to last year."
Yeah But They Don't Make Any Profits
I have heard this since 1997 right up to today, and actually those folks that scream this are correct. Amazon makes very little profit right now (in relation to its revenues, market cap and company valuation) and has had a history of low profitability form its inception.
As mentioned before its very first profit was $.01/share back in 2001.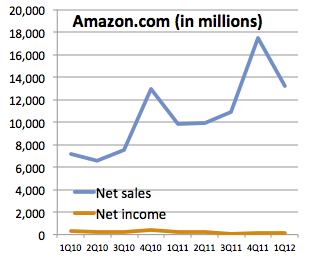 Profits did drop roughly 35% last quarter, but still beat expectations. Coming in at $.28/share versus estimates of $.07/share. That is not enough to bring down that P/E ratio though.
The point is; Who cares?
What investors seem to be missing is that Amazon is still a growth stock. Even though they are in their 15th year of being a public company, they have not scratched the surface, nor have they stopped scratching.
When one thinks of the typical growth stock they think of the potential, the future, and what CAN be. Why is Amazon.com thought of any differently? The internet retail business comprises roughly 11% of all retail sales as of now (up from 9% in 2011). Amazon.com owns over 70% of that business already.
If Amazon did absolutely nothing from now on, and focused solely on profitability, the internet retail market will continue to grow and take Amazon.com along with it. Jeff Bezos would not be satisfied. At 48 years of age Bezos is often compared to Steve Jobs.
Pretty lofty company, but if you take a step back and think about it, they both had and have one basic thing in common. They have changed the way the world works.
As long as Bezos continues plowing the cash flow back into the company to focus on overall growth, this company will continue to grow and so will the share price.
Here is the 10 year stock price chart: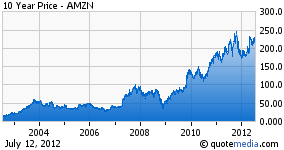 Amazon.com went public at about $19.00/share and has not looked back. Even in the face of the naysayers who look at a "bloated" P/E and lack of profits. Why? Because they are still growing folks. This company and this stock is still in the growth stage.
My Opinion
For growth investors I cannot think of more aggressive growth stock to own than Amazon.com. I believe the share price will continue to rise along with the remarkable revenue growth.
At some point, AMZN might become a value stock, just not yet.
Disclosure: I am long AMZN.