Corning, Inc. (NYSE:GLW) is a company at a crossroads. It has a hot product, Gorilla Glass, with growing importance to its overall business, and a declining display technologies segment. Corning also has other segments that are growing in importance. An analysis of Corning's varied business and the challenges it faces has been covered already. I still think Corning is a good buy in the medium to long term. First, consider its strong balance sheet.
The Numbers
The key figure I look at here is the debt to equity ratio of 0.148. I try not to generalize across all companies, but that figure is important to me when considering Corning. For most companies and in my personal life, I detest debt. I can ignore debt if there are other important circumstances. However here there is a company that is losing in its most profitable and high margin business, i.e. display technology. The LCD display price wars were adversely affecting Corning, though this has slowed to a bit. With profits weakening debt can become toxic. It also prevents a company from borrowing in order to produce growth through innovation. Money for innovation leads me into my second key number.
Corning has $6.836Bn in cash and short-term investments. Even if all of this was used to fund continuing operations, the low debt means they can borrow against this to fuel innovation. Corning has a track record of innovation, discussed below. Having the cash means they do not need to sell-off assets that are providing cash to generate quick cash; healthy assets fetch the best price, recall Alcatel-Lucent (ALU) and the Genesys sale. The more than solid cash position also allows them to return profits to shareholders. The 2.45% dividend is the last important number for me. It is not massive, but having cash flowing into my account while I wait for Corning to appreciate is not something I will ignore. For long-term positions I like to see dividends.
Gorillas in the Lab
When many people think Corning they think Gorilla Glass. I like to focus on the bigger implications of Gorilla Glass. Sure it is important to the mobile industry and Corning is doing a great job of becoming the standard of smartphone and touchscreen manufacturers. As mobile gadgets take over the world, Corning should see a boost, and they secure more deals to be part of new phones. This would expand both their presence in the mobile market through more models and their magnitude by sheer growth in the number of products.
Gorilla Glass is innovative and Corning has done a great job of benefiting from it. If the origin story is true then it shows a culture at Corning willing to think outside the box, though even if the story is not true Corning's innovative attitude is not in question. Gorilla Glass 2 should be a similar victory. The iPhone5 should use Gorilla Glass 2, but this is unconfirmed. Of more interest is Corning's intention to capture other markets such as large displays. If they can make sure their margins stay healthy then this should provide growth into the next decade. A mall in my area has a public touchscreen display that features a game for children, and being scratch-proof and shatter-proof is a necessity. I think it was just a temporary attraction; this segment should grow in the future, though. A touchscreen showing a carousel of featured products for a store would be preferable to stepping inside a store, but that might just be me. The more important point is Corning's desire to either break into or found new market segments through their technology.
The Flexible Future
Just having bigger versions of their famous glass is hardly groundbreaking. True innovation is something new and awesome. I think the recently unveiled Willow Glass fits the bill. This glass would be in devices that will take us into the future promised to us by so many movies and TV shows. Check out Samsung's demos in this YouTube video. These are just to display the curved display technology. Next step will be flexible displays for smartphones, but we will need flexible batteries too. Flexible circuitry is already common.
I will not speculate on the ability of Willow Glass to generate profits for Corning since it is so new. The point is that Corning already released this product, and it has a very next-gen-ready feel to it. They can still spend money to innovate further, but this is proof that Corning will do all it can to stay relevant. Considering it used to make glassware, Corning has already shown its ability to roll with the times. With the recent issues they will prove they can roll with the punches too. I know that I want gadgets that bend and fold. I want a curved display for my computer that offers a more immersive experience for gaming, such as actually having peripheral vision be a factor. I see Corning as having potential to become as important to these upcoming products as it has become to the current smartphones.
Technical Guidance to Entry
Corning is not a quick flip. It might get some movement with iPhone5 news, but I would not count on this. My timeline is at minimum 1-year, but more likely 2-3 years due to current economic headwinds. It might even be a longer term hold if they prove that they are on a path to greatness, but do not rely on that just be prepared for it if it happens. I will evaluate timelines as time passes anything else would be useless. Ten years ago we were coming out of the tech bubble bursting into a fantastic boom which collapsed six years later into the Great Recession.
For an investment like Corning, I use technical analysis to choose my entry. So we must consider the 1-year chart:
Click to enlarge.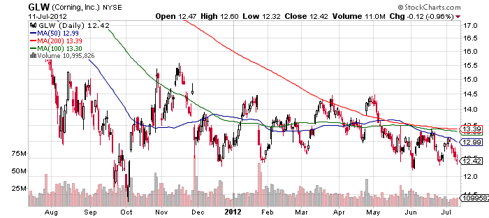 In the last 6 months, Corning has bounced off $12.40. First it bounced off $12.39 in late January 2012, and then bounced off $12.41 in late May. So let us use $12.40 as a good base. There was one failed break lower in early June. We are sitting there now. The downside risk is a concern for me, but I do believe in Corning's potential. The 50, 100, and 200 SMAs are converging, which is a preliminary sign of a breakout. The direction is the concern. If you are extremely hesitant then write $12 August cash-secured puts, which are at $0.33 as of close on July 12, 2012. I only recommend cash-secured puts not naked puts. If iPhone5 does move this, you might miss your chance to get in cheap.
I am concerned about the macroeconomic picture, and Corning's own issues. Still I like Corning's potential on a longer timescale, and I would buy half the position size I would go for and then write $12 August cash-secured puts for the second half. That way I own the stock for a rapid move, but would be poised to grab some cheaper at lower prices. The premiums would be a nice immediate return. If Corning made a move early and fast, I would turn around and write $13 August cash-secured puts. I would consider writing those even if Corning was sitting at $12.90, meaning they are in-the-money puts I am writing. The premiums for the $13 puts as well as the $12 puts would make my adjusted cost basis lower.
Conclusion
Corning is at a crossroads. I think they choose the right path, and show a nice return on any investment a few years out. I think they are positioning themselves well for the future and I want to be a part of this. They have a strong present balance sheet, and are focused on innovation for the future. They make a decidedly boring product, glass, used in increasingly exciting gadgets. I want my flexible smartphone. I want it to clamp on my wrist as the watch of the future. Maybe Willow Glass will be part of this dream. Even if I am being ridiculous, Gorilla Glass and Willow Glass have the potential to boost Corning's business undoing the damage from display technologies. Corning is also working on other segments of the glass market, and is even looking outside these classic segments. Look at the first link in this article, which discusses environmental filtration products and communication products that Corning is part of.
Disclosure: I have no positions in any stocks mentioned, but may initiate a long position in GLW over the next 72 hours.
Disclaimer: Please do your own due diligence. Rely on nothing I have said without checking it for yourself. I am not a registered investment advisor in any jurisdiction.