Spanish yields have recently returned to historic highs; this is unwelcome news for Citigroup (C).
In my last article we discussed how the higher low on the U.S. Dollar registered on July 5th was a worrying signal to equity markets, which have now fallen about 2% since that event. European worries are clearly weighing on U.S. markets, but they are of special concern to the U.S. Banking sector. Citigroup in particular will hardly welcome a return to near all-time highs in Spanish government bond yields given that bank's overexposure to Spanish debt.
Despite European leaders spending a tremendous amount of their remaining policy ammunition over the past two weeks in an attempt to calm short-term markets, Spanish borrowing costs have returned to near all-time highs.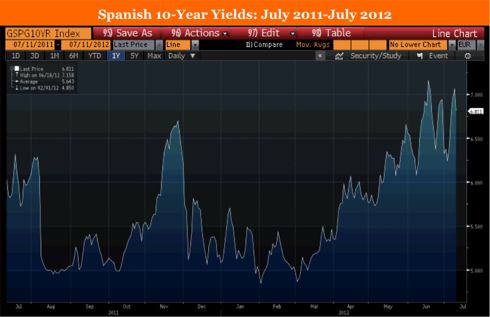 As we can see in the figure above, yields on Spanish 10-Year notes peaked above 7% in the middle of June. $156 Billion of new stimulus announced by Euro leaders on June 23d then bought Spain no more than two weeks of reprieve, and Spanish borrowing costs have again broken above the 7% level in recent days. Moody's recently cut Spanish debt to one notch above junk. This is unwelcome news for Citigroup.
By all accounts, Citigroup holds more Spanish debt than any other U.S. Bank. It had $10.8 billion of exposure to Spain in 2010, according to the IMF, and between $11 Billion and $14 Billion of exposure to Spain according to recent releases. The risk to Citigroup of recent highs in Spanish borrowing costs is not abstract. By the end of the first quarter (when Spanish yields were lower than at present) the bank had already written off 5.5 percent of its Spanish loans. Shares of Citigroup tumbled 44 percent last year as Europe's sovereign-debt crisis swelled, and according to Rochdale Securities' analyst Richard Bove, Citigroup is actually only one of two U.S. Banks with major exposure to Spain, and Europe as a whole:
"Assuming some relatively worse case developments, it appears that Citigroup and JP Morgan Chase are at risk to the developments in Europe. No other American institution is..."
It should be no wonder then that Citigroup shares and Spanish yields display a strong (inverse) correlation. In the figure below we again see the yield on Spanish 10-Year notes (blue shaded area), this time plotted against shares of Citigroup (yellow line).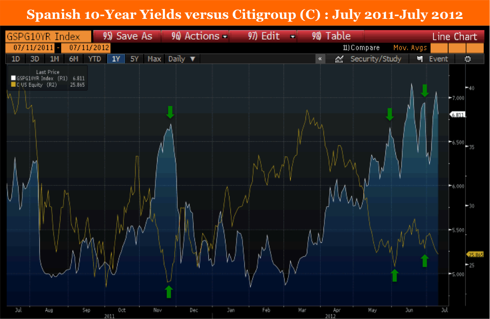 As we can see from the green arrows, significant multi-month highs in Spanish yields have been associated with significant multi-month lows in shares of Citigroup. That in recent days we have seen a second nearly all-time high in Spanish yields should therefore urge caution over U.S. Banks as over-exposed to Spain as is Citigroup.
The contrarian (and brave) inference would be that the inverse relationship between Spanish yields and Citigroup shares makes the recent peak in Spanish yields an attractive signal for Citigroup shares, however, we do not yet have enough clarity that the recent peak in Spanish yields (above 7%) was a decisive top, rather than a step on the way to a Greece-like scenario. Moody's clearly shares the same hesitations. After downgrading Spain to one notch above junk status, they downgraded Citigroup (along with numerous other U.S. Banks) due to the risks of 'outsized losses' from European contagion that they see in this sector.
Conclusions:
Citigroup's overexposure to Spanish debt-the most of any U.S. Bank-has historically resulted in an inverse relationship between Spanish yields and Citigroup share prices, and the recent near all-time high registered in Spanish yields should suggest to investors an exit to cash from Citigroup holdings until the largely political factors that now drive Spanish borrowing costs are resolved with more clarity. Those wanting to maintain positions in the Banking sector should opt for Banks less exposed to Spain, and Europe as a whole, such as Bank of America (BAC).
In future articles we will keep an eye on Citigroup's European exposure as well as that of the banking sector as a whole.
Disclosure: I have no positions in any stocks mentioned, and no plans to initiate any positions within the next 72 hours.