We are bearish on Synacor Inc. (SYNC) because we believe that much of the recent quarterly revenue and growth has already been priced in. It has a significant dependence on a small number of Telecom carriers that provide a majority of its revenues, and a loss for any one of them will severely damage the company's profitability. Moreover, the stock is trading at high multiples that are not justified by its fundamentals. On the basis of the reasoning above, we believe the stock to be overvalued at these levels.
Synacor Inc enables various telecom and electronic companies to deliver online content and services to end consumers across multiple devices. In February of 2012, it sold 6.8 million shares at an IPO price of $5. Since the IPO, the company's stock has gone up by almost 175% and is currently trading at $14.15, off 21% from its high so far. CenturyLink (CTL) is the company's biggest customer.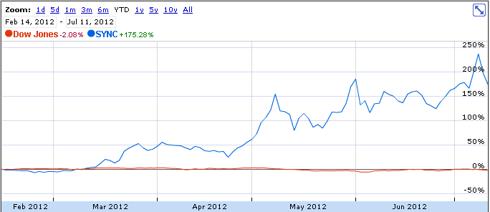 The company derives its revenues from two sources:
Search and display advertising
Subscriber based
Search and display advertising generates the majority of revenues (80%) for the company through the customer's websites. An expansion in the customer base for companies like CenturyLink is resulting in further revenue growth for SYNC. The company derives its subscriber based revenue (20%) from the use of its services like email, online games and music. In the quarter ended March 2012, which was also the first quarter since the IPO, the company's total revenues increased by a staggering 64%, driven largely by the growth in search and display advertising revenues. Increased internet usage on its customer's websites and search queries can be identified, as the growth drivers for the company. The company has identified three key metrics against which it judges its performance. All three, which include unique visitors, search queries and advertising impressions, have shown a very impressive quarterly growth. The chart shows the improvement in the first quarter compared to the prior year quarter of the same period. A consistent upward trend in revenues is also visible in its annual results, where revenues grew by almost 40% in the financial year ended 2011. Its gross margins have also expanded over the past years, reflecting the strength of its operations. SYNC did well to turn its losses into profits in the last financial year, and its profits are on an upward trend since then. In the quarter ended March, 2012, the company increased its net income to $1.2 million from the previous $0.1 million.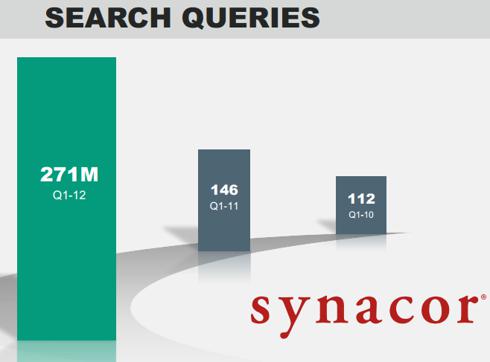 Key Growth Drivers:
The company has shown growth in both top and bottom line in light of increased customer traffic on its clients' websites, as well as improved internet speeds offered by various telecom carriers.
Financial Strength
The company has a strong balance sheet with not a lot of debt. It doesn't pay any dividends, however, it has healthy cash flows, generally inclining with an exception of the financial year 2010. Its margins are high and gradually expanding YoY. Quarterly earnings growth is impressive, and its earnings are expected to grow by almost 20% over the next five years. It provided an earnings surprise of one cent in the last quarter, when it beat the consensus EPS estimate. For the next year, the company is expected to grow its revenues by almost 25%.
Key Risks
So far the company doesn't have a mobile software. With an increasing number of consumers now using smartphones and other wireless products, the company's largest revenue source from search and display advertising could be adversely impacted.
The company is in the process of growing its business, and is therefore incurring expenses that are expected to increase in the future. SYNC's cost of sales rose significantly by almost 70% in 1Q2012 due to expenses related to licensing of content, as well as marketing of new products. Its revenue sharing agreements with Google (GOOG) are also adding on to its cost of sales. If the company's expenses in regards to marketing as well licensing keep piling up, the company could post losses like it has in the previous years (net loss of $3.6 million in FY2010).
The company has a small customer base from which it derives its revenues. In the first quarter of the year, Charter, CenturyLink, Toshiba and Verizon (VZ) provided majority of its revenues. In case of decreased traffic for the above mentioned companies, the company's profitability might be severely impacted.
Valuation
According to a forward P/E multiple of 37x, SYNC is trading at a 200% premium to Digital River Inc. (DRIV-OLD) and a 300% premium to Web.com group Inc (WWWW). The company's quarterly results were impressive in terms of revenue and earnings growth, however, we believe that much of this growth has already been priced in. The company has a trailing P/E of 34x, at a 79% premium to its industry. At such multiples, we believe the stock to be overvalued.
Disclosure: I have no positions in any stocks mentioned, and no plans to initiate any positions within the next 72 hours.