Total SA (TOT) is a major French integrated oil and gas company employing 96,000 people and operating in more than 130 countries. The company was able to produce 2.34 million barrels equivalent per day and refine 2.1 million barrels per day in 2011. The French company is the fifth largest publicly traded integrated oil and as company in the world and the number one Western European Refiner-Marketer and number one Marketer in Africa.
Total was able to manage perfectly a potential economical and environmental disaster 4 month ago in the North Sea. The dividend will not be impacted.
The Shtokman project should offer good perspectives for the upcoming years
Total should get 25% of the Shtokman project, located in the Barents Sea. The reserves are estimated at 4000b of cubic meters, which is approximately the annual gas demand worldwide. Total would strengthen its position of leader in the gas sector along with Gazprom (OTCQX:GZPFY) (51% of the project) and Statoil (STO) (24% of the project). As gas prices and demand are increasing, Total should quickly benefit from the investment. Liquefied gas is likely to be produced in order to supply China, which is going to delay a little bit the production (2015).
Strong results, cash flows and balance sheet along with good perspectives
13 years of proven reserves
Gas demand 2010-2020: +2.5% / year
Oil demand 2010-2020: +1% / year
Revenues 2011 of €184.7b (+16.0%) ($246.9b)
Net profit 2011 of €12.6b (+16.4%) ($16.8b)
Operating cash flow 2011 of €19.5b (+5.6%) ($26.1b), (+50% between 2009 and 2011)
EBITDA 2011: €31.9b ($42.6b)
Debt /EBITDA = 0.49x
Source: Total
1Q12 results showed improving revenues (+11% yoy), but net revenues and operating cash flows slightly decreased because of recent acquisitions. Cash and equivalents were about €13.3b (-23.1%) with short term debt reaching €9.5b. The debt/EBITDA ratios should stabilize at 0.5x for the upcoming years.
The risk involved in Total doesn't come from its financial structure but mainly from political events such as the strikes in Norway or what happened recently to BP in Russia. However, I think that Total is pretty good at dealing with geopolitical issues.
A very appealing dividend
The dividend is one of Total's main weapons. The French company has developed a strong shareholder policy over the years as well as a solid base of historical private investors. The dividend has kept growing and reached a historical high level last year (€2.28). According to the last letter to the shareholders, the dividend should be maintained at the same level in 2013. As the share lost almost 10% over the last 6 months, now trading at €35.95 ($43.89), it offers a nice dividend yield of 6.3%.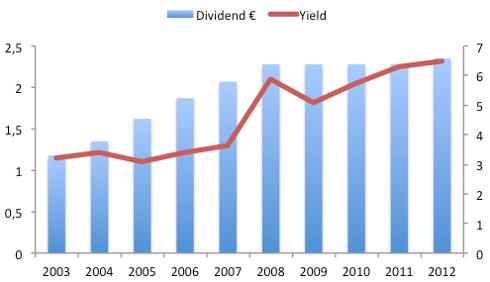 Source: Total
Good positioning in renewable energies
Total is also leader in renewable energies, which could offer good perspectives at medium term and drive the revenues. Total is already strong in solar energies, owning for instance 66% of Sunpower (SPWR). Many acquisitions and investments should boost the revenues at medium term.
Total should be impacted negatively by new fiscal regulations
Total is going to impacted at very short term by several fiscal measures developed by the government. First of all there will be a new 3% tax on dividends in order to develop investments instead of shareholders-oriented policies. According to Exane BNP, Total is going to be the most hardly hit Cac40 company and should approximately pay €170m, which accounts for a tax/net profit of 1.5%. Total may then reduce its payout ratio but the EPS will be impacted.
Moreover, the government recently introduced a new tax on oil companies that should generate €550m. According to Christophe de Margerie, Total's CEO, the French company should bay between €140m and $160m.
The impact of those new taxes, that should be effective this summer, is still pretty low for Total (€310m to €330m compared with a €12.3b net profit) but I think that a heavy structural fiscal regulation is to come. For instance we could probably see a 5% tax rise (Hollande's program) that could trigger a 2-3% decrease in the EPS. However minimum wages should not increase too much.
Conclusion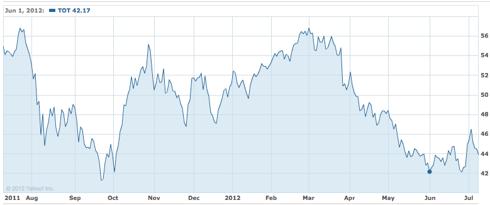 Source: Yahoo Finance
The shares were trading today at €35.95 ($43.89), which accounts for a PE of 6.71. I think that the share is still cheap, historically speaking, and offers a good opportunity to benefit from a 6.3% dividend yield at low price. Considering the upcoming projects managed by Total as well as the oil and gas demand evolution, I expect the share to reach $52 before the end of the year. The main risk in buying Total is right now based on the upcoming fiscal regulations, but I don't think that the share could drop too much.
Disclosure: I am long TOT.