Shares of Procter & Gamble Co (PG) moved higher on Thursday to lead the Dow Jones Industrial Average following news that noted hedge fund manager Bill Ackman's Pershing Square Capital Management has taken a position in the company.
Recent Problems
PG recently lowed its earnings guidance for fiscal 2013. The company cited market share weakness, a slowdown in the developed markets, and a negative impact from foreign exchange rates.
Turnaround Plan
In an effort to become more profitable, PG has set a target of $10 billion in cost savings by 2016. Part of the plan includes 5,700 job cuts.
Dividend
Many of the bullish thesis on PG are centered on the company's dividend. Currently, PG pays a dividend of $2.25 per share or 3.5%. In addition to the current yield, PG is considered a dividend growth play as the company has had a storied history, as shown below, of boosting the dividend.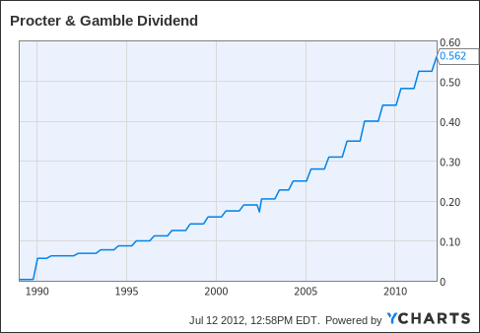 PG Dividend data by YCharts
Valuation
PG trades at 19.6 times trailing earnings and 16.4 times forward earnings. This valuation makes PG slightly more expensive than most of its peers. Comparably, Johnson & Johnson (JNJ) trades at 18.6 times trailing earnings and 12.3 times forward earnings. Unilever (UL) trades at 18.4 times trailing earnings and 13.8 times forward earnings.
My Take
I would not be buying PG on news that Ackman is taking a stake in the company. Given the massive size of PG, $175 billion worth of equity, it is hard to see how Ackman can do much to spur change at P&G. While the dividend certainly makes P&G attractive, there are other higher yielding dividend plays which I prefer. However, if optimism over Ackman's stake were to abate, and the stock were to pullback, I would consider P&G a solid long-term buy.
Disclosure: I have no positions in any stocks mentioned, and no plans to initiate any positions within the next 72 hours.