The outlook for Intel (NASDAQ:INTC) looks bullish with Intel's foundry expertise and Microsoft's (NASDAQ:MSFT) Windows 8 scheduled to ship in October of 2012. With the cost of building a semiconductor foundry continuing to escalate, many semiconductor manufacturers may be left without a paddle to row their boat, as revenue needed to support a foundry for years 2015 and beyond is estimated to be above the $15 billion threshold, which is probably going to exceed revenue for the majority of semiconductor manufacturers. (Intel Investors Meeting 2012 - pdf) Large semiconductor foundry costs may leave all but the biggest, such as Intel, Samsung and Taiwan Semiconductor Manufacturing (NYSE:TSM), without their own semiconductor foundry.
Intel recognizes the issues related to future semiconductor foundry costs and is positioning itself to take advantage of the situation. Recently, Intel announced an agreement with ASML (NASDAQ:ASML) related to accelerating the deployment of new technologies for 450-millimeter wafers and extreme ultra-violet lithography. The goal of the agreement is to accelerate the deployment of 450-millimeter technology by two years. Intel committed $4.1 billion to fund the acceleration of 450-millimeter technology.
In Intel's Q1 2012 earnings call held on April 17, 2012, CEO and President Paul S. Otellini, noted that the rest of the semiconductor industry is struggling to ramp up older technologies that lag Intel's prior generation 32-nanometer process. The company indicated strong demand for the quarter in emerging markets and enterprise and experienced softness in mature markets and consumer segments. The company noted double-digit growth in BRIC nations (Brazil, Russia, India and China). In mature and emerging markets, the company saw momentum in IP Data Center solutions, servers, networking and storage. Intel expects IP traffic to double by 2015 resulting in storage needs growing by 50%. Intel's fairly recent acquisition, McAfee, reported its best first quarter ever, and Deep Defender, a collaborative project between Intel and McAfee, successfully blocked the day-0 Cridex worm attack, which was missed by some other anti-virus systems. The company began shipping Ivy Bridge in high volume and launched the world's first Intel architecture-based smartphone manufactured by Lenovo.
Intel's quarterly revenue was $12.9 billion, which was better than expected, even though business was negatively impacted by the shortage of hard disk drives. The company forecast 5% quarterly growth and expects gross margins to improve for the second half of the year due to reduced unit costs.
The much-anticipated release of Windows 8 and associated tablet devices, such as Microsoft's Surface, should give Intel a big boost later in this year.
Intel's competitor AMD pre-announced bad news on July, 9, 2012 with regard to a decrease in revenue of 11% for the second quarter of 2012. AMD indicated that softer-than-expected channel sales in China and Europe, along with a weaker consumer-buying environment, negatively impacted the company's performance.
An investment in Intel looks bullish, but AMD's bad news taints the picture. Either the macro-environment is bad, as AMD indicates, or Intel is taking market share away from AMD. We will find out more details when Intel reports its Q2 2012 results on July 17, 2012.
Intel's stock price has increased significantly over the last year, and appears to be forming a base in the $26 range as shown below: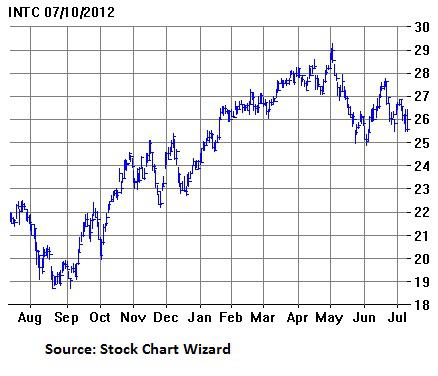 An investor bullish on Intel, yet cautiously so due to AMD's bad news, might consider entering a married put position for Intel. A married put provides unlimited upside with limited downside. A married put may be entered by purchasing a put option against a long stock position. Typically, married put positions are entered for options with expiration further out in time, in order to reduce the cost associated with the "stock insurance" provided by the put option.
Using PowerOptions tools, a variety of married put positions with January 2013 expiration are available for Intel as shown below: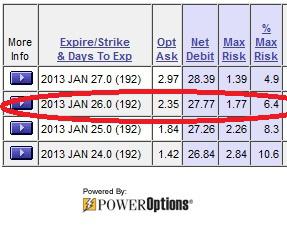 The married put using the 2013 Jan 26 put option looks attractive with a maximum loss of 6.4%, before considering dividend payments. Including expected dividend payments, the maximum potential loss is reduced to 5%, so the maximum loss which can be suffered is 5%, even if Intel's stock price goes to zero. The married put position can be entered via the purchase of the 2013 Jan 26 put option at $2.35, along with a long position in the stock (purchased or existing).
Trade
INTC stock (existing or purchased)
Buy 2013 Jan 26 Put at $2.35
A profit/loss graph for one contract of the Intel married put is shown below: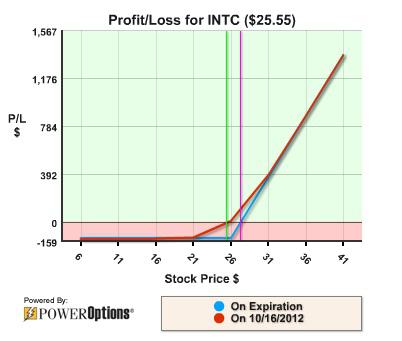 For a stock price below the $26 strike price of the put option, the value of the married put position remains unchanged (at expiration). If the price of the stock increases to above the $26 strike price, income methods, as described by RadioActiveTrading.com, can be used to receive income and reduce risk.
Disclosure: I have no positions in any stocks mentioned, and no plans to initiate any positions within the next 72 hours.