I have been following Prospect Capital Corporation (PSEC) for about a year now and it has become one of my favorite stocks. Prospect is a private equity firm, or business development company, that specializes in late venture, mezzanine finance and buyouts among other things. Initially drawn by its huge 10.4% dividend, I have also managed to enjoy a bit of capital appreciation along the way. It was then with some dismay that I read about PSEC's secondary offering on Tuesday, which sent shares plummeting over 6% after hours. This move has certain implications for the valuation of PSEC's stock.
Tuesday, the stock was priced at 7.1x earnings with an EPS of 1.67. The average P/E for the industry is 33.4. With a market cap of 1.45B, Prospect maintains a staggering 63.6% operating margin with a Price/Book ratio of 1.08 compared to the industry average of 1.34. The company has a 36.5% LT Debt to Equity ratio. All in all, especially considering its hefty dividend, the company seems to be priced very attractively. Along comes the secondary offering.
Generally, at a secondary offering, one of three things can happen, based on its volume and pricing. The price can stay more or less neutral if the offering is around the current market price, it could possibly rise if the offering price was significantly above the market price, and in the most likely scenario it can decline if significantly under it. Prospect has offered 21M shares, and judging by the market's reaction, these appear to be priced well under the current market price. What's more, the secondary offering of shares always causes EPS dilution. With no change in the underlying fundamentals, earnings must now be divided over a larger number of shares, which also causes a drop in share price. This decision tends to come when insiders believe the stock is overvalued, or when management needs to raise cheap capital quickly to fund mergers and acquisitions. It will be interesting to see how Prospect's management uses these new funds.
The good news is that long-term investors who are bullish on the stock can get in at a lower price and hopefully pick up a better dividend yield. I might consider picking up a few more units of PSEC myself to lower my cost basis. The bad news is obviously that this release sent share prices reeling and it may be a while before we can return to PSEC's medium term uptrend. I am curious to see how the market prices in this offering in the coming weeks. PSEC's next earnings release is scheduled for 08/27. Below you will find a daily chart of PSEC (Interactive Brokers).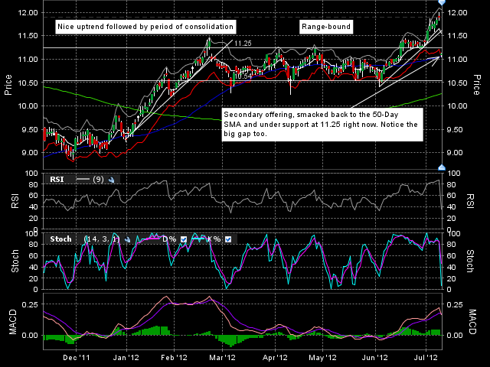 Disclosure: I am long PSEC.