We are bullish on China Mobile Limited (CHL), as it has shown an impressive revenue growth, both quarterly and yearly. We believe it has enough operational strength to sustain competitive pressures from its peers. The stock has an attractive dividend yield of 3.7% for yield hungry investors, as well as some price appreciation potential. Moreover, its currently depressed valuations compared to its peers should provide a good entry point to long the stock.
China Mobile is a provider of mobile services in China, and it currently has the world's largest customer base. It provides various data and voice services to its customers, and as of the year ended December, 2011, it served a total of 649.6 million customers. It is a $220 billion worth company and its stock is currently trading 26% above its 52-week low of $44.
The company derives its revenues from two sources, namely voice and data services, with the voice services contributing roughly 70% to its revenues. Mobile phone usage within the company's network generates revenues for its voice segment, whereas its data business includes services like SMS and MMS.

Source: Company presentation
The company through its marketing initiatives was able to achieve growth in its voice business. The company continued its expansion into roaming services, as well as long distance, which reflected positively in its voice revenues. In 2011, the company was successful in expanding its customer base by almost 11%, which led to a significant increase in its revenues. Voice revenues rose by almost 6% largely due to a net increase of almost 66 million new customers. Voice usage was almost 3,888b minutes, an improvement of almost 12% from the financial year ended 2010. Similar improvements were seen in total minutes of use, which increased by 4 billion minutes. The company's data segment outperformed voice in the last financial year, growing by almost 15%. This outperformance was largely due to an increase in revenues from SMS and multimedia message service. Moreover, the company's wireless traffic grew by a staggering 152%. Below is a summary of its operating results which shows the year on year improvement.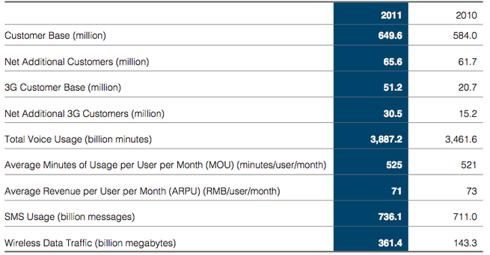 Source: Company Presentation
The company's earnings have been on a consistent incline, and in the last year, its bottom line grew by almost 10%. Moreover, its earnings are expected to grow by almost 14% over the next five years. The company's revenues have consistently increased since FY2009, growing at a 2-year CAGR of 13%. Its gross margins are by far the highest among its peers, an impressive 95% in the year ended 2011, indicating its operational strength. CHL has a payout ratio of 34%, which is low for its industry, and an attractive dividend yield of 3.7%. In the year ended 2011, the company paid total dividends of almost $8 billion, which were well backed by its operating cash flows of $36 billion. Moreover its free cash flow yield of 5.5% compares well to the current dividend yield. The company has reasonably low level of debt and continues to enjoy its stable credit ratings. It currently has an Aa3 rating from Moody's and an AA- rating from Standard and Poor's.

Source: Company Presentation
China is seeing a steady growth in its mobile phone users, which will further benefit the country's largest telecom company. According to a news report, the company's total mobile subscribers reached 677.49 million in May, which is an improvement of almost 30 million customers in five months.
The company's stock is currently trading at 11 times it earnings, which is a discount of 20% and 70% respectively, over its peers China Telecom Corp. Ltd. (CHA) and China Unicom Ltd (CHU). We believe the stock is currently undervalued despite its strong operational strength. Moreover, the expected growth in earnings could lead to a rise in its valuations.
Disclosure: I have no positions in any stocks mentioned, and no plans to initiate any positions within the next 72 hours.