With the economy in a state of limbo, the market is understandably reserved on consumer good stocks. Spending is highly uncertain, which only worsens the lack of predictability for even brand name firms. Nevertheless, I still see strong reasons to be optimistic about Mattel (MAT) and Activision Blizzard (ATVI) while staying reserved on Electronic Arts (EA).
Barbie-make Mattel is a safe consumer goods play at a 12.2x multiple, a 0.9 beta, and a generous 3.8% dividend yield. Analysts expect 2013 EPS to be $2.66 and grow 8.5% annually in the near-term. This would mean 2016 EPS should hit $3.68. At a 15x multiple, the future stock value of Mattel is $55.22. An 8% discount rate would place the price target at around $37.58. However, this estimate actually understates the company's potential, since growth has generally been better-than-expected. Mattel also has no shortage of liquidity with a current ratio of 2.2 and operating cash flow north of $664M.
For slightly greater risk and possibly more upside, Activision Blizzard is an attractive supplement to a Mattel investment. The firm is currently experiencing churn in its flagship video game World of Warcraft but has nevertheless shown excellent execution (meaning record sales) in new launches, like Skylanders. The company currently trades at a respective 14.5x and 11.2x past and forward earnings with also excellent liquidity at a 2.5x quick ratio. Analysts expect the company to realize $1.08 EPS in 2013 and then grow 11.1% in the near-term. If the company can trade at 15x and achieve that growth, the future value of the stock will be $22.23. Discounting backwards by a 10% discount rate yields a price target of $13.80 for roughly 15% appreciation. This isn't all that great on an uncertain economy but is nevertheless strong enough in light of the opportunities to expand margins through cost cutting. Growth has been nearly 2x higher annually over the past 5 years than what it is expected for the next 5 years, so the bar has been set fairly low and thus constrains downside.
Electronic Arts is one of the riskiest yet more undervalued firms in consumer goods. Hillard Lyons recently issued a "long-term buy" rating on the firm with a $20 price target, which was preceded by a $22 "buy" report from Needham in early May. The company is expected to realize $1.28 EPS in 2013 and then grow 16.4% in the near-term thereafter. This means 2016 EPS of around $2.05, which, at a 15x multiple, translates to a $30.75 price target. Put differently, the company may more than double.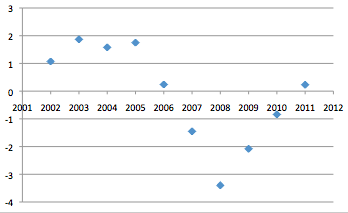 Note: EA's EPS over the last decade.
As can be seen in the image above, EA is highly volatile and unstable. With a company as risky as this, it makes sense to factor in a discount rate above the traditional 10%. At a 12% discount rate, the present value of EA's future streams of earnings is $17.45 per share. This means more than 45% appreciation. Downside and risk, however, may be less than what the market currently appreciates. Cash per share is currently $5.82, which is roughly half of the current market capitalization.
Disclosure: I have no positions in any stocks mentioned, and no plans to initiate any positions within the next 72 hours.