Passport Capital LLC, a hedge fund worth $3.4 billion, recently announced that it plans to close its materials fund after it incurred a loss of 31% this year. As this fund has moved out of this sector, we think that there are signs of market capitulation and a possible bottoming in the materials sector. If that turns out to be true, the sector should bounce off the lows and offers a good entry point for investors.
However, for a risk-averse investor, we recommend four safe stocks. Other stocks can then be added to your positions once the uncertainties surrounding the global economy disappear. Let us now analyze the major holdings of Passport Capital and how they differ from our recommendations.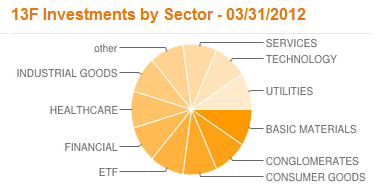 Source: Whale Wisdom
Passport Capital's Major Holdings
The following table shows the hedge fund's major holdings, as according to its latest 13-F filing (of March), in the materials sector:
Company/ETF

Ticker

Industry/
Description

Sub-Industry/
Commodity

% of
Portfolio

Previous %
of portfolio

SPDR S&P 500 ETF Trust (PUT)

S&P 500 ETF

-

27.12%

0.00%

Cytec Industries Inc.

Chemicals

Specialty Chemicals

6.00%

10.55%

SPDR Gold Shares (PUT)

Commodity ETF

Gold

3.91%

1.34%

Pretium Resources Inc.

PXZRF.PK

Mining

Gold Mining

1.81%

0.00%

Materials Select Sector SPDR Fund (PUT)

Materials ETF

-

1.59%

0.00%

Methanex Corp

Chemicals

Specialty Chemicals

1.43%

0.00%

SPDR S&P Metals & Mining ETF (PUT)

Materials ETF

Metals & Mining

1.37%

0.00%

Huntsman Corp

Chemicals

Diversified Chemicals

1.27%

1.66%
Let us analyze the key findings from the investment pattern that this hedge fund had been following:
It increased its proportion in the put options of gold's commodity ETF (NYSEARCA:GLD), probably because it wants to hedge its position in gold stocks like Pretium Resources Inc. (NYSE:PVG). However, gold was suffering in 1Q2012 as a result of seasonally low demand and in the introduction of a tax by the Indian government on gold jewelry.
In individual stocks, chemical companies were Passport Capital's favorite picks. A likely reason for this increase in investment in said companies is the fact that U.S. chemical companies benefited due to the shale gas boom. This is because the manufacturing of ethylene, a key organic compound used in the Chemical Industry, is cheaper from gas-based ethane, rather than oil-based naphtha.
Passport Capital's Materials Fund lost 17% in the second quarter. As according to this fund's portfolio managers, "The fund has taken longer than expected to exit private investments that are currently facing a liquidity crisis." These 14 private investments in its materials fund comprise about 62% of the portfolio. We think the investments in listed material stocks would not have caused the fund to close as they were hedging stock exposures.
Passport Capital's Vs. Qineqt's Favorite Material Stocks
We now examine how Passport Capital's holdings and our favorite picks in four major industries of the materials sector differ from one another.
Chemicals
Passport Capital's major holdings were chemical stocks - however, it had to reduce some of its chemical holdings probably to invest more in SPY. It was hesitant to invest in diversified chemicals as it reduced its holding of Huntsman Corp (NYSE:HUN), and did not invest in Dow Chemicals (DOW) or DuPont (DD). However, it preferred some specialty chemicals like CYT and MEOH, along with companies in the Paints & Coatings Industry e.g. The Sherwin-Williams Company (NYSE:SHW), in which it initiated a position of 0.75% in the recent quarter.
We are bullish on chemical's future upside potential, but feel that too much of it is already reflected in some of the companies' share price e.g. SHW or HUN. Still, the DOW remains our favorite pick due to its high dividend yield, innovative products in the pipeline, and diversified operations.
Fertilizers
Fertilizer stocks were suffering a lot amidst the recent uncertain global environment, along with a drop in Potash sales and an increase in Phosphate raw material costs, which had a negative impact on the operating performance of most fertilizer companies. As a result, Passport completely sold its position in The Mosaic Company (NYSE:MOS) from 3.73% of portfolio.
However, strangely enough, Passport reduced its holding of our favorite CF Industries Holdings Inc. (NYSE:CF) from 0.75% to nil. The stock was able to outperform its peers because of its relatively high nitrogen exposure. The recent yield reduction of corn, due to the severe drought in the U.S. Midwest, is proving to be a great catalyst for fertilizer stocks' upward movement.
Gold
We are bullish on gold stocks in general, due to their relatively inexpensive valuations, continuous development of gold reserves, high operating cash flows, and high dividend yields. Barrick Gold Corporation (NYSE:ABX) is our favorite in gold stocks. However, Passport sold all of its ABX shares to reduce its portfolio holding from a previous proportion of 0.26%, and increased its share of put options in gold's commodity ETF, as well as gold stocks ETF -- Market Vectors Gold Miners ETF (NYSEARCA:GDX).
Steel
Steel stocks have not performed well this year, as a result of a macroeconomic slowdown, and a dip in global construction activity (the recent decline in Architecture Billings Index supports this view). However, automotive demand is picking up [as seasonally-adjusted annual rate (SAAR) of auto sales is increasing], which is a good sign of a potential recovery in the steel sector. We consider Nucor (NYSE:NUE) as the best steel stock, but Passport had not taken any position in it. However, it reduced its positions in U.S. Steel Corp. (NYSE:X) from 1.81% to 0%, and from 0.58% to 0% in AK Steel (NYSE:AKS), which we feel was a better decision at that point. This is because their operating performance was poor and their high beta made them highly vulnerable to the depressed economic situation.
Disclosure: I have no positions in any stocks mentioned, and no plans to initiate any positions within the next 72 hours.