Shares of Aurora Energy Resources Inc. (OTC:AUEGF) and parent company Fronteer Development Group Inc. (FRG) were shredded on Tuesday after the Nunatsiaq government in Labrador voted in favor of a three-year moratorium on uranium mining. That continued a downward spiral that has gone on for several weeks due to political concerns.
RBC Capital Markets analyst Adam Schatzker called the share price drop an "over-reaction." His opinion is that the moratorium was put in place to give the Inuit government time to put together a Land Use Policy [LUP] that will provide a framework in which mining can occur.
Aurora shares were up 10% or C$0.35 to C$3.85 at 11:00 a.m. ET on Wednesday morning, and Fronteer stock was up almost 8% to C$5.20.
"We do not believe this moratorium spells the end of uranium mining in the [Labrador Inuit Lands]," he wrote in a note to clients.
Mr. Schatzker also pointed out that a three-year moratorium should not affect Aurora because the company is not planning to produce any uranium for six years. But in light of the heightened political risk, he pushed his estimated start date for the mine out one year to 2015, and applied a discount to the value of the project.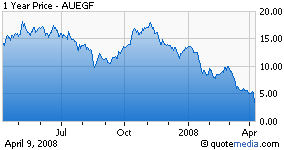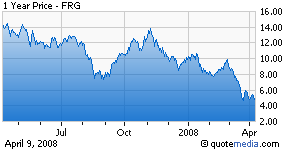 All the same, Mr. Schatzker figures that Aurora shares are now undervalued, and upgraded the stock to "outperform" from "sector perform." But he lowered his price target to C$8.00 a share (from C$12.50). That is still more than double the current price.
He maintained an "outperform" rating on parent company Fronteer (which holds 42.3% of Aurora shares) but cut his target to C$9.00 a share (from C$11.00). That target assumes a 15% control block premium for the Aurora stake.