Red Hat (NYSE:RHT) is one of the most unique and defensive business models in technology. If you don't know Red Hat, they are the leader in providing open source software technologies to enterprise customers. They offer an enterprise operating system platform - Red Hat Enterprise Linux, JBoss Middleware, virtualization, cloud and storage offerings. They compete with EMC (EMC), Microsoft (NASDAQ:MSFT), Oracle (NYSE:ORCL), SAP (NYSE:SAP), Rackspace (NYSE:RAX), and VMWare (NYSE:VMW).
Open Source is a Long-Term Secular Trend
With open source, software developers from all over the world can contribute their wisdom to developing the best product. People can access source, copy, use, modify and redistribute code to others. The sharing of the source code accelerates the enhancement of software. Without question, open source systems are dramatically less expensive than proprietary systems in terms of initial cost. More importantly, open source software has the same functionalities - and in many cases surpasses - the quality of proprietary software, but at a lower cost.
Red Hat's products are able to offer high-quality IT solutions on the cheap, satisfying companies that need to invest in their IT infrastructure but are facing tight budgets. For example, in the recent economic slowdown, Red Hat experienced some of the strongest growth in southern Europe, which is feeling the most pain from the debt crisis.
The company also benefits in strong economic times as more spending in general flows to the company. Over time, companies will realize the quality, secure, and low cost nature of open source software.
This graphic illustrates the company's long-term opportunity. (Source)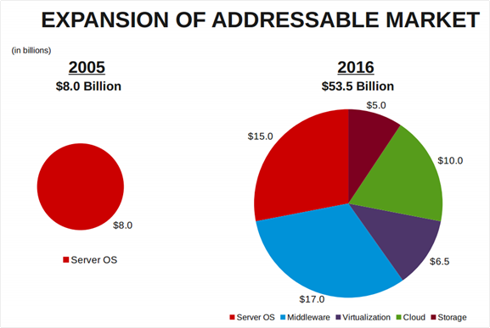 The above graphic shows that there are several "legs" to the Red Hat growth stool. The company began as a provider of Server OS and now has opportunities in the Middleware, Virtualization, Cloud, and Storage market. Their addressable market is $53 billion, and their $1.3bn estimated revenue in fiscal 2013 (management guidance) implies there is a long runway for growth.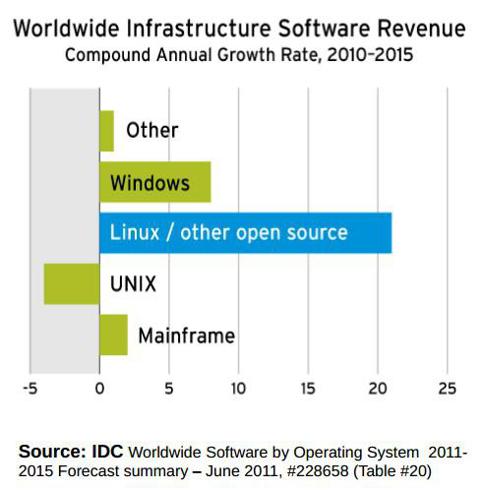 This analysis implies that Linux and open source technology will take market share from proprietary systems over the next several years. This is Red Hat's forte.
Unique Business Model
Red Hat provides enterprise technologies under annual or multi-year subscriptions. They offer free software but make revenue from the support, maintenance, training and service. They are not selling an upfront license; instead, they are selling the continued value of an ongoing subscription. Customers can get the latest features, bugs fixed, security patches installed, and hardware and software support. Moreover, Red Hat offers 10 years of product support to make sure that customers are able to maintain critical systems for long periods of time. The subscription business model enables the company to post consistent revenue growth even in a slow economy as the business is sticky (high renewal rates).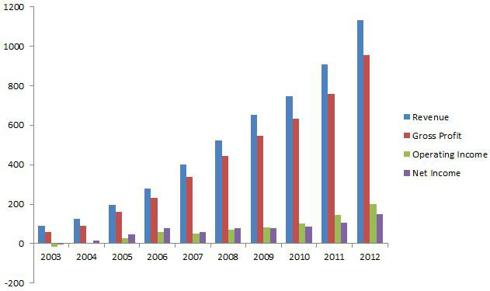 The Company Executes Well
Red Hat is growing and investors have rewarded the stock. If the company continues to execute as expected, the stock price should continue to climb higher by about 20% annually as earnings grow at that rate.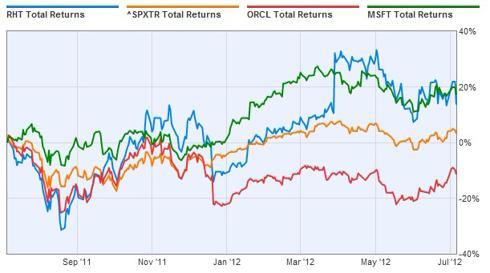 Company Mission and Culture
Red Hat has a unique culture, just like their unique business model. In the company, everyone can have their voice heard as the mantra is "open" and all viewpoints are embraced. At HQ there is one quote, "First they ignore you, then they laugh at you, then they fight you, then you win." This reflects the company culture and spirit. The company mission statement: "To be the catalyst in communities of partners and customers and contributors building better technology the open-source way."
Red Hat has disproved the initial critics that said there was no way for open source to make money. "We think of Linux as a competitor in the student and hobbyist market but I really don't think in the commercial market we'll see it in any significant way." Bill Gates, 2001. There are no innovation boundaries in the technology world. We believe Red Hat will continue its stellar performance and thrive over the next decades.
Stock is Near to Fair Value
The stock is close to our price target of $52, so we would look to buy the stock a little lower. We get our price target by multiplying our 2013 EPS of $1.49 by a P/E of 35x.
Here is our summary model: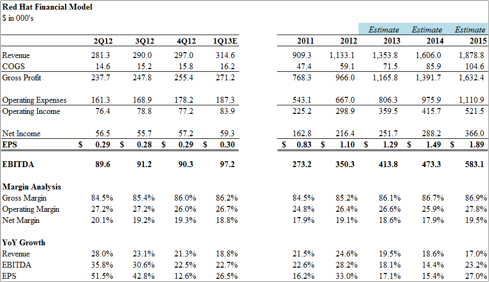 Risks
Like all companies, Red Hat faces risks to continue on their growth path. First, they must continue to attract and retain talented software developers, which is not a trivial task given the high demand for these employees. Also, the high demand creates increasing salaries so the company's cost structure is set to increase regardless of revenue growth. Also, the pace of technological change is so rapid there is the chance that a new software displaces Linux and the open source model.
Currency will also be a headwind for revenue growth as the get 25% of their business in Europe. However, the weak Euro currency won't affect earnings as much because the company has a natural hedge with operating costs also denominated in those regions.
Lastly, Red Hat is facing serious competition from Oracle and VMware. These companies have a lot to lose to an open source competitor, so they will battle with fiercely for their market.
Bottom Line
We are bullish on the long-term potential for Red Hat and open source software. The combination of a high-quality product for a lower price is a powerful combination. Management is well respected, does what they say they are going to do. This should translate to a higher stock price over the next decade.
Disclosure: I am long RHT.