(Correction: The article originally said 50% of the corn had been harvested. I misread the USDA report: 50% had silked, not harvested, so the risk to corn is higher than I previously thought.)
Along with corn (NYSEARCA:CORN), wheat (NYSEARCA:WEAT) has been on a tear. One might think that the hot, dry June weather was to blame, that the wheat was wilting in the fields. But there's just one problem ...
Wheat is no longer in the fields. It has been mostly harvested already. You see, due to the mild winter, this year's wheat harvest was way ahead of schedule. As per USDA, this is how things looked on July 8: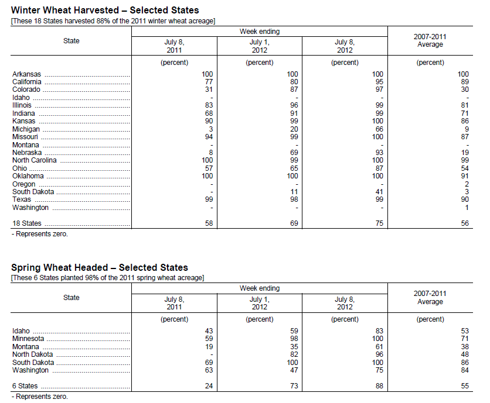 So basically, you have 75% of the total winter harvest (the largest wheat harvest) in already, where last year you were only at 58%. Wheat has no way of being destroyed, when it's harvested already.
Sure, there is some fear of substitution with corn, since corn is really being destroyed by the heat and drought. These fears are grounded, but still corn is cheaper than wheat, and only around 40% of corn harvest is used for feedstock.
What I mean by this is that the harvests, particularly wheat, were so advanced this year that it's hard for the apocalypse that the corn and wheat prices reflect, to actually materialize. Indeed, it all points towards a crop that will exceed 2011's in spite of the heat and dryness (this was also helped by a larger plantation this year).
In short, the market moves can be too speculative at this point, particularly on wheat. The drought is all over the news and that might be influencing traders, but the fact Is that the harvests are much more advanced than usual, making a production catastrophe be very unlikely.
Conclusion
Even though Goldman Sachs came out with a bullish call on the grains today, it would seem likely that betting on wheat going up is not going to work, since the wheat has already been harvested and is no longer at risk of being ruined by the drought. As such I think it would be smart to avoid buying, or perhaps even short, wheat.
Disclosure: I have no positions in any stocks mentioned, and no plans to initiate any positions within the next 72 hours.
Additional disclosure: I shorted wheat (ZW) several times yesterday and covered, today I've shorted again on GS's bullish call pump and remain short.