Strengths
Wells Fargo's (NYSE:WFC) biggest advantage to other large cap US banks is its conservative approach to banking. The bank relies on mortgages and consumer lending in the United States for a large portion of its revenues, with a much smaller capital markets arm than conglomerate competitors such as JPMorgan (NYSE:JPM) and Citigroup (NYSE:C). Wells Fargo also has no intention to become a gunslinging investment bank. In fact, one of the first things Wells Fargo did upon acquiring Wachovia was shut down its proprietary trading arm. A trading loss of the JPMorgan caliber is very unlikely to come from Wells Fargo.
It also has limited exposure to the quickly deteriorating situation in Europe. 95% of revenues derived domestically and of the 5% of its international revenues, a large portion are derived from domestic customers wanting to enter international markets (according to investor relations).
The operating statistics of Wells Fargo are improving nicely as well. Non-performing loans ratios continue to improve, with 2.6% in 2011, 2.05% expected in 2012, and 1.84% expected in 2013, according to Morgan Stanley. Non-performing assets and net charge-offs are improving significantly as well. As a result of strong performance, management has recently doubled its quarterly dividend, which demonstrates a commitment to returning shareholder value. In the long term, management looks to return between 47% and 67% of shareholder value via stock buybacks and dividends. Using consensus EPS estimates, these dividends can very well double again within the next 2 years.
A qualitative factor that investors may overlook is the consumer sentiment towards the Wells Fargo brand. Many of Wells Fargo's competitors has a bad name on main street (think JPMorgan and Citigroup, for example) whereas Wells Fargo is seen as a traditional retail bank. This sentiment of trust can prove to be very lucrative for the bank.
The quality of Wells Fargo's management cannot be overlooked either. CEO John G. Stumpf has been with the company for 30 years, and CFO Timothy Sloan has been with the company for 24 years. During their time as executives, they have overseen the company through several recessions and, most importantly, they have dealt with the many housing bubbles in California. This experience gives the company an edge in dealing with the fallout of the '08 housing bubble that many other banks continue to struggle with.
Lastly, let's not forget that Warren Buffett is a large stakeholder of the company, and it is the only position that Buffett has continually added to in the last couple of years.
Weaknesses
No company is perfect, and Wells Fargo is no exception.
One of main concerns relates to its tier 1 common capital ratio, which is lower than most competitors, including JPMorgan and Citigroup, and is likely below the estimated Basel III capital requirements. However, management has improved Tier-1 capital from 1 year ago by an impressive 16% and is confident that they will meet the Basel III capital requirements plus a 1-2% cushion by the second half of the year. Given that Wells is a conservative bank, lower capital issues shouldn't impact the bank's borrowing cost or solvency. Management, though, has said that they will not increase dividend payouts until they have met their capital requirements.
Wells Fargo has been identified by the Fed as a bank whose solvency will have a systemic effect on the market as a whole, which means it is subject to the same regulations as its conglomerate peers. More regulation may prove to be costly and cumbersome for the company.
Another concern is with regards to the low interest rate environment which puts downward pressure on net interest margin (investor relations call). This is an issue, though, is faced by the entire industry and currently, Wells Fargo has one of the highest NIM among its peers.
Opportunities
So far, we have established that Wells Fargo is fantastic bank, but where is the growth going to come from?
One of the main drivers going forward is Wells Fargo's dominance mortgage origination (they are the largest) and they are the 2nd largest in mortgage servicing behind Bank of America. The housing market, regardless of whether or not you think it has bottomed, will likely recover in the long run and Wells Fargo will be able to capture tailwinds from this trend.
Cross selling will also be a major driver of Wells Fargo's growth. The integration with Wachovia's larger commercial lending, wholesale banking, and capital markets activities allows Wells Fargo to cross sell its products. We have already seen some early indicators of its success in the last few quarters.
Threats
The threats that Wells Fargo face are generally related to the macroeconomic environment. Macro issues such as the European Debt Crisis may cause a sell-off on banks regardless of their fundamentals.
Another threat is that if Basel III requirements are more stringent than expected, Wells Fargo may run into capitalization issues and further delay dividend payouts.
Peer Valuation
Name

Market Cap

Expected Dividend Yield

Tier 1 Common Capital

P/Tangible Book

P/E

Consensus FTM P/E

Wells Fargo

177.91B

2.59%

9.95%

1.78x

10.79x

10.13x

Regionals

BB&T (NYSE:BBT)

21.44B

2.55%

10.00%

1.92x

14.05x

11.29x

US Bancorp (NYSE:USB)

60.52B

2.46%

8.70%

2.72x

12.33x

11.50x

Conglomerate

Citigroup

79.26B

0.29%

10.40%

1.05x

5.00x

7.04x

JPMorgan

136.24B

3.23%

12.50%

0.54x

7.18x

8.55x
Wells Fargo has similarities to both regional banks and conglomerates. and both groups should be used for peer valuation purposes. It is similar to regionals in the sense that 95% of its revenues come from the US and the majority of its revenues comes from the retail side. It is similar to conglomerates as well because of its huge market capitalization and because the feds have considered Wells Fargo to be a bank whose failure would have systemic influences.
Wells Fargo's valuation trades at a premium to the conglomerates and at a discount to the regionals. Although, from an operational perspective, it is more similar to regionals than the conglomerates. Its national reach, I believe, is an advantage, and therefore should be trading in line with, if not at a premium to, the regionals.
Historic Valuation
When compared to its historic valuation metrics, Wells Fargo is still well off its highs. Historically, it trades at a forward P/E ratio of 14x where it currently trades at 10.13x. Its EPS has already surpassed its previous historic high in 2007. Despite its price appreciation over the last 2 years, its multiples have actually contracted. This is unjustified because there aren't too many headwinds that would deteriorate Wells Fargo's growth or profit.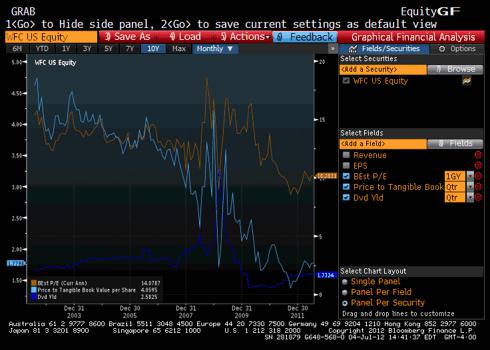 Even in a challenging market, it is very possible to see a forward P/E multiple between 11x and 12x, which implies a price between $36 and $40
1-Year Price graph
Current price: $33.48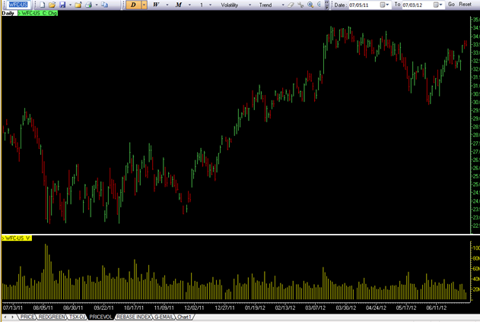 Analyst Recommendations (Bloomberg)
Buys: 78.9%
Holds: 18.4%
Sells: 2.6%
12-month average target: $37.94
1-year return: 20.86%
Technical Stats
14 Day RSI: 61.24
Stochastic: %K - 92.18, %D: 77.10
The following graph shows Wells Fargo (yellow) vs. S&P 500 (blue) vs. KBW Bank index (red). During debt ceiling issue in the August of last year, Wells Fargo outperformed the KBW index by a significant margin. Since then, it has continued to outperform the bank index and even managed to overtake the S&P 500. In the last year, Wells Fargo returned 18% vs. 2% of the S&P 500, and -5% of the KBW Bank Index.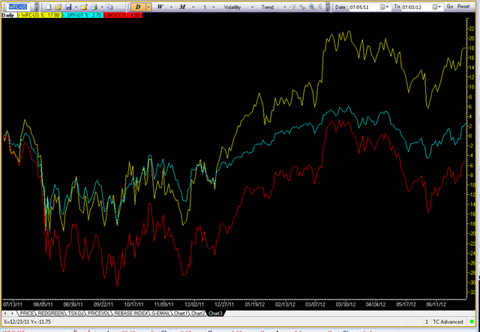 Conclusion
Wells Fargo is a fantastic American bank. Its conservative approach to banking, domestic exposure, and a small capital markets arm will lead to stable and predictable earnings going forward. It pays a generous 2.59% dividend that management hopes to increase in the long run. It is the leader in the mortgage origination market, and a recovery in housing is a significant catalyst to Wells Fargo's price in the near term.
Although Wells Fargo's tier 1 common equity ratios are not as strong as some of the other peers, it's important to note that Wells Fargo has a far more conservative operation than Citigroup and JPMorgan and the bank does expect to reach Basel III requirements by the time they are released by this year's end. The current valuation is not expensive, and I believe it is a great time to buy a great bank at a great price.

Disclosure: I am long WFC.