When we look for yield stocks, we have a minimum set of quantitative criteria (necessary but not sufficient -- other factors considered too). Those minimum necessary criteria (shown in Figure 1) look for solid, well covered dividends at an above average level and with a history of consistent growth. As of last week, 46 companies listed in the United States pass that filter.
We were interested to see, and you may be too, how the total dividends paid by those 46 stocks compared to the total dividends paid by the S&P 1500 -- in dollar amount and in percentage terms -- and then how the total dividends from each changed over the past several years on an indexed basis. A proxy for the S&P 1500 is ISI.
Figure 1:
These are our minimum quantitative criteria, before we take various qualitative, thematic, valuation and technical factors, and certain solvency and liquidity issues into consideration, as well as independent analyst views.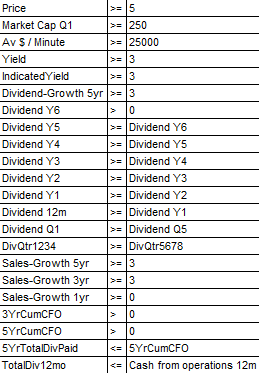 Figure 2:
The QVM quantitative list grew steadily, while the S&P 1500 fluctuated somewhat -- not terribly, but somewhat, and didn't grow much.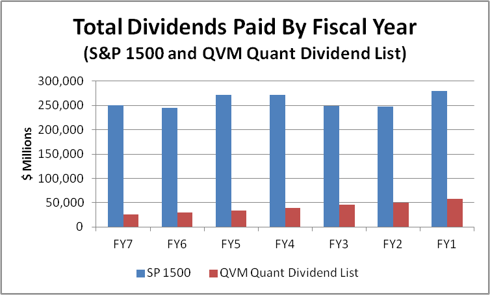 Figure 3:
On an indexed basis with Fiscal Year 7 (seven years ago), the QVM quantitative dividend selection list substantially outgrew the S&P 1500.
The S&P 1500 dividends ended FY1 up 12% from FY7, whereas the QVM list dividends ended FY1 up 122% from FY7.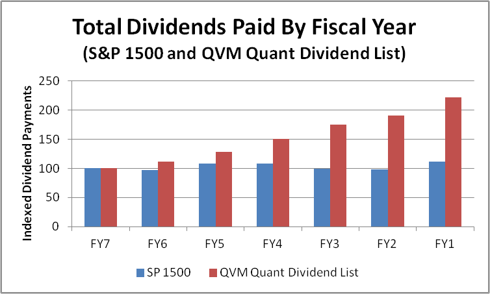 Figure 4:
Those 46 stocks represent about 3% of the total number of issues in the S&P 1500, but they paid total dividend equal to 10.41% of the total dividend paid by the S&P 1500 in FY7, and 20.69% of the total dividend paid by the S&P 1500 in FY1.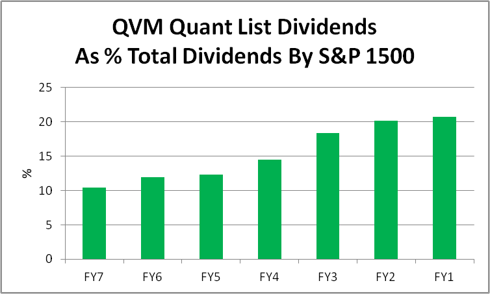 Of those 46 stocks, only about 15 have currently reasonably attractive charts. Of those 15, only 3 have solid independent analyst BUY recommendations, high financial strength ratings, 10+% multi-year annual total return projections, and reasonable EV/EBITDA ratios.
Charts by StockCharts.com
Buy recommendations from Thompson Reuters StarMine (0-10, where 7.1 or more is bullish)
Financial strength and multi-year annual total return projections by Value Line
EV/EBITDa by Bloomberg
Those are:
Figure 5:
The ratings data is in this table:

We discussed the distribution of EV/EBITDA valuations in a recent article.
ABT and PEP were included in our list of 16 stocks that are dividend champions or contenders, and also members of the Russell 1000 growth at a reasonable price sub-index, and either the Russell 1000 low volatility or low Beta sub-index.
ABT was in our list of 5 dividend stocks with great free cash flow.
Figure 6:
Here are 1-year weekly plots for those three stocks on a percentage basis, in comparison to the S&P 500 (proxy SPY).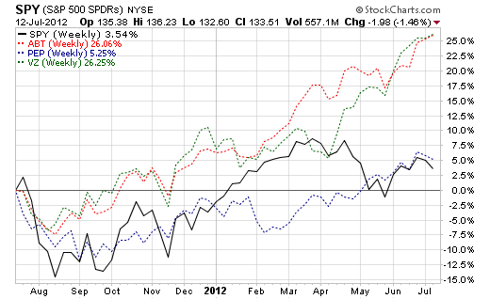 There are also some attractive opportunities among stocks that do not have pretty charts -- more value plays than momentum plays. We like to see analysts looking favorably at stocks, but are not afraid of stocks with neutral or hold recommendations. We take independent analyst views most seriously into consideration when they are negative -- a good signal to look further and deeper before owning (or retaining) a stock.
Disclosure: QVM has positions in ABT, PEP, VZ and SPY as of the creation date of this article (July 12, 2012).
General Disclaimer: This article provides opinions and information, but does not contain recommendations or personal investment advice to any specific person for any particular purpose. Do your own research or obtain suitable personal advice. You are responsible for your own investment decisions. This article is presented subject to our full disclaimer found on the QVM site available here.