An acquaintance in luxury homebuilding once confessed to me that many of his clients compensated him in cash. Similarly, he paid many of his subcontractors in greenbacks. "The world of construction," he explained, "doesn't account for a wide range of financial transactions."
"Sounds a bit like the restaurant business," I said. After all, who hasn't under-reported tip income as a waiter? And what restaurant upstart hasn't kept a bit of cash flow off of the books.
He nodded, then uttered, "It's not what you make ... it's what you keep."
There's a fair amount of irony in the fact that a pull-yourself-up-from-the-bootstraps carpenter was explaining to me, an investment adviser, the difference between gross income and net income. Then again, this carpenter had become one of Orange County's premier custom homebuilders.
Perhaps surprisingly, a great many people cannot make the distinction between gross and net. For example, a sole proprietor may gross $380,000 and net $125,000 after overhead. Yet the masses may see this individual in the same light as a real estate entrepreneur who grosses $380,000 in property sales, but only has exposure to capital gains taxes.
This lack of understanding between what we make and what we keep has far-reaching implications. For instance, over the last 3 1/2 years, millions of jobs have been created. We made them ... we're America.
Unfortunately, the net amount of what America actually kept over the last 3 1/2 years is less than exhilarating. Specifically, the proportion of the working age population currently working is at its lowest level in more than three decades. The unemployment rate simply doesn't account for a net loss in jobs when millions of people stop looking for them.
"Gross" and "net" are applicable to our investment portfolios as well. In spite of major cities declaring bankruptcy – Scranton, Pa., San Bernadino, Calif., Stockton, Calif., - investors have yet to throw in the muni bond ETF towel. Far from it!
Muni Bond ETFs: Nothing But NET!
Approx 6 Months %
TEY 33%
SPDR Nuveen S&P High Yield Muni (NYSEARCA:HYMB)
10.2%
15.2%
Market Vectors High Yield Muni (NYSEARCA:HYD)
10.1%
15.1%
Market Vectors Long Muni (NYSEARCA:MLN)
5.4%
8.1%
PowerShares Insured National Muni (NYSEARCA:PZA)
4.9%
7.3%
PowerShares Insured New York Muni (NYSEARCA:PZT)
3.9%
5.8%
iShares California Muni (NYSEARCA:CMF)
3.8%
5.7%
SPDR Barclays Muni (NYSEARCA:TFI)
2.6%
3.9%
SPDR S&P 500 (NYSEARCA:SPY)
4.4%
4.4%
What is particularly impressive about the results are the taxable-equivalent yields. With far less traditional risk than the U.S. stock market, PowerShares National Muni (PZA) produced a 7.3% taxable equivalent yield for the 33% tax bracket over the last 6 months. If one engaged in slightly more risk by investing in a collection of long-dated muni maturities via Market Vectors Long Muni (MLN), an investor has seen an 8.1% taxable equivalent yield for the 33% tax bracket over the last 6 months. Both PZA and MLN compare quite favorably compared to SPY's 4.4%.
In essence, the net gains for muni ETFs are remarkably potent. As long as the masses continue piling into bond funds of all stripes, pushing down bond yields, you might expect the segment to remain attractive. If PZA or MLN dropped significantly below a 200-day moving average, however, one might move to minimize exposure.
Click to enlarge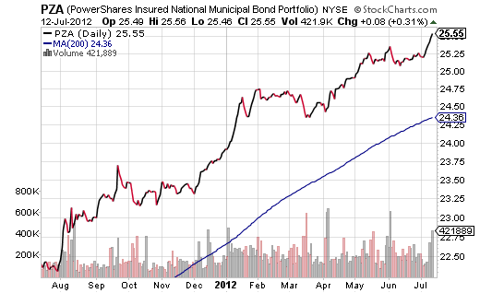 Disclosure: Gary Gordon, MS, CFP is the president of Pacific Park Financial, Inc., a Registered Investment Adviser with the SEC. Gary Gordon, Pacific Park Financial, Inc, and/or its clients may hold positions in the ETFs, mutual funds, and/or any investment asset mentioned above. The commentary does not constitute individualized investment advice. The opinions offered herein are not personalized recommendations to buy, sell or hold securities. At times, issuers of exchange-traded products compensate Pacific Park Financial, Inc. or its subsidiaries for advertising at the ETF Expert web site. ETF Expert content is created independently of any advertising relationships.