The Chilean economy grew 5.1% in 2007 and appears set to expand at a similar rate in 2008 if the global commodities markets keep booming. Natural resource–rich Chile, which produces a third of the world's copper supply, saw its currency appreciate 14% against the dollar since the beginning of the year as prices in metals, energy products and agricultural commodities climbed near record highs. iShares MSCI Chile ETF (NYSEARCA:ECH), which invests in 33 stocks listed on the Santiago Stock Exchange, gained nearly 11% year to date through April 4.
Chile has long been considered one of the most economically progressive free market–oriented nations in Latin America. Since climbing out of a recession in 2000, the country's economy has sustained robust growth and grown increasingly tied to international markets. Chile had a GDP of $234 billion last year, the largest per capita in Latin America, and about 45% of it is connected to foreign trade. Copper is the country's most important export, but Chile also trades lots of fish, wine, pulp and paper products, fruits and chemicals.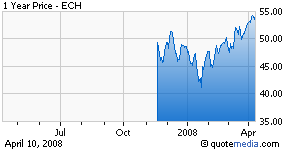 Chile sends only about 15% of its exports to the U.S. The country is much more reliant on trade with Asia; Japan receives about 10% of exports, China nearly 9% and South Korea about 6%. So while the Chilean stock market is certainly not immune to the pressures of a U.S. economic downturn, some analysts think the country is more likely than most of its neighbors to stay afloat if the U.S. flounders.
ECH invests in stocks from throughout Chile's economy, weighting the utilities and industrials sectors most heavily, with each representing about a quarter of the fund's assets. The National Electric Company of Chile (Empresa Nacional de Electricidade) (NYSE:EOC) and fellow electricity company Enersis (ENI) placed second and third in ECH's portfolio recently. They are the two largest utility firms based in Chile, and each provides electricity for several South American countries. Stock in industrials conglomerate Copec, ECH's recent top holding, accounted for more than 15% of ECH's assets. Copec operates a variety of diverse businesses but makes most of its profits in the energy and natural resources sectors—including natural gas, oil, metals, fish, and pulp and paper products.
Chile may be on the brink of a severe energy crisis, caused by the combination of a natural gas shortage, which has forced power companies to use more expensive means of fueling their generators, and a drought, which has cut into the production capacity of many hydroelectric power plants. Soaring power prices could certainly signal challenges ahead for the Chilean economy as a whole, especially since demand for power is rising steadily too.
The National Electric Company and Enersis could actually benefit from the situation, however. Both firms generate fairly low-cost electricity and appear positioned to produce enough power in the coming years to take advantage of high prices. What's more, some analysts think the steep cost of natural gas will help solidify much-needed political support for major hydroelectric energy projects that the National Electric Company is lobbying for. Stock in the company gained 32% year to date through April 4, while Enersis shares gained 19%.
It's not clear how Chilean markets will be affected if the current weakness in the U.S. economy drags on. But as The Street's Roger Nusbaum points out, the Chilean stock market has historically been somewhat out of sync with its northern trading partner. During the tech meltdown of the late '90s, for example, the Chilean stock market peaked 15 months after the S&P 500 did, then proceeded through its own steep fall and eventual recovery.
A prolonged U.S. recession would likely dampen growth in Chile eventually, but some weaknesses in the U.S. economy might actually have served Chile well. Last week's anemic employment report sent some Chilean stocks rallying. "The deduction the market made from the jobs data was that new interest rate cuts will be necessary, and that's going to weaken the dollar and push commodities prices higher, which is good for regions that depend on them, like Latin America," Rodrigo Andaur, an analyst with FIT Research in Santiago, told Reuters on April 4. A stronger Chilean peso would continue a trend that has been driven by a growing gap between the two countries' interest rates. As the Federal Reserve fought slowing growth by cutting the overnight lending rate to 2.25%, Chile's central bank has sought to curb inflation by raising its benchmark interest rate to 6.25%.
ECH was ranked 25 on the ETF Momentum Tracker Table as recently as January 22, held back in part by signs of inflation and concerns about potential power shortages. Soaring copper prices and a stronger peso had overshadowed those concerns by last week, however, leaving ECH ranked third on the table for the third consecutive week.
A slew of economic data released last week in Chile, revealing stronger-than-expected industrial output and only mild inflation, could bolster ECH's momentum. But ECH, which began operations only about five months ago, is a highly concentrated fund that is surely capable of intense volatility. It may soon prove to be a valuable point of access to a market filled with potential, but anything more than a small stake here courts substantial risk.