According to CNBC, there could be a worldwide shortage "nobody is talking about."
You know about the dwindling corn crop but there's another shortage that you probably don't know about, and it could be even worse.

According to Jim Bower of Bower Trading investors need to turn their attention to soybeans

Jim Bower says that soybeans are moving into a key period for harvest and that "the critical time for soybeans is the last two weeks of July and first three weeks of August. If soybeans face the same parched weather conditions as corn, the price of soybeans will go wild."
And according to Bower, we may be seeing a trend that could last for months and lead to a "protein shortage worldwide."
As things stand right now this year's soybean crop may be the worst since 1988. And if the weather stays hot and dry the implications are massive. Not only are soybeans used to make fuels and feed here in the US but our nation is a major supplier of soybeans to China.

"If the yield in soybeans keeps dropping at this rate, in the months to come we could be faced with a protein shortage worldwide," says Bower.
The market for soybean meal, a product made from soybeans, remains in backwardation, a sign that soybean prices could continue to rise as I pointed out back in April.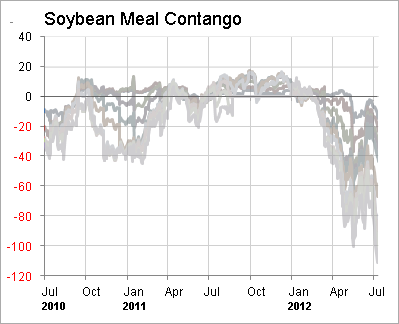 And as it turns out, July and August soybeans are up sharply since April.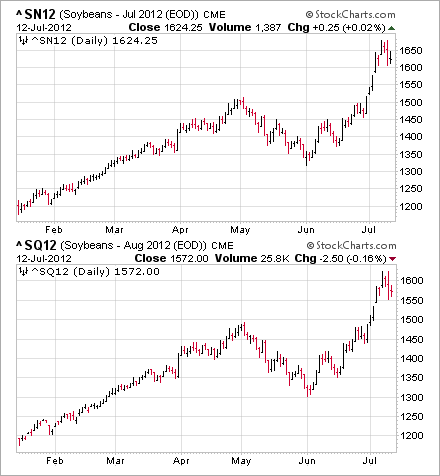 But unless you know your soybeans, I'd steer clear of futures contracts or exchange traded products that track them. In agriculture, you're often trading contracts for crops yet to be planted - let alone harvested - so you have to keep track of when these funds (such as SOYB and CORN) roll their contracts and which contracts they trade.
Another way to capitalize on higher food prices would be through stocks of companies that sell fertilizers and nutrients as another article that ran on CNBC suggests:
Bad news for harvests is good news for fertilizer makers though, as demand will surge as farmers nurture crops in the fall, according to a research note by Don Carson of Susquehanna Financial Group. He also said reports of potassium-deficient soils in the Midwest, where the bulk of the corn is grown, should drive up demand for potash, one type of fertilizer.

Fertilizer companies are expected to start reporting their results next week, starting with Mosaic Co. on Tuesday, and may provide a bigger picture of the trends then.
Two agricultural ETFs to consider
Two ETFs that come to mind include the MarketVectors Agribusiness ETF (MOO) and the Global X Fertilizers/Potash ETF (SOIL). Each owns fertilizer companies, but in different allocations. Here's a comparison of some of the top holdings.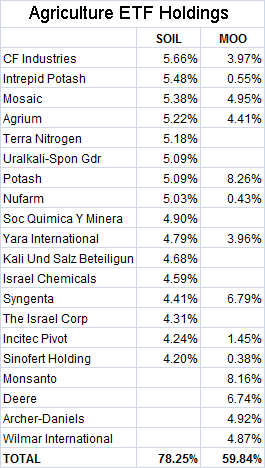 As a more general agribusiness ETF, MOO holds stocks in a wide range of more industrial and chemical companies that aren't as directly involved in fertilizers. These include Deere (DE), Archer Daniels Midland (ADM), and Monsanto (MON). These may be good companies to own, but the SOIL ETF is a "purer play" on companies that manufacture and market fertilizers.
I happen to already own MOO and will continue to hold, but if I were starting a new position to benefit from potentially higher crop prices, I'd definitely take a closer look at the SOIL ETF.
Disclosure: I am long MOO.