I rarely short. But occasionally, I see something that's so drastically overvalued that I can't resist.
And that's the case with Treasuries today. Yields have dropped to levels seen right after the financial crash, and prices have skyrocketed proportionately. Comparing the TLT ETF with yields:
. Source: FreeStockCharts.com)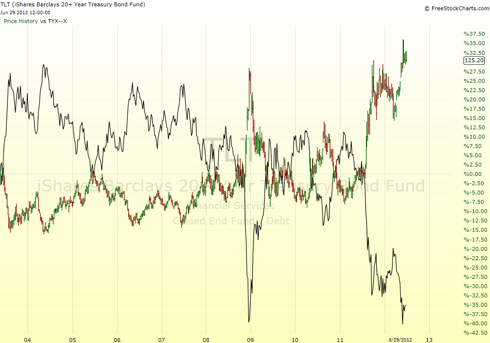 So why don't I like Treasuries? Well, since I've written about it so many times before, I'm not going to go into it in a lot of depth. Here's the last article I wrote, from which you can access earlier articles as well. For those who want the quick and dirty version, however, here's a rapid-fire overview:
TLT: The ETF to Short
I only short using put options, for two reasons: first, the downside is limited if I'm wrong. Second, the leverage provides outsized returns if I'm right.
With that in mind, TLT is the ETF I chose to short. With an effective duration of 17.44 and an average maturity of 27.97 years, this ETF will have the strongest price response to interest rate changes.
I chose to purchase TLT put options expiring in March '13. I chose to buy the slightly OTM $127 strike for a debit of $7.30, meaning I'd break even if TLT expired at $119.70. (Link to options chain on Nasdaq.com)
I believe the risk/reward profile is skewed in favor of reward. The current yield is at a record low, and nine months remain for investors to wake up and realize Treasuries just aren't worth it.
Profit Potential
If TLT's closing price in March '13 is at my target price of $110 (a level seen this March), the put will have a value of $17 at expiry, representing a 132% profit. This price level roughly corresponds to a 10-year yield of 2.3-2.4% and a 30-year yield of 3.5%.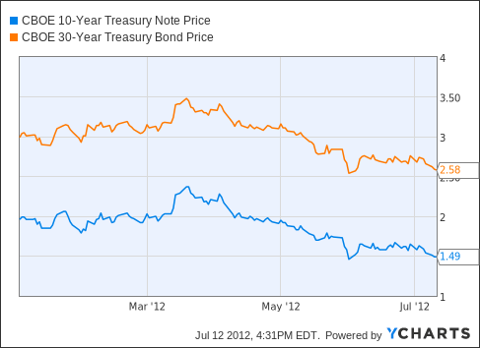 Words of Caution
Two primary words of caution. First, the market could continue to act irrationally, and yields could stay flat (or worse, go higher). Commentators were recommending short positions in Treasury bonds a year ago, but those clearly didn't work out.
Second, be wary of using leveraged or inverse ETFs like TBF or TYBS. While these can be good short term plays, over time, they suffer decay.
I've been looking for an entry point into this trade, and with the recent spike in prices, I decided it was finally time to pull the trigger.
Disclaimer: I am an individual investor, not a licensed investment advisor or broker dealer. Investors are cautioned to perform their own due diligence. All information contained within this report is presented as-is and has been derived from public sources & management. Always contact a financial professional before making any major financial decisions. All investments have an inherent degree of risk. The future is uncertain, and actual results may be materially different from those expected. Past performance is no guarantee of future results. All views expressed herein are my own, and cannot be interpreted as the views of my employer(s) or any organizations I am affiliated with. Presentation of information does not necessarily constitute a recommendation to buy or sell. Never make any investment without conducting your own research and reading multiple points of view.
Disclosure: I am short TLT.
Additional disclosure: I am short via the March '13 $127 put, as outlined in the article.