The euro is cheap and euro zone shares are even cheaper. Within those, telecom shares are cheaper still. To a considerable degree, that's no surprise, as they are basically flat-lining in terms of revenues and earnings. But they generally have good dividend yields, and some of them really outstanding ones. Certainly tempting.
Deutsche Telekom
The German behemoth Deutsche Telekom (OTCQX:DTEGY)
Market cap $45.4B [Yahoo]
Outstanding shares 4.3B
Revenue $71.9B
Cash $7.47B
Debt $56.89B
Leveraged free cash flow $36.7B
Dividend yield 8.9%
That 71 cents in earnings per share gives the company a p/e of nearly 15, which is quite high for the sector. But this is Germany and its balance sheet is healthier than most. A dividend yield of nearly 9% is very attractive.
KPN
The Dutch telecom company KPN (OTCPK:KKPNY), in which the Mexican Carlos Slim has taken a keen interest (nearly 40% now). Is he right? Here are some key metrics (from Yahoo, unless otherwise stated):
Market cap $12.5B
Revenue $15.96B (12 months to date)
Cash $1.56B
Debt $16.57B
Here you see the development of EPS and dividend, but not that these are for the shares listed in euros in Amsterdam, but the US listed shares are a dollar equivalent: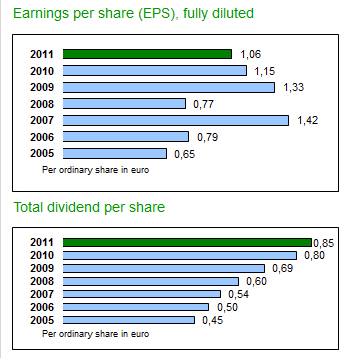 The 85 euro cents dividend last year if repeated (and as you can see, dividend has been increased every single year so there is little reason to assume the 2012 dividend won't at least match the 85 euro cents) comprises a yield of nearly 12%. One way they've been able to increase the dividend per share so significantly is because the number of outstanding shares has been decreased a lot: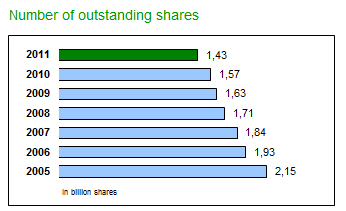 The debt is a little high, but with an EBITDA in 2011 of 5.3B euro, servicing isn't a problem. Indeed, free cash flow was 2.4B euros last year.
France Telecom
France Telecom (FTE) is another dividend superstar that is cheap. From Reuters:
Market cap $33.4B
Shares outstanding: 2,65B
Dividend yield: 14.21%
Revenue: 64,49B euro (2011), expected to fall to 57B euro this year and 56B euro the next
EPS: 2.23 (2011), expected EPS 2012: 1.93 euro, expected EPS 2013: 1.93 euro
the shares have a trailing price/earnings (p/e) ratio of 7.21
That dividend yield is so high that management tried to cut it, but they were defeated by a shareholder revolt.
British Telecom
The British Telecom Group (NYSE:BT) is another cheap European telecom stock. From Reuters:
Market cap: $26,075B
Shares outstanding: 779.09M
Dividend was 8.3 pence, on Tuesday's closing stock price (London) of 217.3 pence that's a yield of 3.8%
That's pretty good, but there are much better yielding European telecom stocks.
Vodafone
Vodafone (NASDAQ:VOD) is a giant mobile carrier with world-wide reach. From Yahoo:
Market cap: $139.75B
Revenue $71.9B (12 months to date)
Revenues were $74.27B last year, expected to fall to $70.37B this year and $70.53 the next
Cash $12.83B
Debt $53.62B
Dividend yield 5.25% according to Reuters
Free leveraged cash flow $3.16B (12 months to date)
EPS is expected to be $2.60 this year and $2.70 the next, giving the company a multiple of just under 11 (Reuters argues 13.45)
There is perhaps a little bit more growth in mobile, which could explain the slightly higher multiple that Vodafone is trading on compared to most other telecoms (at least the ones that have a large legacy fixed line business). But even so, revenues and profit are pretty flat.
Telecom Italia
Another of the old state monopolist, Telecom Italia (NYSE:TI) has the following characteristics:
The market cap is: $17.56B [Yahoo]
Revenue: $41.5B (2011), expected to fall to $38.3B this year, and $37.7B the next [Reuters]
EPS was -$1.71 last year, expected to $2.03 this year (Yahoo has that at $1.95) and fall back to $1.68 the next
These shares are cheap, the expected P/E is just 4.7 (2012)
Dividend yield of 5.78%
Total cash $7.58B [Yahoo]
Debt $49.22B
But cash flow from operations is solidly positive ($11B last year)
They are going to boost their dividend by 15% annually between fiscal 2011 and 2013, and have also instigated an 800M euro share buyback program. Good dividend yield, cheap valuation.
Telefonica
Telefonica (NYSE:TEF) is the Spanish incumbent telecom operator that has branched out in Latin America. The Spanish exchange isn't one of the favorites right now, with Spain struggling with a host of economic problems. However, we have to say, Telefonica shares look very attractive. Some key figures:
Market cap $55B
Revenue (12 months to date) $78.81B
P/E (trailing 12 months) 9.78, forward p/e (2013) 6.51 [Yahoo]
EPS were $1.67 last year, expected to be $1.65 this year and $1.86 the next [Yahoo]
Cash $9.88B
Debt $83B
Operating cash flow has been solidly positive at 22-23B per year the last three years [Yahoo]
The company invests a lot, hence the substantial debt, which is higher than we would like to see, and, much more relevant, it's higher than Moody's likes to see. Dividend yield is a whopping 17% according to Reuters, we can scarcely belief that. The company plans to pay 1.30 euro per share in dividend in 2012 (plus 20 euro cents in stock repurchase). It's stock price in Madrid was 9.92 euro at the close on Tuesday, so that would constitute a 13% yield (or even a 15% yield including the share buyback program). That's whopping, no doubt about it.
Conclusion
Telecom shares in mature markets are basically utilities. None of these companies experience strong revenue or earnings growth, which is the result of mature markets and the law of large numbers. Regulators in Europe have been on their back, especially with regard to lucrative cross-border tariffs. The lack of growth is reflected in the low multiples.
So we can't see a compelling reason to buy any of these stocks for earnings growth, you'll buy them for their yield, which in some cases exceed 10%. That's a lot better than even Spanish or Italian 10-year bond yields. While neither asset class is without risk (needless to say), 10%+ yields on profitable and cash generating companies seems a pretty good deal to us.
Disclosure: I have no positions in any stocks mentioned, and no plans to initiate any positions within the next 72 hours.