Possibly the best way to play bullishness on a quicker-than-expected recovery is to back stocks with high betas. By definition, these stocks have historically been more exaggerated on economic swings than the broader indices have. Retail surprisingly has low betas in many instances, but it nevertheless is one of the few direct beneficiaries of rising consumer expenditures. Given my optimism on the economy, I recommend investors broadly open a stake in the industry. I anticipate specialty retailers, like Staples (SPLS) and Office Depot (ODP), to outperform diversified retailers, like Target (TGT), because the latter will always offer something that consumers need and thus are more stable. By contrast, consumer purchasing decisions in premium retailers are more dictated by the circumstances.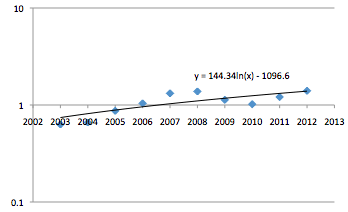 Source: Internal research
Staples is rated a 7 out of 10 on MSN Money's StockScouter and has been, generally, consistently growing income over the last decade (see above). If you take a logarithmic regression of EPS over the past decade and extrapolate, you get 2016 EPS of $1.66. At a PE Multiple of 14x, this translates to a future stock value of $23.24. Discounting backwards by 10% yields a price target of $14.43. That's roughly a 15% margin of safety that the stock will nearly double. The low margin of safety illustrates how specialty retailers are riskier investments than the retail segment at large. Investors should note, however, that management is very generous towards shareholder in its capital allocation policy with a dividend yield of 3.5%.
My future stock value for Staples also understands the company's potential. 2013 EPS is expected to be $1.60 and grow 12.1% annually in the near-term, so 2016 EPS could potentially be $2.25. The reason why my estimate is low is because it includes the Great Recession, which reduced past 5 year annual EPS growth to 1.2%. The company currently trades, however, at recession levels with a PE multiple of 8.9x and a forward multiple of 7.8x. The PEG ratio currently stands at 0.7, which indeed indicates that future growth has not been properly factored into the stock price.
I expect the specialty retailer to consider expanding its multiples through a takeover bid for Office Depot or OfficeMax (OMX). The latter, in particular, has bled over the recent years but now trades at 5.9x free cash flow. Given that the company is still being beaten down by pessimism (the Street only rates the stock a "hold" according to FINVIZ.com) after a turnaround effort, management will have little bargaining room at the table. Office Depot is on a more profitable trajectory but offers less of a value discount.
Office Depot trades at a respective 5.5x and 14.2x past and forward earnings while lacking a dividend yield. 2013 EPS is expected to be $0.14 and then increase 23.7% over the near-term, which means 2016 EPS of around $0.27. At a multiple of 13x, the company is worth $3.51. A 11% discount rate would put the price target in-line with current valuation. Analysts currently rate the stock closer to a "sell" than a "buy" according to data from FINVIZ.com.
Office Depot may not be a nice value discount for Staples, but the former provides obvious revenue and cost synergies. Administrative costs could be spread over more stores, which are king in retailing, and more stores equals greater promotion.
As it stands, retailing remains a highly competitive industry and consolidation would allow for more premium pricing by saturating the market and increasing leverage over consumer bargaining power. One should note that Office Depot is currently worth less than book value and has a beta of 3.3, implying that outperformance will result from a full recovery. The firm may have poor liquidity with a quick ratio of 0.8 (indicating assets are tied up in inventory), but ROE is still in the double-digits.
Office Depot, OfficeMax, and Staples are speculative investments while Target is a safe investment in the retail space. The leading retailer has generated a 20.9% return over the last 6 months while the Dow Jones was only up 2.5%. It trades at a premium to specialty retailers with a respective PE and forward PE multiple of 13.8x and 12.3x. Growth has also been reasonably priced into the stock at a PEG ratio of $1.16. 2013 EPS is expected to be $4.86 and grow 11.9% annually over the near-term, so 2016 EPS should be around $6.80. At a multiple of 15x, Target's stock will be worth north of $100. Discounting backwards by a 10% rate yields a price target of $63.33 - in-line with consensus. Again, this is not incredible upside, but it comes with little volatility (a beta of 0.9 and a decent 2.4% dividend yield). Dividends have been consistently increased over the last two decades by a CAGR of 11.6%. The $40B retailer trades 43% under sales and has a decent profit margin of 4.2%, which provides room for improvement.
Last year, Target absorbed an abnormally high amount of capital expenditures at $4.4B. Normalized capex as a percent of revenue illustrates a near-term free cash flow of around $2.8B, meaning the company is worth 14.4x this amount. Free cash flow needs to be meaningfully improved for Target to become undervalued like it was in 2009.
Disclosure: I have no positions in any stocks mentioned, and no plans to initiate any positions within the next 72 hours.
Disclaimer: We seek IR business from all of the firms in our coverage, but research covered in this note is independent and for prospective clients. The distributor of this research report, Gould Partners, manages Takeover Analyst and is not a licensed investment adviser or broker dealer. Investors are cautioned to perform their own due diligence.