In our last month's thesis on the Solar Industry, we recommended a long position in Canadian Solar (NASDAQ:CSIQ) owing to the lowest crystalline module production costs, a strong balance sheet to withstand shocks from the changing solar industry dynamics, small cash burnout compared with its peers, wide geographic revenue mix, and impressive cell efficiency levels.
We reiterate our earlier buy recommendation, as we believe that Canadian Solar will be able to announce major progress toward the industry-lowest 0.55 cents-0.60 cents/watt cost levels, and toward industry-wide high efficiency levels between 18.5%-19.5% via the second-generation ELPS technology. The company already achieved 17.5%-19% efficiency levels in 2011 due to the breakthrough ELPS technology. Canadian Solar's current module manufacturing cost of 0.73cents/watt is still better than that of traditional manufacturers like Yingli Green (NYSE:YGE) and Trina Solar (NYSE:TSL) that have costs of 0.83cents/watt at efficiency levels of 15%-16%. Once characterized as the lowest cost producer, First Solar (NASDAQ:FSLR) has module costs of 0.73cents/watt at 12.4% efficiency levels. There has been news in the industry about some new players planning >20% efficiency levels with less than 50cents/watt costs, but these players still have to start commercial production.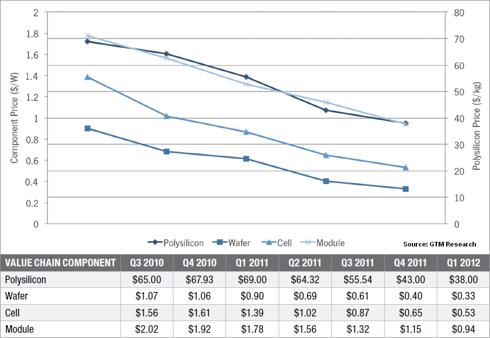 We believe that in the midst of fading government solar energy subsidies, and falling ASPs, solar energy demand in future will be driven by attainment of retail grid parity, environmental concerns, and decreased usage of nuclear energy. In anticipation of rising demand and expansion in project pipeline, Canadian Solar is expected to boost its production capacity. We believe that Canadian Solar is appropriately positioned to take advantage of the recent upsurge in PV installations across the U.S.
It is also worth noting that the 1Q2012 decline in revenue was not attributed to slowing PV installations, but in fact the declining revenue was due to falling ASPs of PV modules. Total solar module shipments in 1Q2012 were 436MW compared with 343MW in 1Q2011. In our opinion, a better cost structure will improve the margins of Canadian Solar in the future, compared with its industry peers.
Reuters Analyst Consensus Estimates

FSLR

(NASDAQ:SPWR)

TSL

(NYSE:STP)

YGE

CSIQ

Average

Forward P/S

0.35x

0.28x

0.29x

0.16x

0.22x

0.08x

0.23x

D/E (MRQ)

26.93%

55.60%

102.24%

284.12%

290.29%

178.76%

156%

Quick Ratio (MRQ)

1.87

1.51

1.29

0.47

0.75

0.81

1.12
| | |
| --- | --- |
| Current Price | $ 3.45 |
| CSIQ Forward P/S | 0.08x |
| Implied P/S | 0.23x |
| Sales/Share (2012E) | $ 42.02 |
| Target Price | $ 9.59 |
| Upside | 278% |
We expect Canadian Solar to have an expected long-term growth rate higher or equal to the industry. Moreover, Canadian Solar is expected to have financial and business risk that is similar to the industry. Therefore, based on an implied forward sales multiple of 0.23x, we believe that Canadian Solar is trading cheap at 0.08x forward sales, and recommend buying it to take advantage of upcoming growth in the Solar Industry. We would also like to inform readers that Piper Jaffray has updated Canadian Solar to overweight from neutral, with a target price of $5.
Disclosure: I have no positions in any stocks mentioned, and no plans to initiate any positions within the next 72 hours.