By Brendan Gilmartin
Citigroup (C) is scheduled to report 2Q 2012 earnings before the opening bell on Monday, July 16. The results are expected to come through at approximately 8:00 a.m. EST with a conference call to follow at 11:00 a.m. Citigroup has the potential to impact the broader market indices, including the S&P Index Futures and corresponding ETFs (XLF, KBE).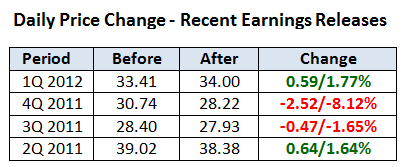 Outliers & Strategy
Citigroup is expected to post earnings of $0.89 per share (Low: $0.82 / High: $1.03). Revenue is forecast to come in at $18.76 bln. (Source: Yahoo! Finance).
Citigroup shares are currently trading at a steep discount to tangible book value (0.5x) of $50.90 per share (as of 1Q 2012).
Citigroup's earnings follow results from JP Morgan Chase (NYSE:JPM) and Wells Fargo (NYSE:WFC) on Friday, July 13:
JP Morgan reported 2Q earnings and revenue topped estimates, while losses from the CIO portfolio disclosed in May were far lower than expected. The announcement contributed to a rally in banking shares.
Wells Fargo delivered record diluted EPS of $0.82, up 38% from the prior quarter, thanks in part to signs of stabilization in the housing market, resulting in record quarterly mortgage applications, along with increases in lending to consumers and businesses and continued growth in deposits.
Recent News
06/21: Moody's announced it lowered the long-term senior debt rating on Citigroup from A3 to Baa2 with a Negative outlook, based on increased risk and volatility tied to capital markets activities as well as the operating environment in Europe. Citigroup responded with the following comment, "Citi strongly disagrees with Moody's analysis of the banking industry and firmly believes its downgrade of Citi is arbitrary and completely unwarranted."
06/20: According to Bloomberg.com, Citigroup could see losses totaling $3 bln to $5 bln due to currency headwinds in large markets, says Charles Peabody of Portales Partners LLC. The Mexican Peso and Turkish Lira are among the biggest culprits.
06/06: Bank of America Merrill Lynch reiterated a Buy rating and a $46 price target on Citigroup, according to a post on Benzinga.com, citing growth in emerging markets and normalizing credit.
Technical Review
Citigroup shares are trading just above the June low near $25, resulting in a possibly bullish "Double-Bottom" formation. Those oversold conditions are also evident by the downward-sloping Relative Strength Index (RSI). Should earnings disappoint, the aforementioned low of $24.82 in early June is the first area of support, with further risk to the 52-week closing low of $23.11 on 10/3/2011. Conversely, resistance is at $26.50, followed by $27.50 (50-Day SMA), and $29.00.
(Chart courtesy of StockCharts.com)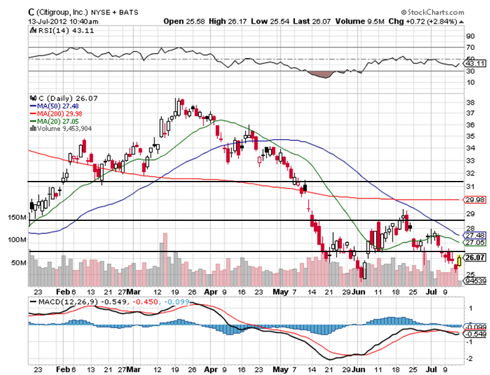 Summary
Citigroup is hovering just above the 52-week closing low from last October due to concerns over recent volatility in the capital markets, macroeconomic headwinds, currency losses, and the more challenging regulatory backdrop. The banking giant is also getting hit by softness in the emerging markets, particularly Europe, Asia, and Latin America, pulling the shares down to just half of tangible book value ($50.90 per share as of 3/31/2012). Despite these concerns, fundamentals are at depressed levels (price to book at a mere 0.5x versus 5-year avg. of 0.8x) and technically the shares are oversold. Solid results from JP Morgan and Wells Fargo also point to a potential move higher for Citigroup in the event of solid earnings. Note that Citigroup's emerging market exposure could be a drag relative to its peers.
Disclosure: I have no positions in any stocks mentioned, and no plans to initiate any positions within the next 72 hours.
Disclaimer: By using this report, you acknowledge that Selerity, Inc. is in no way liable for losses or gains arising out of commentary, analysis, and or data in this report. Your investment decisions and recommendations are made entirely at your discretion. Selerity does not own securities in companies that they write about, is not an investment adviser, and the content contained herein is not an endorsement to buy or sell any securities. No content published as part of this report constitutes a recommendation that any particular investment, security, portfolio of securities, transaction or investment strategy is suitable for any specific person.