Natural gas commodity has made a relatively quiet big move in recent months, after years of basically underperforming. The reasons behind this move vary wildly depending on who you are listening to or reading.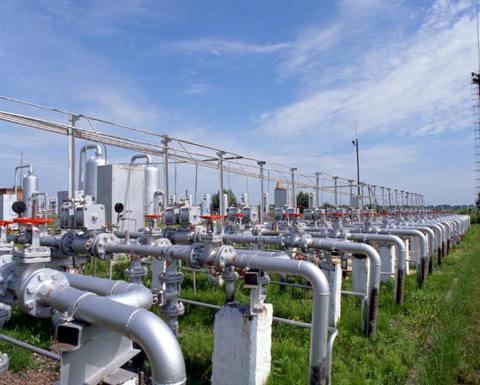 But we're not examining the whys of the recent natural gas performance in this piece -- we're more looking at what has actually happened and what this recent price action is telling us about the future potential. Remember that an upward move on any security indicates buying pressure, and that accumulation is under way, regardless of whether you are a "chart watcher" or not.
Take a look at the following relative performance chart, which tracks the gain/loss of a wide variety of energy-related ETFs since April 2012:
Relative Performance of Energy ETFs Since April 19, 2012
Click to enlarge images.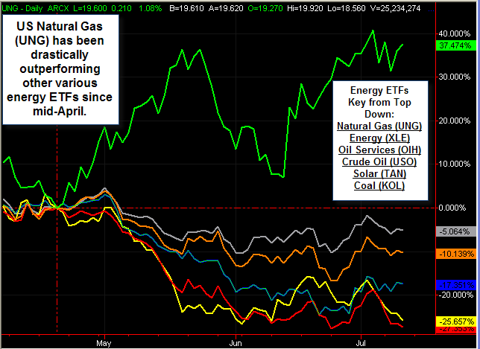 You can see that there has been a clear performance divergence between UNG and these other ETFs, particularly since April 29, 2012, when UNG had a bottom. And remember that is comparing natural gas to a wide variety of energy-related sectors, not just oil or oil stocks. The market tells a tale, as has been said for a long time -- and it currently is showing a preference for natural gas and the UNG ETF that hasn't been present in years.
This outperformance is significant, especially when one looks at how poorly natural gas has done over the past several years. The following chart is the Monthly Continuous Natural Gas futures. Note that the commodity recently hit fairly extreme lows. One key here is the relatively huge upside potential natural gas has should it even begin to approach the key recent round levels of $4, $5, and $6, where it had been as recently as 2009. A "small" dollar move to those important round levels would be huge in percentage gain terms.
Monthly Natural Gas Futures Chart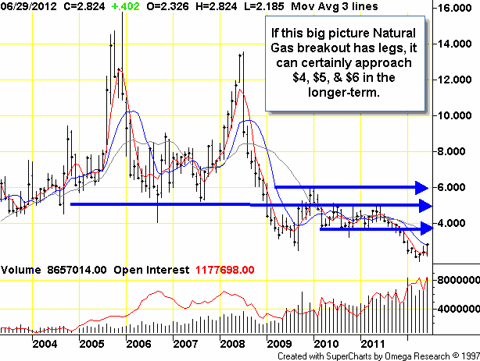 Data from Futures.TradingCharts.com.
Next, let's look at the recent move in UNG on the daily chart. While this ETF has had performance problems in the past, including reverse splits. One can see here that a clear consistent downtrend was in place -- and that downtrend looks to have made a clear bottom and reversal. The uptrend is making higher highs and higher lows, which is a bullish sign. Also note the Williams Percent R indicator at the bottom -- it was extremely consistent in giving bearish readings for some time, and now it has twice broken into strongly bullish levels. Even on a short-term retracement basis (or if one did a Fibonacci retracement), there is plenty of potential upside here.
Daily UNG Chart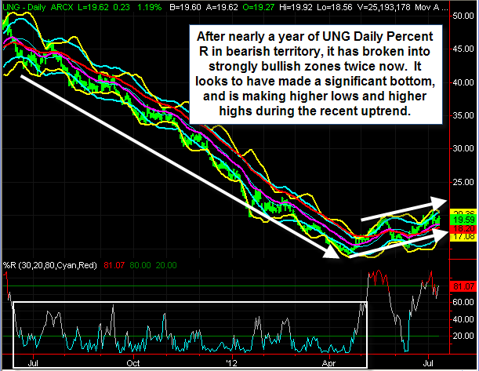 Natural gas and UNG have been a tricky commodity and ETF to trade for some time now, especially for bulls. However, the recent signs of life appear real, both on a short-term basis (where there certainly can be volatility in both directions) -- but more importantly there may be a big long-term trend emerging, the kind that can last months or even years. The pattern of this commodity here reminds me a bit of how gold (NYSEARCA:GLD) finally emerged from a long dormant period, then went on a long extended bullish run. It's not quite the same pattern and the fundamentals are different, but there is a similarity here that I see as a long-time market watcher and participant.
Disclosure: I am long UNG. ETFTRADR clients are in a UNG options spread position.