U.S. Steel (NYSE:X)
Steel is not only suffering from the deteriorating macro economy, but also from industry-specific factors, which have resulted in a significant fall in its prices. Furthermore, China's steelmakers have been cutting prices, while maintaining their existing high production levels, in an attempt to protect their market share. As a result, U.S. steelmaking companies have not been able to perform well this year, especially the high beta names, like U.S. Steel and AK Steel (NYSE:AKS). However, we are bullish on this sector's recovery, as we expect more monetary stimulus measures to be taken by the U.S., China, and Europe, so as to bolster their economic growths. In addition, we feel that steel prices are close to a bottom, and will start to rebound by the end of this month when we expect a capitulation point will be reached (after steelmakers announce their earnings).
For now, we advise investors to stay away from relatively risky steel stocks like X and AKS. Steel Dynamics Inc. (NASDAQ:STLD) and Nucor (NYSE:NUE) are potential buys in the steel sector in our view.
Industry Introduction and Drivers
The Steel Industry has experienced an economic depression lately, as a result of the global financial condition. The severity of the eurozone crisis, the slowing growth of China, and, as Warren Buffett puts it, the "more-or-less flat" economic growth in the U.S., have all resulted in a hampering of steel demand. In addition, the dip in construction activity, as is reflected in the month-over-month decline of 5.4% in the Architecture Billings Index in May, is adding fuel to the fire. However, some recent positive trends have been able to dampen the impact of this negative outlook. Automotive demand is expected to increase, as the seasonally-adjusted annual rate (SAAR) of auto sales has surged from 13.9 million in May to 14.1 million in June. Recently, the expectations of monetary stimulus have increased in China after its GDP grew at a less-than-estimated rate of 7.6% in the second quarter. Plus, the Fixed Assets Investment in China (a good indicator of steel demand) has shown some signs of recovery on a year-over-year basis, as it increased by 20.4% in the first half of 2012.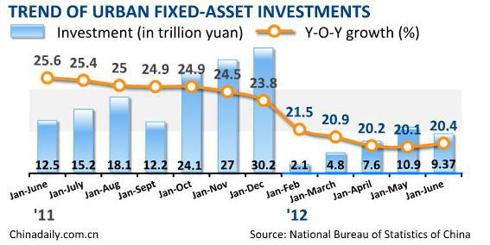 Source: China Daily
Steel has two major raw materials - iron ore and coking/metallurgical coal. As a result of slow steel demand in China, the prices of both these raw materials have stayed at low levels.
In addition, the steel supply in China is increasing continuously, as steel mills keep production at high levels to maintain their market shares, which has a further downward impact on steel prices. Plus, the domestic overcapacity issues, lower scrap prices, and higher imports have been detrimental for steel prices.
Yesterday, the biggest listed steelmaker in China, Baoshan Iron and Steel, has again cut the prices of its products by 4.6%-5.6%. This is the second time Baosteel has cut prices this year, which shows the company's bearish outlook on a possible rebound in demand.
Company Description
U.S. Steel produces and sells steel mill products, and it has three main segments: Flat-rolled Products, U.S. Steel Europe and Tubular Products.
Upcoming Catalysts
Upcoming Earnings Releases
Major steelmaking companies are going to report their earnings for the second quarter of 2012. X will report its earnings on July 31, while NUE, STLD, and AKS will do so by the 19th, 23rd and 24th respectively. It is expected that amidst a drop in steel prices and market volatility, their margins will be squeezed. However, these releases must be watched carefully as different-than-expected results could impact the share price of X and its peers.
An Improvement in Construction Demand
If construction demand improves, the demand for steel will rise, which will be beneficial for steelmaking companies' share prices. Construction demand is expected to improve after this summer, but still, its timing is uncertain.
Market Performance
The share prices of all major steel companies have suffered a dip as a result of weak trends in the macroeconomic environment, as well as the Steel Industry. However, U.S. Steel and AK Steel have suffered the most, primarily because of their high beta. In addition, the fact that both these companies have very high fixed costs further adds to their problems. Plus, S&P has revised its outlook on X from stable to negative and has downgraded AKS to 'B+', which further explains the relatively higher drop in the share prices of both these companies.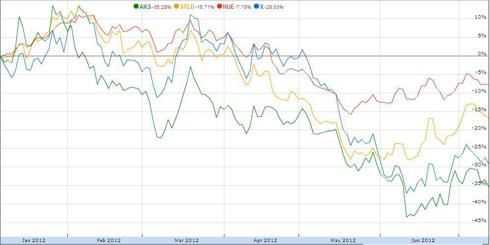 Source:Google Finance
Financial Performance Review
In its 1Q2012 earnings release, X reported a net loss of $219 million, or $1.52 on a per-diluted share basis, as against a net loss of $86 million, or 60cents per diluted share in 1Q2011. However, this loss incorporates a $399 million loss on the sale of its Serbian operation. After adjusting for this loss on the sale of U.S. Steel Serbia (USSS) and after-tax gains on settlements of property tax and sale of transportation assets, the net income is $0.67 per diluted share.
Valuation:
| | | | | |
| --- | --- | --- | --- | --- |
| | X | STLD | NUE | AKS |
| Forward P/E (1 year) | 6.68 | 7.99 | 11.02 | 7.43 |
| PEG ratio (5 year expected) | 2.14 | 1.34 | 2.02 | -10.13 |
| Long-term earnings growth rate | 5.00% | 10.21% | 12.48% | 25.75% |
| EV/EBITDA (NYSE:TTM) | 5.75 | 6.33 | 7.1 | 6.59 |
| Dividend yield | 0.99% | 3.32% | 3.87% | 3.50% |
Its forward price-to-earnings ratio of 6.7x and EV/EBITDA of 5.8x are the lowest among its peers, however, its earnings growth rate of 5% and dividend yield of 1% is also the lowest of the lot.
Discussion on Competitors
For a detailed overview on AKS, NUE, and STLD, please read our previous article.
Disclosure: I have no positions in any stocks mentioned, and no plans to initiate any positions within the next 72 hours.