It has been in the news for the last week or so, and over the last month it prompted huge rallies on several different commodities, such as wheat (NYSEARCA:WEAT), corn (NYSEARCA:CORN) and soybeans (NYSEARCA:SOYB). I'm talking about the huge drought that hit the Midwest this year.
Well, if we are to trust the very near-term forecasts, that drought should be over during this weekend, indeed, even today there are storms hitting several states.
The following is the weather outlook for Saturday, by Accuweather: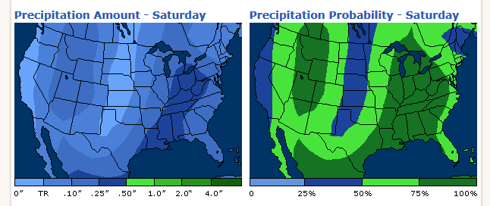 Also, the trends for the next 1-2 weeks: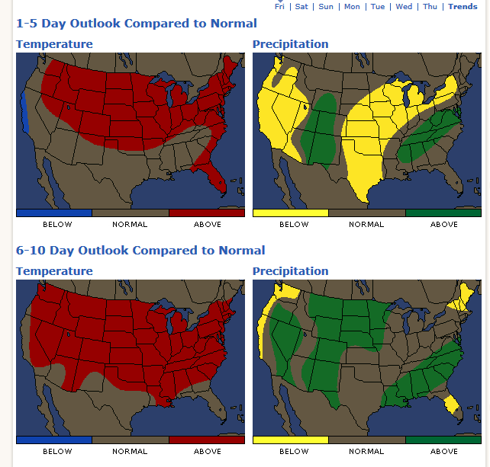 In short, the drought that' has been hitting the Midwest hard should start going away this weekend.
It's hard to say if the crops still in place will be able to recover from the stress they were subjected to, but at least further damage seems likely to stop at this point. It's possible that the news will stop the present rally in its tracks. Still, these rallies sometimes go a lot farther than expected.
Conclusion
It is likely that as we come out of this weekend, the talk will no longer be about the drought, it will be about how the rain finally came. That could easily lead to limit down grain futures on Monday, and similarly ugly action on the related ETFs for wheat, corn and soybeans. It might pay to sell or short these ETFs today.
Disclosure: I have no positions in any stocks mentioned, and no plans to initiate any positions within the next 72 hours.