According to Morgan Stanley (MS) analysts, Betsy Graseck and Huw van Steenis, the Royal Bank of Scotland (RBS) and Deutsche Bank (DB) could see the highest fine totals out of the 16 banks that were found to be fixing the Libor rates.
Graseck and van Steenis say that Deutsche Bank could see a bill for as much as $1.06 billion, RBS with $1.06 billion and Lloyds Banking Group with $59 million in fines. While the analysts maintain that the costs will likely affect 2013 and 2014 more. They estimate that 2012 earnings could be slashed somewhere between 7% and 12%. While costing earnings an additional 7% over 2013 and 2014.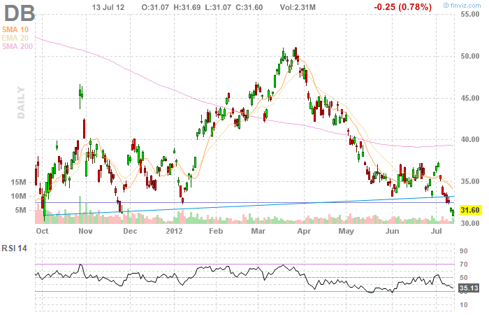 These latest fines come after Barclays (BCS) was forced to pay $448 million to US and UK regulators over its role in the Libor fixing scandal. Additionally, Barclays lost its CEO and COO. Swiss bank UBS (UBS) was also forced to pay a $254 million fine, however the bank was able to get its fine reduced because they were one of the first banks to confess its role in the scandal.
The timing could not be worse for these banks to sustain these types of fines. While they do deserve to be punished and pay reprimands, it seems counterintuitive since governments are already worried about the state of their banks over in Europe. While banks had little capital before, they certainly are facing some darkening prospects. As the European crisis rages on and central banks open up their cash for loans to governments and banks we start to get flash backs of 2008 here in the US.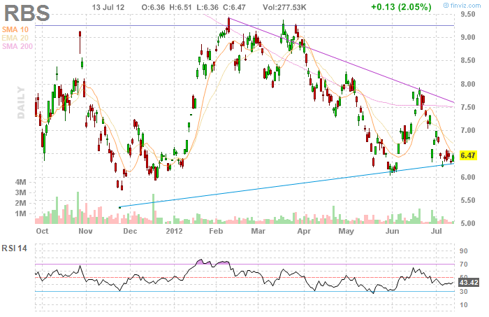 Poor financial conditions in the US during 2008 caused multiple bank failures such as Lehman Brothers, Bear Sterns, Merrill Lynch, Washington Mutual, etc. Unfortunately, there are many parallels between that time period in the US and currently for Europe. If governments do not monitor their banks closely, they could fail causing the European crisis to worsen further.
The way I see it, banks such as Deutsche Bank, Barclays, Royal Bank of Scotland, UBS, etc are all likely short candidates. We must first wait until all the court hearings are over with and all the fines have been realized. After that point, we will be able to gauge the true toll these fines have taken on the banks. If we begin to see central banks moving to help the financial sector, combined with falling earnings and management cries for help, shorting these banks could be a successful strategy. Additionally, you could go with a broader picture and short the Euro with the ProShares UltraShort Euro ETF (EUO) or Europe in general with ProShares UltraShort MSCI Europe ETF (EPV). However, these are two separate strategies with separate risk levels and it is best to do your own research to see which strategy fits your goals.
Overall, Europe continues to be faced with disappointment and uncertainty. In addition to struggling national deficits, investors must worry about the toll that the Libor fines will take on the banks involved. Analysts are predicting that these banks could see this year's earnings fall as much as 12% with an additional 7% over the next few years. These fines could make other analysts readjust their estimates which could push prices lower over the short to intermediate term. Regardless, keep an eye on potential signs that these European banks are in trouble.
Disclosure: I have no positions in any stocks mentioned, and no plans to initiate any positions within the next 72 hours.