Fertilizer producers and distributors are in a very real bull market trend at this time as one of the only industries to thrive in the current environment. Two of the companies in this sector hit new 52 week highs early last week: Mosaic (NYSE:MOS) and CF Industries (NYSE:CF). I am hesitant to put a large portion of a portfolio into one sector, as Bulk Shippers looked great for a period last year and then collapsed, but the fertilizer companies look too attractive at this time to not be a little overweight on them.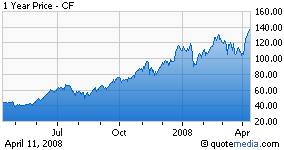 CF Industries had analysts upgrading their current year earnings per share from 8.66 to 11.47 in the past 90 days. That is a 32% increase in the estimates. The company has a trailing price/earnings ratio of 20.5 and year over year (yoy) quarterly EPS growth of 108.8%. Quarterly revenue on a yoy basis is also impressive at 61.9%.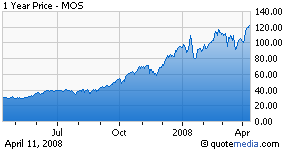 Mosaic is a favorite of mine and although it doesn't have the same big earnings estimate increases this year as CF Industries, it is still very attractive. Current year earnings estimates have increased from 3.67 to 3.95 in the last 90 days. Next year's earnings estimates have increased from 5.77 to 9.35 in the same period. The second set of earning's estimates are very impressive at a 62% increase while this year's estimates have only increased 7.6%. Mosaic has quarterly (yoy) EPS growth of 270% and quarterly revenue growth (yoy) of 68%. With a trailing P/E of 38, the stock still has room to move higher.
Disclosure: Author holds positions in CF and MOS