Fed voting member Lockhart was quoted as saying: "It would take more bad news for more QE." The bad news keeps on coming and bulls are anxious for QE since, for many, they're addicted to it. Friday the 13th was a good demonstration for the "bad news bulls" crowd. Most news was terrible. Even JPMorgan's (NYSE:JPM) earnings news was bizarre given trading losses and incompetent management oversight. But there are some big players with skin in the game, so they'll take what they can get.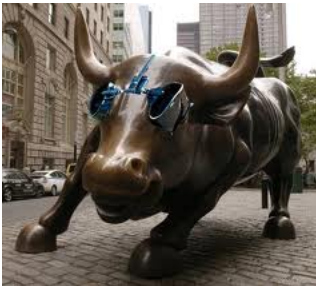 Consumer Sentiment missed and was lower (72 vs. 73.5 expected and prior 73.2). That's the kind of news Lacker and bulls need more of, I guess. In this ongoing Alice in Wonderland environment it then shouldn't surprise that Consumer Discretionary (NYSEARCA:XLY) stocks were higher. The PPI was also higher 0.1% vs. -0.4% expected and prior -1%, which surprised many especially as the "core" rate came in at 0.2%. News from China indicated GDP fell more than expected (7.6% vs. 7.7% expected and prior 8.1%). Of course this is respectable for most economies, but not for China. Bulls expect massive stimulus from the PBOC.
The Bank of England (BOE) is in QE mode now and perhaps Bank of Japan (BOJ) is said to follow. Stimulus is nothing new to Japan where the government has tried all manner of Krugman-like stimulus packages over the past 22 years. None have worked.
In the U.S., QE and ZIRP have boosted stock prices ephemerally but have done little to lift employment or the economy. So, does doing the same thing over and over again without success make sense? It does for short-term trading desk and hedge fund profits -- that's all you really need to know. You'll recall yesterday the N.Y. Fed issued a report stating plainly the result of its recent policies is why the S&P is at 1300 vs. 600 where it would be without this help. (By the way, Jamie Dimon is a director of the N.Y. Fed.)
Stocks (led by banks KBE, etc.), commodities, and even the euro were strong as this out-of-the-blue rally demonstrates. It's hard to short when the Fed is hovering above and dangling more hints of "QE crack" for the permabulls and HFTs. The only sector to experience some downside was bonds (NYSEARCA:IEF). Pick any other sector and it was only a question of how much they rallied. Most pundits groped for details to explain the rally with comments like: "The confidence number was off some but still way off the bottom" and "…you eventually have to put some money to work" and "…some will point to China as providing more stimulus" -- and Warren Buffett has been trotted out to the media two days in row talking about his book. And so it goes. This day was reminiscent of the other out-of-the-blue quarter end rally in June. That said, we're long in portfolios around 40% with the balance in "cash."
Breaking: Late Friday news dump is Visa (NYSE:V) and Mastercard (NYSE:MA) have reached a $7.25 billion settlement for overcharges with retailers.
Volume was incredibly light, but breadth per the Wall Street Journal was positive naturally. (It's hard to trust a rally based on such little volume, frankly.)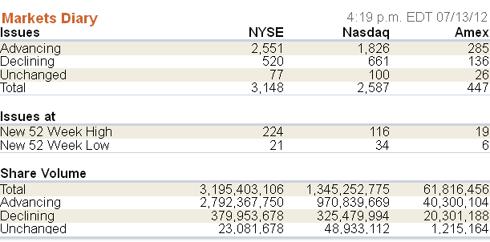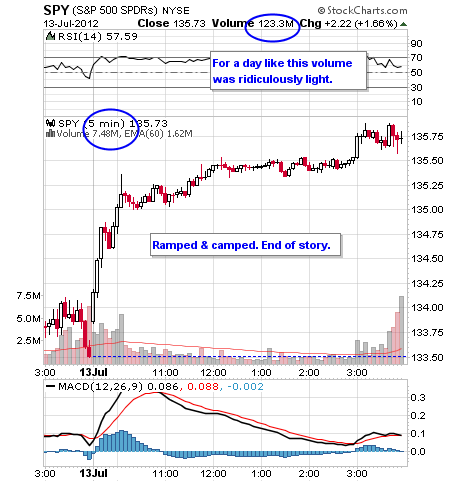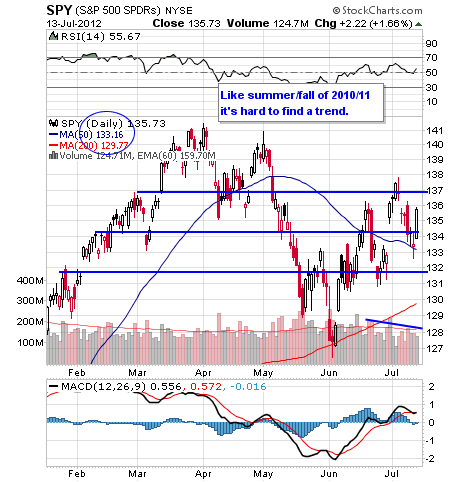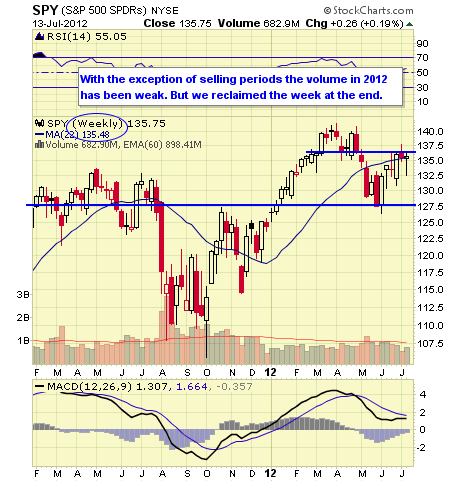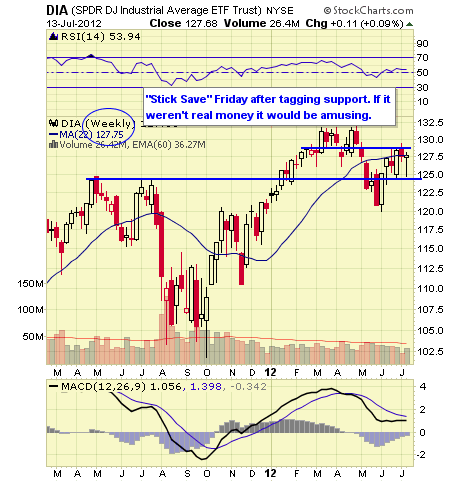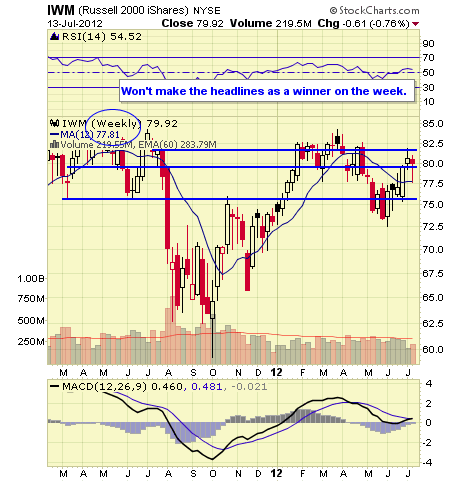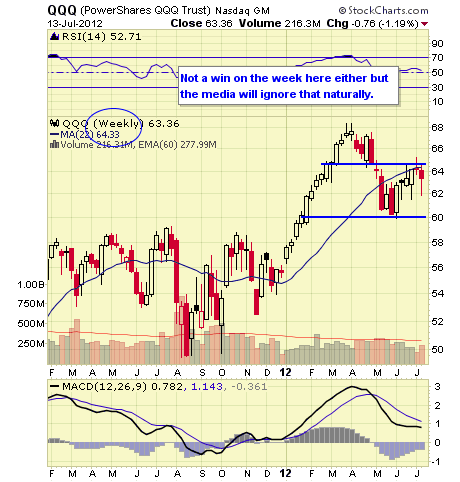 Continue to U.S. Sector, Stocks & Bond ETFs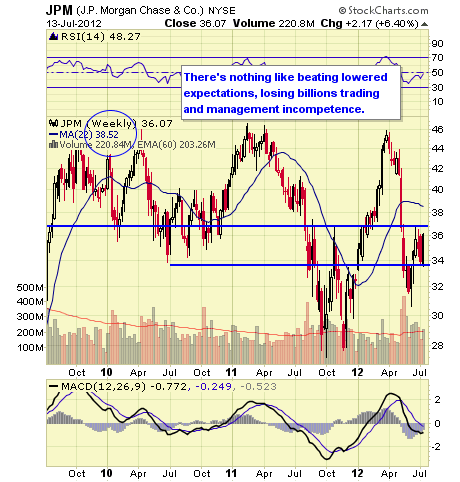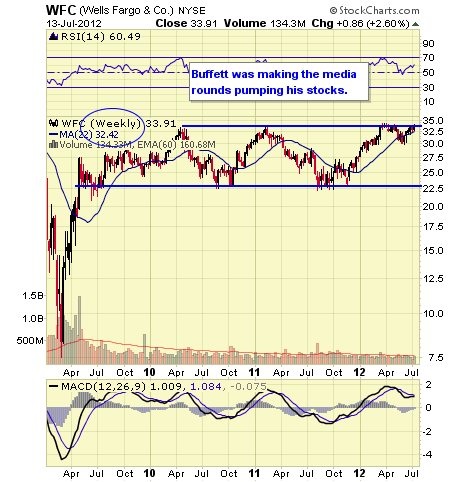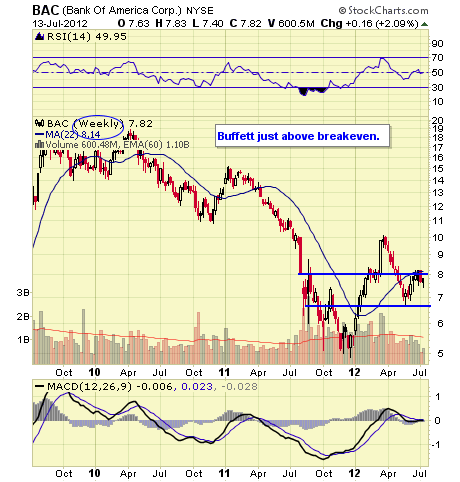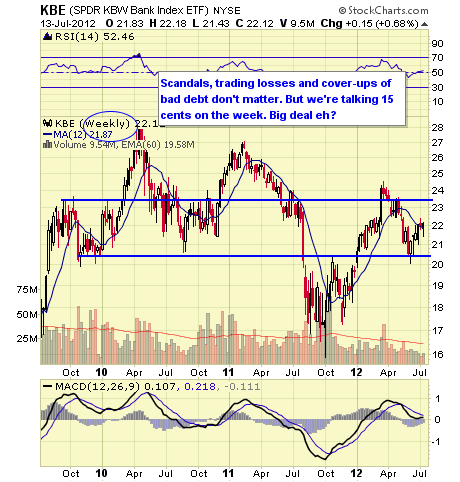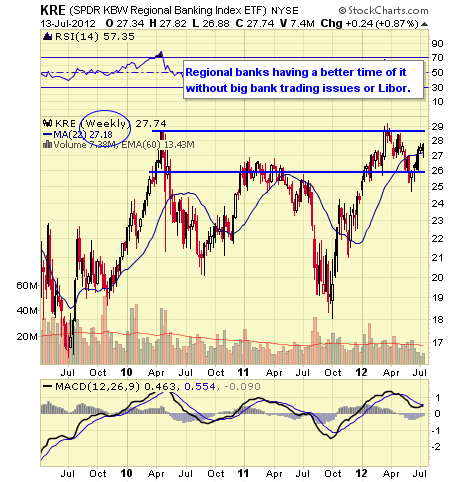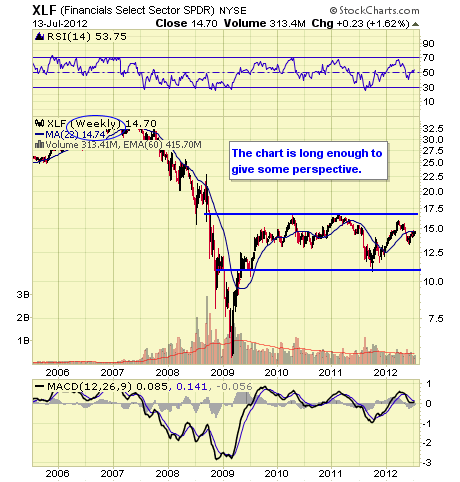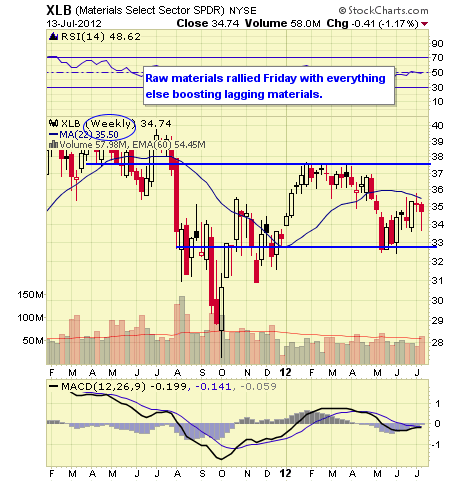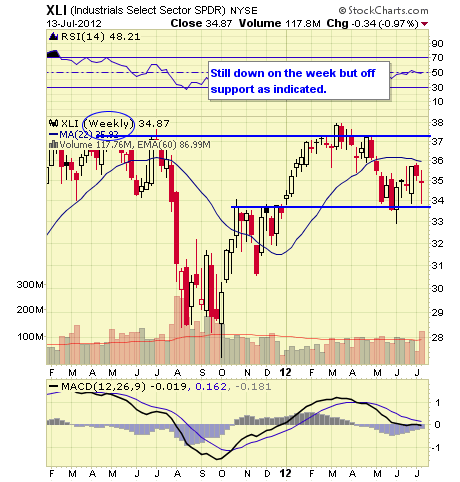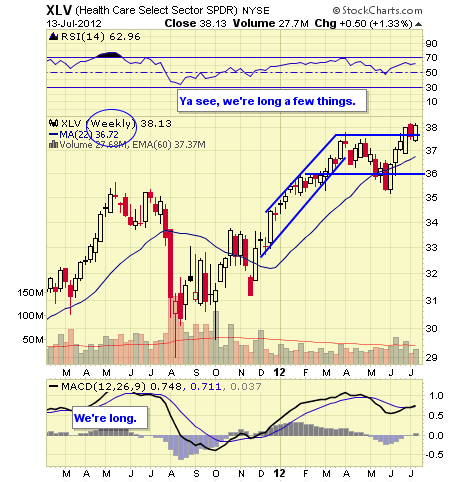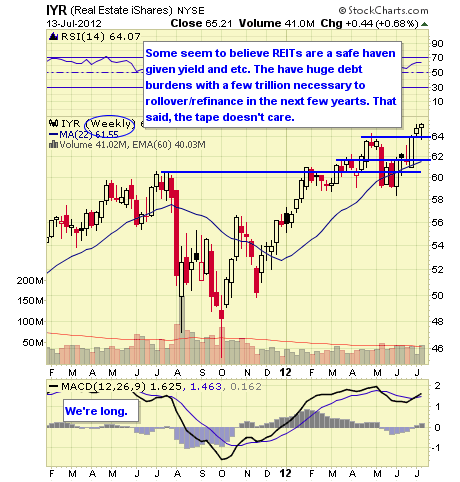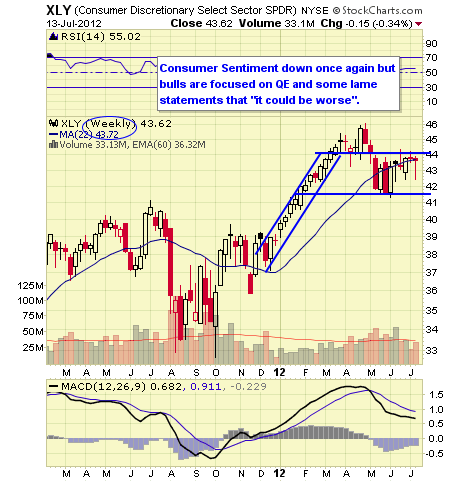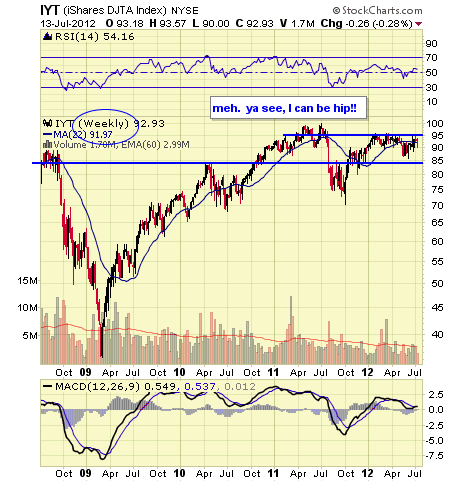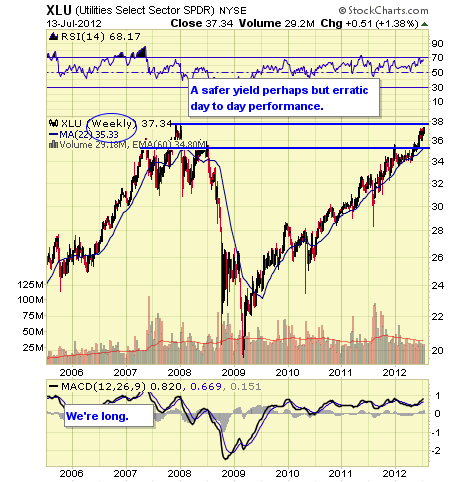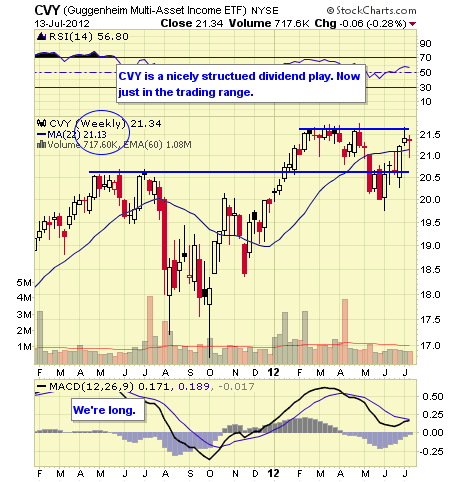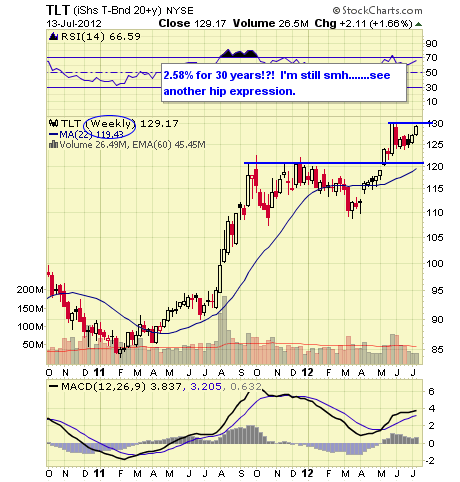 Continue to Currency & Commodity Market ETFs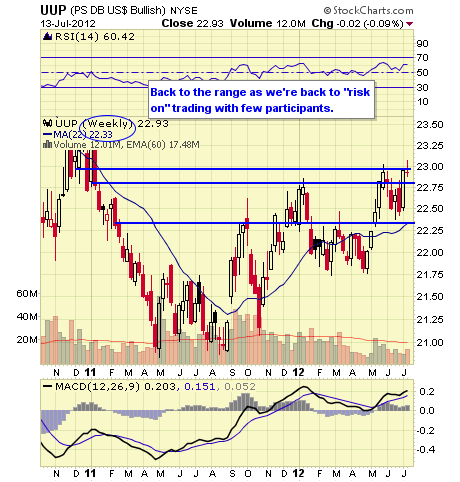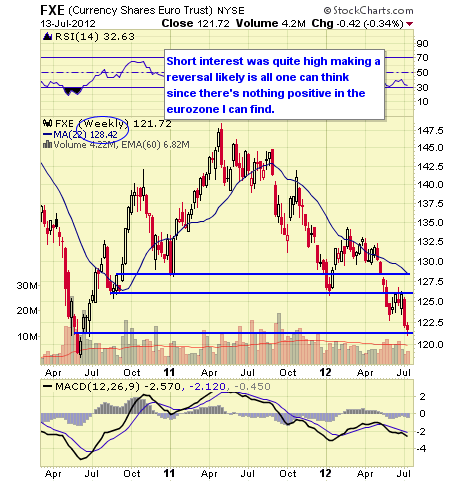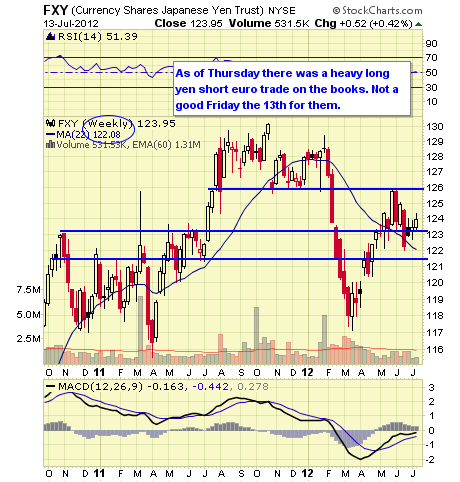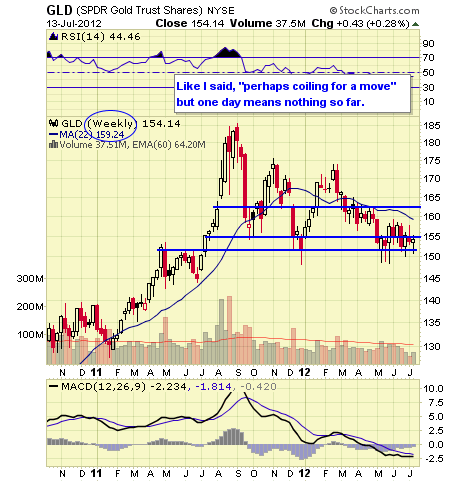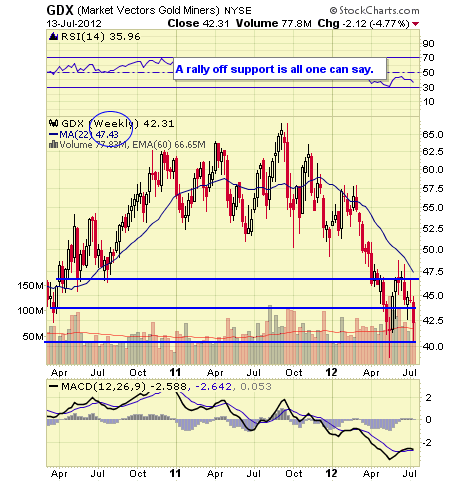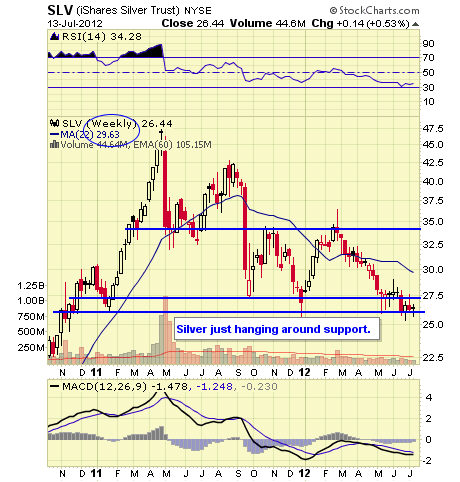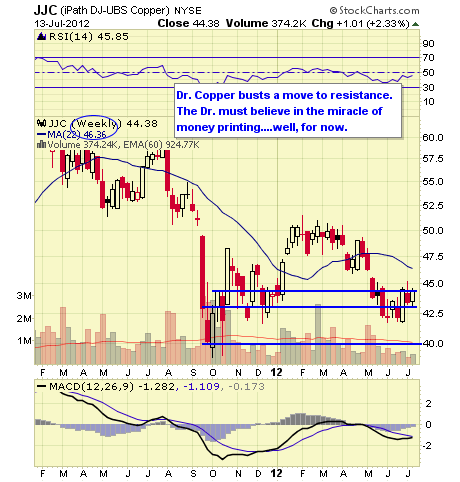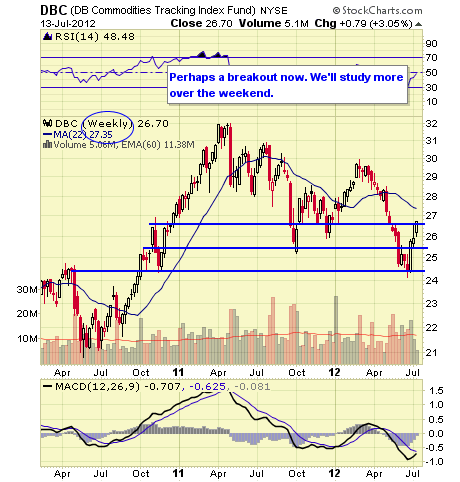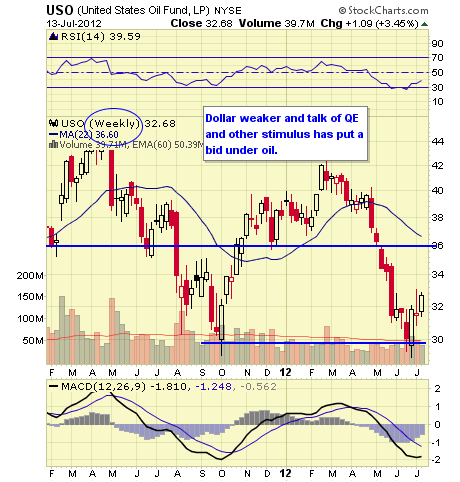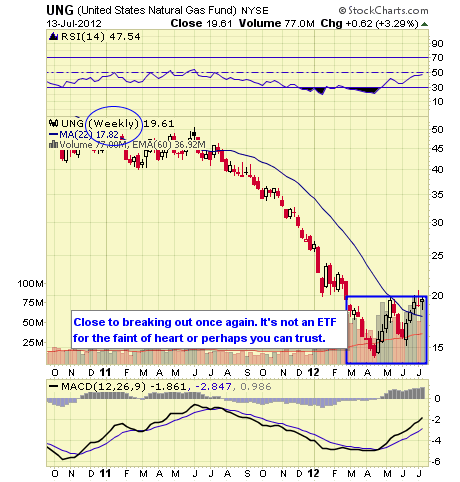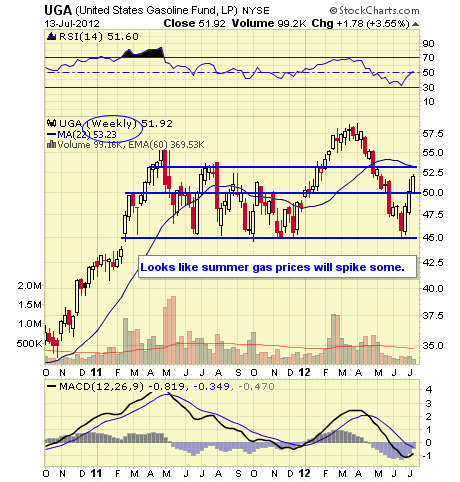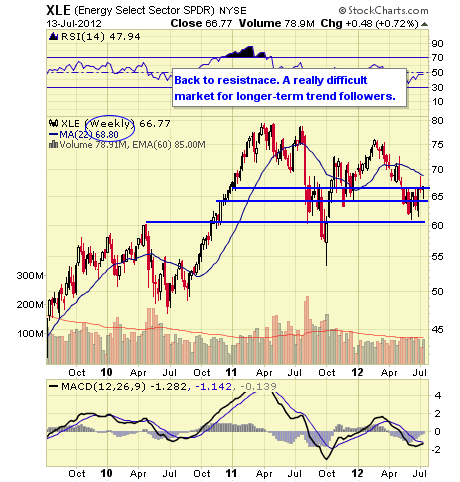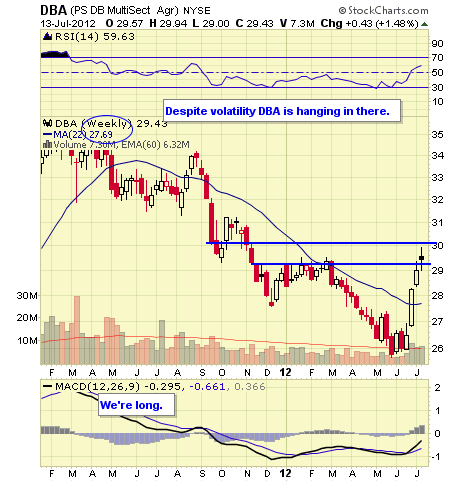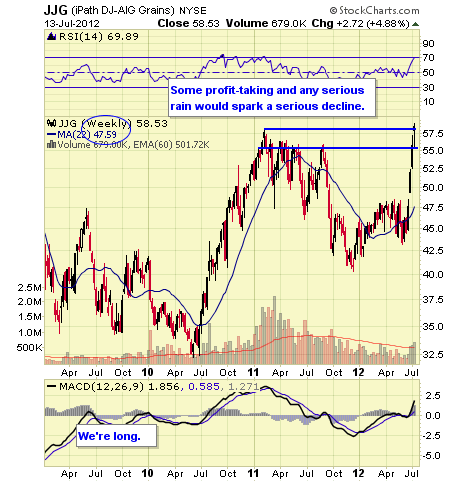 Continue to Overseas Sectors & ETFs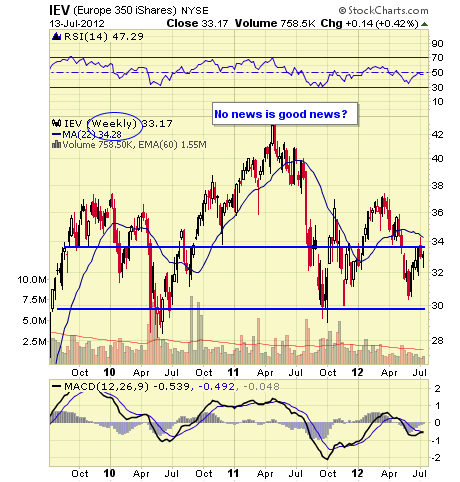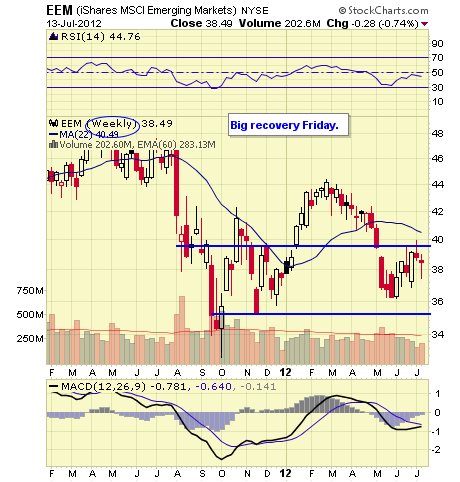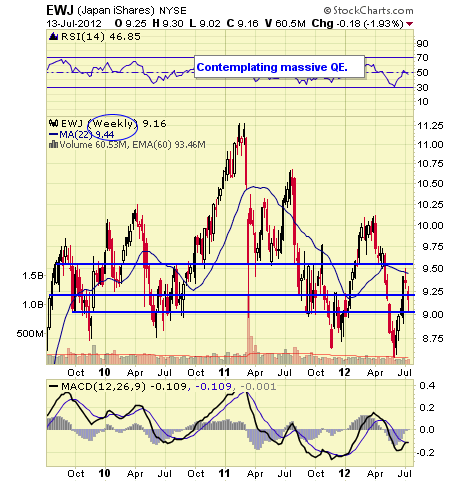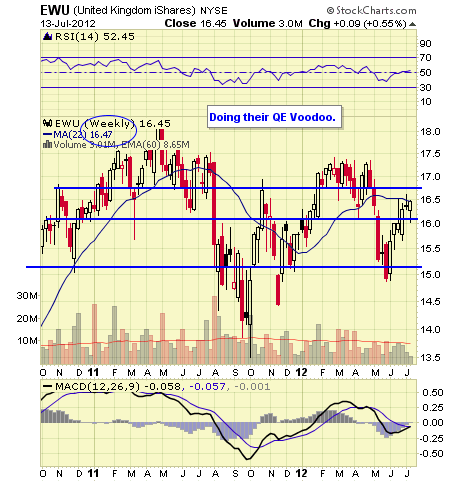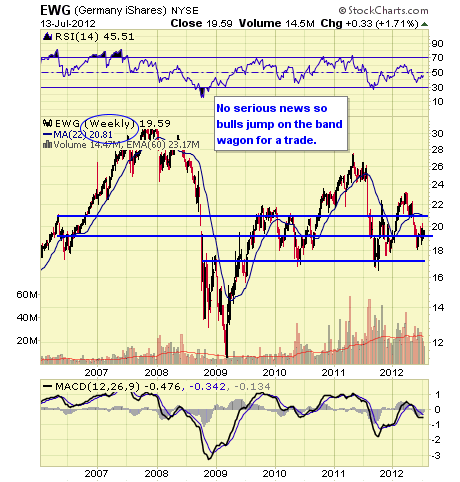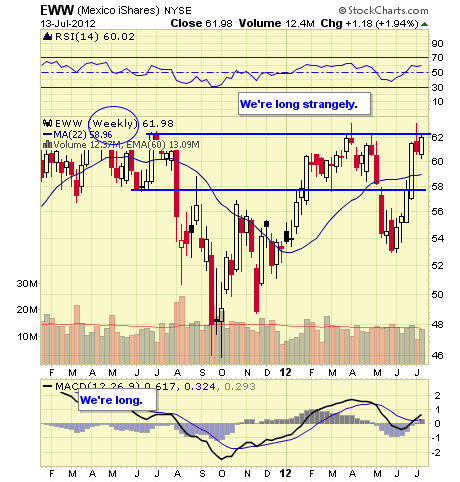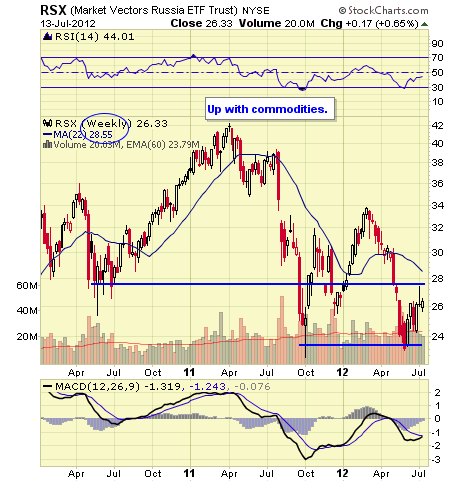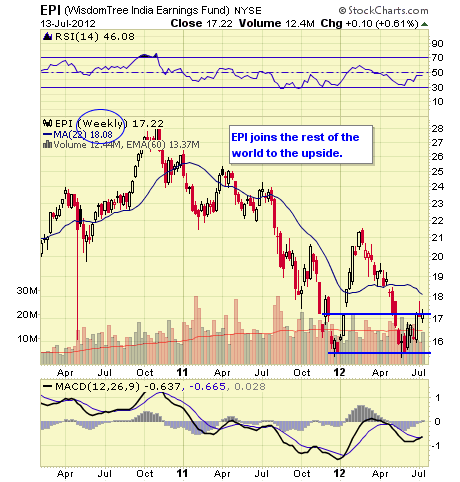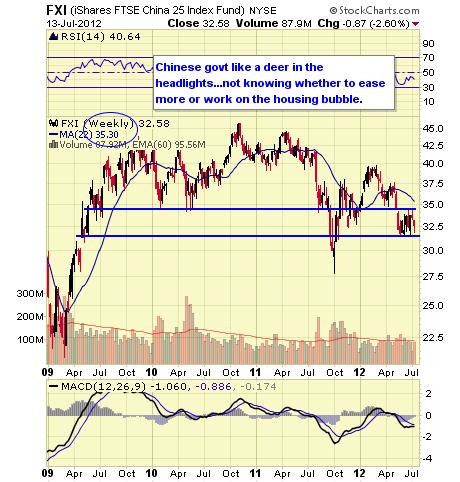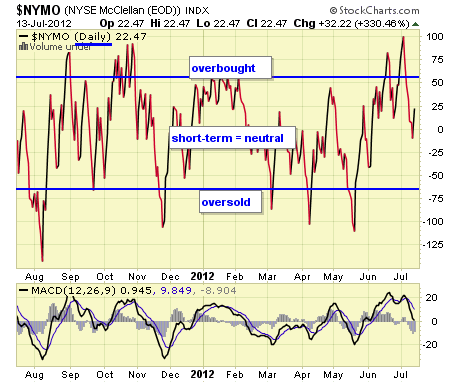 The NYMO is a market breadth indicator that is based on the difference between the number of advancing and declining issues on the NYSE. When readings are +60/-60, markets are extended short term.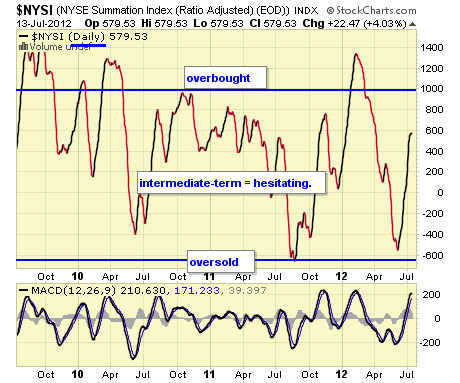 The McClellan Summation Index is a long-term version of the McClellan Oscillator. It is a market breadth indicator, and interpretation is similar to that of the McClellan Oscillator, except that it is more suited to major trends. I believe readings of +1,000/-1,000 reveal markets as much extended.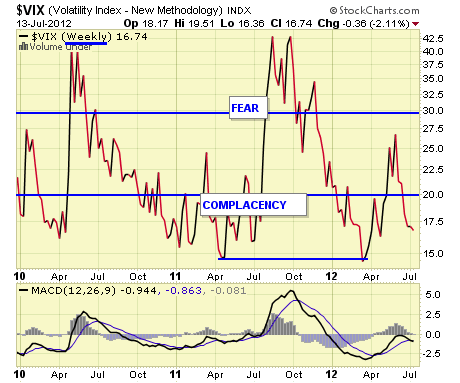 The VIX is a widely used measure of market risk and is often referred to as the "investor fear gauge." Our own interpretation is highlighted in the chart above. The VIX measures the level of put option activity over a 30-day period. Greater buying of put options (protection) causes the index to rise.
The market action speaks for itself -- another massive light volume reversal rally to save the week on little news.
More earnings on the way next week and beyond.
Disclosure: I have no positions in any stocks mentioned, and no plans to initiate any positions within the next 72 hours.
Disclaimer: The ETF Digest maintains active ETF trading portfolio and a wide selection of ETFs away from portfolios in an independent listing. Current "trading" positions in active portfolios if any are embedded within charts: Lazy & Hedged Lazy Portfolios maintain the follow positions: VT, MGV, BND, BSV, VGT, VWO, VNO, IAU, DJCI, DJP, VMBS, VIG, ILF, EWA, IEV, EWC, EWJ, EWG, & EWU.
The charts and comments are only the author's view of market activity and aren't recommendations to buy or sell any security. Market sectors and related ETFs are selected based on his opinion as to their importance in providing the viewer a comprehensive summary of market conditions for the featured period. Chart annotations aren't predictive of any future market action rather they only demonstrate the author's opinion as to a range of possibilities going forward. More detailed information, including actionable alerts, are available to subscribers at www.etfdigest.com.