Man watches his history on the screen with apathy and an occasional passing flicker of horror or indigination. -- Conor Cruise O'Brien
It's been a few weeks since I've written for Seeking Alpha and quite a bit has happened since July began. A number of central banks have eased monetary policy as England, the eurozone, Brazil, South Korea, China, and the U.S. took measures to counter deflationary forces and slowing growth. Starting July 5th, various intermarket internals deteriorated, essentially sending ratio relationships back to June 4th levels when in absolute terms the market began to rally hard. Our ATAC (accelerated time and capital) models turned defensive on Friday of last week sensing this, but are within a hair-trigger of switching back into equities given the possibility that a false positive signal may be under way.
I suspect that as traders came back from the July 4th holiday, there was a general feeling of defensiveness, which is likely unwarranted given more liquidity pulsing through the global financial system. The "Spring Switch" (the idea of a "Great Reallocation") clearly did not happen in early June when I thought it did, given that bond yields are back at all-time lows. Having said that, it is precisely because bond yields are at all-time lows that market internals could begin to heal very quickly. After all, with bond yields as low as they are, stocks are a better income play in many ways. The Spring Switch idea did not happen in the spring, but the light is starting to flicker for a move back to stocks.
Coinciding with this idea that a resumption of a significant rally can occur past this short-term uncertainty is the idea that emerging markets appear to be bottoming. Take a look below at the price ratio of the Vanguard Emerging Markets VIPERs ETF (NYSEARCA:VWO) relative to the S&P 500 ETF (NYSEARCA:IVV). As a reminder, a rising price ratio means the numerator/VWO is outperforming (up more/down less) the denominator/IVV.
Click to enlarge image.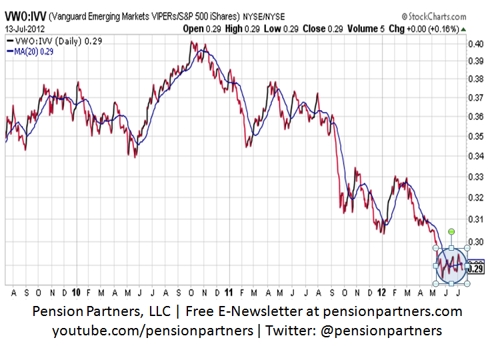 It is clear that emerging markets overall have been significant underperformers relative to the U.S. since late 2010 (around the time the U.S. began QE2). Notice that a consolidation period appears to be under way, with a period of higher highs and higher lows taking place. A recovery by emerging markets would be a bullish sign because of their sensitivity to global growth and the cyclical trade. Given continued monetary easing and market internals once again acting as if a Lehman event has already happened, when in fact it has not, we may be getting very close to a more sustained period of strength in global stocks. The "Summer Surprise" of reflation persisting and an end to the end of the world trade remains very much a strong possibility.
Disclosure: I have no positions in any stocks mentioned, and no plans to initiate any positions within the next 72 hours.
Disclaimer: Pension Partners, LLC, and/or its clients may hold positions in securities mentioned in this article at time of writing.