Do you like to follow smart money buying and selling trends? We ran a screen with this idea in mind. We began by screening the biotech industry for stocks with high growth projections, with 5-year projected EPS growth rates above 15%.
We then screened for those with bullish sentiment from institutional investors, with significant net institutional purchases over the last quarter representing at least 5% of share float. This indicates that institutional investors such as hedge fund managers and mutual fund managers expect these names to outperform into the future.
For an interactive version of this chart, click on the image below. Analyst ratings sourced from Zacks Investment Research.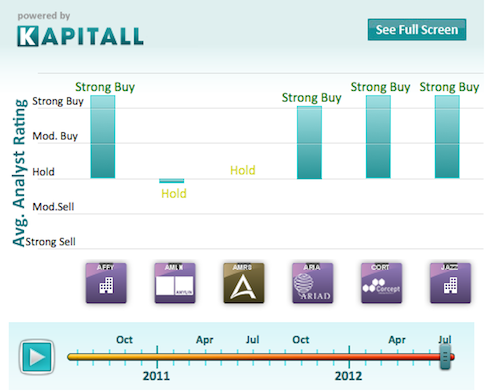 Tool provided by Kapitall (kapitall.com).
Do you think hedge funds are calling it right on these names? Use this list as a starting point for your own analysis.
List sorted by net institutional purchases as a percent of share float.
*Institutional data sourced from Fidelity, all other data sourced from Finviz.
Disclosure: I have no positions in any stocks mentioned, and no plans to initiate any positions within the next 72 hours.