A few weeks ago, Procter & Gamble (NYSE:PG) warned that second quarter and full year results would fall short of estimates, sending the stock tumbling. While P&G forecast that 2 percentage points would be shaved off of organic sales growth, it confirmed what many have been fearing about the global economy, that the consumer is retrenching.
Morgan Stanley (NYSE:MS) estimates that almost 75% of Procter & Gamble's sales come from developing markets, which have been hit hard by the problems in Europe spilling over into the U.S.
If we look at the retail sales reports from Europe and the U.S., the sales figures are forecasting weakness. Below are the Retail Sales numbers from the U.S. Census Bureau regarding April and May of 2012.
Click to enlarge: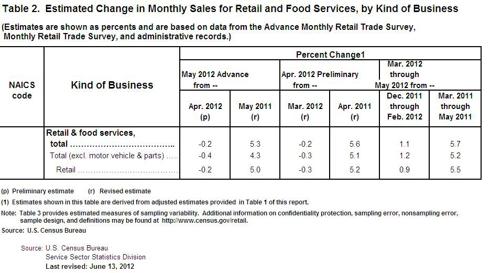 We can see that while the year over year change in sales remains healthy, the month over month change indicates that the consumer has been retrenching given the uncertainty surrounding the global markets. Retail sales appear to be flattening out as we move forward in 2012, indicating a topping pattern.
Depending on who wins the elections in November, the landscape for decision making on hiring and spending may look completely different. Congress is unwilling to address the fiscal cliff that is coming, for good or bad. This means that businesses and consumers are holding back until the landscape becomes more certain.
Over in Europe, the story is the same. As seen in the chart below, the volume of retail trade numbers has been grinding lower on a month-to-month basis over the past five months.
Click to enlarge:

Retailers are finding the global landscape difficult to navigate with uncertainty pervading the landscape. Macy's (NYSE:M) has cut its profit outlook for the second-quarter and full-year, indicating a slow retail climate at the high end retail level. Even Wall Street favorite Bed Bath & Beyond (NASDAQ:BBBY) has fallen prey to a slower economy. Appliance and electronics retailer Hhgregg (NYSE:HGG) added to the pile, indicating a weak operating environment.
In a second sign of weakness, Fedex Corp. (NYSE:FDX) has lowered estimates on slowing economic growth, not boding well for Internet retailers like Amazon.com (NASDAQ:AMZN). Across the board, stalwarts in the Consumer Non-Durables, Retail, and Transportation categories are stumbling as the landscape in Europe and the U.S. fills with uncertainty.
Investors holding retail stocks may want to take a closer look at their portfolios in the coming weeks as retail and consumer data appears to confirm a slowing economy and retrenching consumer. However, sell-offs and earnings warnings do breed opportunity for investors if they can discern value from value traps. Stocks like P&G, sporting a strong 3.7% dividend yield, provides a cushion for investors and a floor under the stock price.
Fedex can be looked at as a proxy for the health of the economy, meaning that once the economic outlook turns for the better, Fedex will be a stock leading the market higher.
Investors holding cash should be looking for beaten down stocks and value plays. While I foresee continued downside in the global markets through the end of the year, buying opportunities will present themselves to investors.
Disclosure: I have no positions in any stocks mentioned, and no plans to initiate any positions within the next 72 hours.
Disclaimer: Communications are intended solely for informational purposes. Statements made should not be construed as an endorsement, either expressed or implied. This article and the author is not responsible for typographic errors or other inaccuracies in the content. This article may not be reproduced without credit or permission from the author. We believe the information contained herein to be accurate and reliable. However, errors may occasionally occur. Therefore, all information and materials are provided "AS IS" without any warranty of any kind. Past results are not indicative of future results.