Investor attention began to shift from global economics to U.S. corporate earnings last week as the first group of reports came in. The numbers, and the market's reaction, were something of a mixed bag. Let's dig into the details.
Perspective
Stocks: The week's trading had a downside bias, with volume building on the way down, before a solid advance on Friday ended trading on a positive note. The S&P 500 had come down to close right on its 50 day moving average Thursday. Friday's trading saw lower volume than the previous three sessions, which is typical for a summer pattern, but the price action was good, with the market closing near the high for the day. By the closing bell, the S&P and Dow had squeezed out small gains for the week, but the NASDAQ and Russell 2000 finished in the red. All four indexes ended the week above their 50 day MAs.
Sector action had a mostly defensive look, as consumer staples, healthcare and utilities were on the positive side, while tech, industrials, and consumer discretionary were on the negative side. However the largest gain on the week came from the financials, as two of the large money center banks reported profitable 2nd quarters, even though JP Morgan's (NYSE:JPM) reported trading losses ballooned to nearly three times the size initially estimated. Tech was the weakest group, as several large firms leveraged to the chip and PC cycles warned of soft demand.
Global markets were mostly negative, as eight of our twelve major foreign indexes posted weekly losses. The four winners were all in the greater European area, the largest gainer being Germany's DAX composite, with an advance of nearly 2.3%. Trading in the DAX has been very constructive since the early June low, and demonstrates how investors can benefit by tuning out the noisy headlines, and focusing instead on the market action.
Bonds: Treasury yields slid lower, approaching the levels of early June, before coming back up slightly on Friday's recovery in risk assets. The benchmark ten year note still finished just under 1.5%, while the long bond closed under 2.6%. Corporate yields for investment grade paper also came down, extending the rally yet again, but lower grade yields appeared to be bottoming. Muni yields fell on the week overall, but the action was choppy, as concern came into the market on the news of more municipal bankruptcy filings. A CNBC.com article looked at whether Meredith Whitney's sensational - and dire - forecast for the muni market could be vindicated after all. Aside from this little bit of excitement, it was a relatively quiet week.
Commodities: It was another good week for commodities overall, as each group advanced to some degree. The soaring grains continued to advance, though there was some profit taking, and Friday looked like it may have put in a reversal on both corn and wheat. Oil alternated up and down days, and closed near $87. It touched the 50 day moving average on Friday, backing down before the close. Gold displayed a similar trading pattern, closing under $1,600 and the 50 day.
Currencies: The U.S. Dollar Index continued to advance, testing the support line around 83 each day, before pulling back Friday to end the week nearly unchanged. The euro spent most of the week trading under $1.23. Most of the other major currencies gained modestly against the greenback, with Yen making the largest move at 0.6% for the week.
Outlook
Last week's economic calendar was very light, with a couple of positives: first time unemployment claims came in slightly lower than expectations, and producer prices were slightly positive, when forecasts were negative. As earnings season got underway, attention shifted to the corporate picture. This week brings a number of earnings announcements from blue chips, with a concentration in banks and tech companies. The market's reaction to those earnings could set the tone for the remainder of the summer's trading.
Stocks: U.S. stocks have performed reasonably well since the steep May correction, led by the small caps. Among the major equity indexes, the Russell 2000 had put in the strongest performance from the early June to the Independence Day holiday, advancing over 10% from bottom to top before pulling back to test the 50 day moving average last Friday. This is a positive for the markets overall, but the action has been uneven. We are seeing areas of strength and areas of weakness.
images
In particular I am concerned about the poor action in tech stocks. This is a favorite sector of mine and an area where we have a couple of core holdings. The cautious outlooks from chipmaker AMD and equipment maker Applied Materials (NASDAQ:AMAT) helped to drive tech shares down last week. Next week we will get the earnings reports from both firms, as well as heavyweights Microsoft (NASDAQ:MSFT), Intel (NASDAQ:INTC), and Google (NASDAQ:GOOG). We have recently seen a great deal of weakness in many of these stocks, as well as in IBM, which decisively broke the 200 day moving average last week. They should set the tone for the tech sector going forward, and if we're going to see a turnaround in tech any time soon, next week should make it or break it.
There is more constructive action in the defensive sectors, as well as in a number of the banking stocks. Last week we saw an encouraging earnings report from Wells Fargo (NYSE:WFC), which recorded a double digit increase in revenues; next week they will be joined by a number of money centers and major regional banks. Most importantly, we need to see increasing revenues and interest margins. Last week JP Morgan reported a 5% year over year drop in net interest margin, which seemed to get lost amid the attention paid to the ballooning trading losses. While not keen on the financials in general, I still tend to favor the regional banks over money centers, but in any event you have to stick with quality stocks where the management is improving the business.
Turning to consumer staples, last week we saw P&G (NYSE:PG) make a big move up on heavy volume following news of a large position taken by activist investor Pershing Square. We also saw Kraft Foods (KFT) go to a new year to date high. In previous articles we mentioned health care names such as J&J (NYSE:JNJ) and Merck (NYSE:MRK). They are still acting well, as is Wal-Mart (NYSE:WMT). Some of these stocks are quite extended, so investors need to be careful about entry points, but the broader thesis here is that defensive names are what's working, so that is a good place to look. Even more broadly, value is generally outpacing growth in the market, which is perfectly sensible when the outlook for economic growth is so uncertain, and dividends are in such demand.
Bonds: With yields at or near the bottom on high grade bonds, investors are probably wondering where to go next. I think it's very difficult to make a case for buying at current prices. One area I have written about recently is corporate high yield, which is risky but can deliver cash flows. I have also written in the past about leveraged municipal CEFs, which we also hold in both the income and total return portfolios. In spite of the recent news of cities filing for bankruptcy protection, I continue to like munis, and with no sign of short term rates increasing, continue to like leveraged funds as a vehicle.
While recognizing the risk, we have to generate yield for people to live on, and these are some of my favorite strategies. You have to work for your money in this super-low rate environment. At current prices, a plain vanilla fund like the iShares national (NYSEARCA:MUB) yields slightly under 3%, while a solid levered CEF from the same house, like BlackRock's intermediate duration (NYSE:MUI) yields better than 5%. We have opted for the latter (disclosure - we are long MUI). If short rates begin to rise, this will be problematic for leveraged funds, but short rates is one area the Fed can control, and the Fed has made it clear this won't happen any time soon.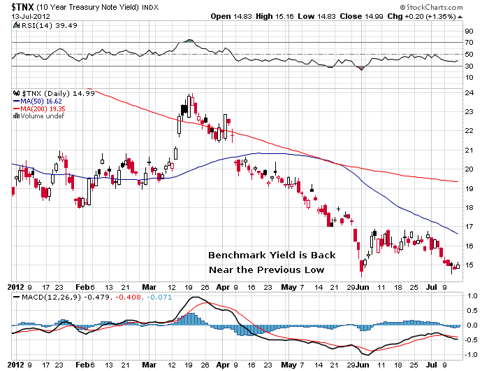 Commodities: The interesting question here is whether the action we have seen in the commodities over the last couple of weeks is the start of a new up trend, or merely a "dead cat" bounce. Given the breadth of participation in the advance off the June bottom, it does seem to me that the rally might have legs, but I would not get too excited about it yet. There is a good deal of macro weakness, and the dollar is moving, so we may not see a great deal of upside from current levels. It seems fairly clear that investors have stepped in to do some bargain hunting recently, and the quick money has been made. While there could be an opportunity to enter speculative long positions here, I am staying on the sidelines.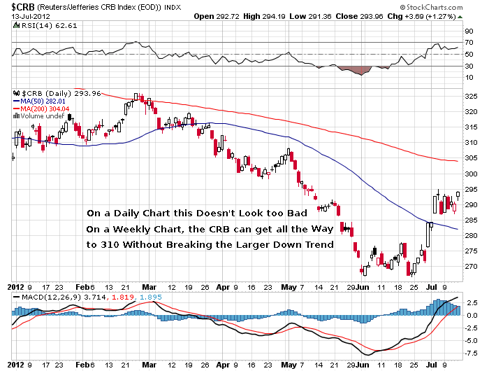 Currencies: The U.S. Dollar Index made another new yearly high last week, but the rate of acceleration to the upside has slowed. Where I previously thought we might see a range on the index between 81 and 83 for a while, it now seems that we could see the dollar trade above that level going forward. Risk asset markets appear to have taken it all in stride. If the dollar continues to move sideways, or pulls back, it would be a positive signal for the stock and commodity markets. Of course much still depends on what happens in Europe, and though that front has been relatively quiet in recent days, there is still plenty of activity going on. The bullish movement in German equities, in particular, is another positive signal for markets.