Kirby Corporation (NYSE:KEX), through its subsidiaries, provides marine transportation and diesel engine services in the United States. It offers marine transportation services, including inland transportation of petrochemicals, black oil products, refined petroleum products, and agricultural chemicals by tank barges; and offshore transportation of dry-bulk cargoes by barge to petrochemical and refining companies.
The company offers aftermarket service for vessels powered by diesel engines utilized in the various inland and offshore marine industries in the marine market; aftermarket service for diesel engines that provide standby, peak, and base load power generation to users of industrial reduction gears and for standby generation components of the nuclear industry in the power generation market.
Raised Guidance
The stock has been streaming higher, with the catalyst being raised guidance on March 17. Kirby now projects profit to exceed 66 cents per share, up from its prior forecast of 57 cents to 62 cents per share for the period. Analysts expect a profit of 60 per share, on average.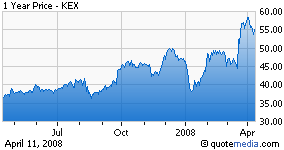 Kirby cited higher-than-expected demand for both its marine transportation and diesel engine services operations. The company also said that it continues to experience improvements in equipment utilization, rates, efficiency and time-charter revenue.
On January 30, KEX announced record net earnings for the fourth quarter ended December 31, 2007 of $34.4 million, or $.64 per share, compared with net earnings of $23.4 million, or $.44 per share, for the 2006 fourth quarter. Kirby's initial published 2007 fourth quarter earnings guidance range was $.57 to $.62 per share, which was revised to exceed $.62 per share on January 14. Consolidated revenues for the 2007 fourth quarter were a record $307.9 million, an increase of 22% over the $251.4 million reported for the 2006 fourth quarter.
"The record fourth quarter marked the 16th consecutive quarter that our earnings exceeded the same quarter of the previous year," said Joe Pyne, Kirby's President and Chief Executive Officer. "Strong demand continued in all of the marine transportation markets Kirby services. Our fleet of tank barges and towboats remained essentially fully utilized and pricing for our services remained consistent with the first nine months of 2007."
Kirby has posted an average surprise of 4.3% over the past four quarters. Five of the nine covering analysts for this year have raised their estimates over the past month. Those estimates have risen 11 cents to $2.75 per share. The stock is valued reasonably with a PEG ratio of 1.2.