Silver Wheaton's (NYSE: SLW) success is well known to investors, having made its mark in pursuit of gold's shiny cousin. Nolan Watson and David Awram were both a part of SLW during its early years. Nolan became the youngest CFO of a multi-billion dollar company listed on the NYSE. It seems that this young man found his niche.
With silver being a by-product of so many mining efforts, the model filled a need in the industry well, offering miners and Silver Wheaton opportunity for profits. The idea gave rise to further streaming efforts. Nolan, along with David, helped launch a new company, Sandstorm Resources, in pursuit of other streaming endeavors.
Sandstorm Metals & Energy (OTCPK:STTYF, SND:TSX-V) spun off of Sandstorm Resources in April, 2010 in an effort to keep the gold pursuits of Sandstorm separate from other opportunities. In effect, Sandstorm Resources divided into Sandstorm Gold (SNDXF.PK, SSL:TSX-V) and Sandstorm Metals & Energy.
At this point the performance of Sandstorm Gold is difficult to gauge. Like SLW, it has low overhead. But will its pursuits result in the same type of performance we've seen from SLW?
The 2011 Annual Report is promising. Here are the highlights.
Gold sales for the three months and year ended December 31, 2011 were 6,611 ounces and 18,516, respectively, representing an increase of 241% and 697% over the comparable periods in 2010.
Operating cash flow for the three months and year ended December 31, 2011 of $7.8 million and $20.7 million respectively, representing an increase of over 350% and 4,300% over the comparable periods in 2010 (cash flow of $1.7 million and $0.5 million for three months and year ended December 31, 2010).
On January 17, 2011, the Company entered into a Gold Stream agreement with Metanor Resources Inc. to purchase 20% of the life of mine gold produced from the Bachelor Lake Mine.
On July 13, 2011, the Company entered into a gold stream agreement with Donner Metals Ltd. ("Donner") via a back-to-back agreement with Sandstorm Metals & Energy Ltd. ("Sandstorm Metals & Energy") to purchase 17.5% of the life of mine gold produced from the Bracemac-McLeod development project (the "Bracemac-McLeod Property") for a per ounce payment equal to the lesser of $350 and the prevailing market price of gold. This transaction highlights the financing synergy between the Company and Sandstorm Metals & Energy as Sandstorm Metals & Energy has concurrently agreed to purchase 17.5% of the life of mine copper from the Bracemac-McLeod Property.
Gold production reached feasibility levels at both the Aurizona Mine and Santa Elena Mine.
Luna released a significant mineral resource update at the Aurizona Mine. Measured and Indicated gold resources now total 78 million tonnes at 1.26 grams per tonne gold or 3.2 million ounces, an increase of 250% from the previous mineral resource estimate published in January 2009. Inferred gold resources now total 15.2 million tonnes at 1.47 grams per tonne gold or 0.7 million ounces, an increase of 79% from the previous resource estimate.
Rambler is now mining and processing ore from its flagship project, the Ming Mine. Commercial production is targeted before the end of fiscal 2012.
On January 12, 2012, Sandstorm entered into a revolving credit agreement with the Bank of Nova Scotia which allows the Company to borrow up to $50 million (the "Revolving Loan"). The Revolving Loan has a term of three years, which is extendable by mutual consent of both parties.
The 1Q 2012 report adds two more highlights.
Record gold sales for the three months ended March 31, 2012 of 7,946 ounces, representing an increase of over 200% over the comparable period in 2011.
Record operating cash flow for the three months ended March 31, 2012 of $9.3 million, representing an increase of 473% over the comparable period in 2011 (cash flow of $1.6 million for the three months ended March 31, 2011).
Their model is fairly simple, requiring minimal staff and low overhead. The major expense is securing the rights to purchase commodities.
Here's how it works:
They agree on an amount that they're willing to pay to accomplish two objectives
Add investment dollars to the project
Secure the right to purchase all or a set percentage of gold mined
Purchase gold as it's made available
Sell gold on the market
By following specific guidelines risks are minimized. From the Q1 2012 report:
The Company is a growth focused company that seeks to acquire gold purchase agreements ("Gold Streams") from companies that have advanced stage development projects or operating mines. In return for making upfront payments to acquire a Gold Stream, Sandstorm receives the right to purchase, at a fixed price per ounce, a percentage of a mine's gold production for the life of the mine. Sandstorm helps other companies in the resource industry grow their businesses, while acquiring attractive assets in the process. The Company is focused on acquiring Gold Streams from mines with low production costs, significant exploration potential and strong management teams. The Company currently has seven Gold Streams.
For instance, they don't enter into projects until they're at an advanced stage of development or already in operation; in other words, no startups. So far they've been able to secure rights to purchase commodities for the life of each of the nine projects they've invested in (a tenth, Two Creek Jurassic B, is part of a larger agreement and only lasts five years). Production costs are examined carefully in order to discern whether or not they're a candidate. Only those who are able to keep production costs low are considered. And they don't stop there. Management is examined as well as ability to expand on current projects.
A fine example of this kind of agreement would be their contact with Donner Metals Ltd., in which they have rights to 17.5% of all gold, for the life of the mine, at a price of $350/oz or the prevailing market price, whichever is least. Their average cash cost per ounce of gold is $428. Sandstorm Gold's 1Q financial report included this encouraging paragraph as well.
Based on existing Gold Stream agreements, forecasted 2012 attributable production is 26,000- 34,000 ounces of gold, increasing to over 50,000 ounces of gold per annum by 2015. This growth is driven by the Company's portfolio of Gold Streams with mines, all of which are either currently producing or expected to commence production by 2013.
Third quarter profits were strong, at just over $4.39 billion (2Q - $2.26b, 1Q - $958 million). And it also appears that the stock has become mature enough to track with gold, as the chart below clearly reveals.
image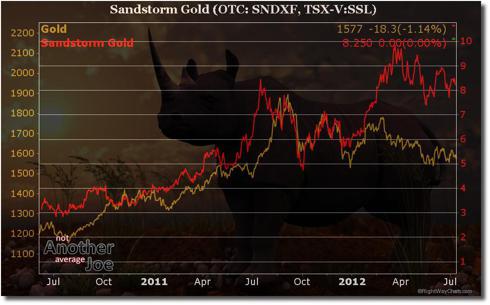 Like Sandstorm Metals & Energy, Sandstorm Gold has no peers. They have contracts with seven companies, five of which are actually producing at this time. Two others, Bachelor Lake (Metanor Resources Inc) and Bracemac-McLeod (Donner) are still in development stages.
Ming only started production just in time to avoid forfeiture of Sandstorm's $20 million investment, plus 8% interest if they hadn't started production before the end of 2011. On December 15 of last year, Sandstorm announced that Ming had begun production. Bachelor Lake is expected to produce an average of 60,000 ounces of gold per year, with production currently underway. Bracemac-McLeod is scheduled to begin production in early 2013.
Though only a couple of years old, Sandstorm Gold seems to have proven the viability of the SLW model in the gold market. In light of its history of tracking positively with gold, including a strong surge as gold lost ground, it'll be interesting to see how it performs over the next few years. As acquisitions increase and Sandstorm's record gains strength, they will clearly gain greater attention from investors.
Again we have a fledgling company. But, again, we have experienced management with a strong track record. And, in this case, the results are already proving that Nolan's vision is compelling. Risk appears exceptionally low, due to low overhead, contractual protection and, perhaps even more importantly, expectations that gold will increase in value over the next few years.
A strong and proven model, growth in spite of flagging gold prices, contracts coming to fruition now, as well as the last two more expected to begin production in the next year, all point to a company that may be on the verge of making its mark in the precious metals markets. The fact that it's internationally diversified only adds to the package. It appears that Nolan and David may have truly gone from silver streaming to streams of gold.
Recommendation? With so many efforts to gain precious metals investment share, from SLV to miners to dealers, the investor is wise to be wary. Of course, you can take delivery or store your metals in a vault, such as with Worldwide Precious Metals Exchange. Or you can invest in a streamer, perhaps realizing greater potential simply because of their safe structure.
Like gold, it is very possible that current lows may never be seen again. We could have another pullback. But, just like gold, such action would appear to offer another opportunity to buy. Currently trading around $8.25, considering current gold prices, historical action of this stock and the proven model coupled with strong contractual protection, I'd recommend investors to get Sandstorm Gold (SNDXF.PK, SSL:TSX-V) under $8.50, taking a stronger position if it dips down below $8. With this model being tried and proven, it might be a buy at $10. In essence, this is a gold play on steroids, so, unless something goes terribly wrong with the company, it would seem to be a buy as long as gold maintains over $500/oz. That's a number even gold bears don't expect to see again.
This is an exciting company. It's still under the radar for many, which only adds to its appeal. Second quarter figures will be out soon. I wait with eager anticipation.
Disclosure: I have no positions in any stocks mentioned, and no plans to initiate any positions within the next 72 hours.