The computer software group, as represented by the SPDR S&P Software & Services ETF ($XSW) is up 5% this year, led mostly by industry giant Microsoft Corp. (MSFT) that is up about 12% YTD. In this article, via an analysis based on the latest available Q1 institutional 13-F filings, we identify the computer software company stocks that are being accumulated and those being distributed by the world's largest fund managers.
These mega fund managers, such as Fidelity Investments, Goldman Sachs (NYSE:GS), BlackRock Inc. (NYSE:BLK), Vanguard Group, and 22 others, manage between $100 billion and over $1 trillion each, and together control about 40% of the assets invested in the U.S. equity markets. Together, these mega fund managers are bullish on the computer software group, adding a net $5.18 billion in Q1 to their $212.08 billion prior quarter position in the group. However, overall they are still under-weight the group by a factor of 0.7; that is, taken together, the 25 mega funds have invested 3.2% of their assets in the group, less than the 4.8% weighting of the computer software group in the overall market (for more general information on these mega funds, please look at the end of the article).
The following are the computer software companies that these mega fund managers are most bullish about (our coverage of the group for the prior quarter can be found here):
Microsoft Corp. : MSFT is the world's leading software company. It develops operating systems, business software and other applications for servers, PCs and intelligent devices. Mega funds together added a net 123.52 million shares in Q1 to their 2.71 billion share prior quarter position in the company, and taken together mega funds held $81.58 billion or 33.7% of the outstanding shares.
The top buyer was mutual fund powerhouse Fidelity Investments, with $555 billion in 13-F assets, that purchased 100.11 million shares. Other large mega fund purchasers included Wellington Management (25.32 million shares), one of the largest private independent investment management companies in the world, with $634 billion in assets under management, and Vanguard Group (14.90 million shares), with $1.7 trillion in assets under management. Overall, institutional investors added 108.3 million shares to their 5.22 billion share prior quarter position.
MSFT stock, a favorite among the value crowd, is undervalued, trading at a steep discount at 9-10 forward P/E and 3.5 P/B compared to both its own historical P/E range as well as averages of 35.4 and 4.4 for its peers in the computer software group. The stock has mostly languished in the mid-$20s to mid-$30's trading range for over a decade now, while earnings just over the last five years have doubled, and are projected to continue rising at a modest 7.7% annual rate from $2.64 in 2011 to $3.06 in 2013.
The stock after a long-time is beginning to show some life as earnings keep rising, making the valuation appear even more so reasonable, despite concerns around the ability of the company to transfer its dominance from the desktop to the emerging popularity of mobile devices for computing tasks. Meanwhile, the company continues to dominate the desktop market, is one of the largest providers of gaming hardware, its Bing search engine is increasing its market share, and the new Windows 8 operating system looks well positioned to challenge Google and Apple's dominance of the mobile OS market.
Technically, the stock has formed a good multi-year base, and is forming a nice consolidation at the top range between $28-$32, and a break-out from this range could be handsomely rewarded. Wall Street analysts are bullish on the company, putting a mean price target of $36, well above current prices in the $29 range.
Other computer software companies that mega fund managers are bullish about include:
The following are computer software companies that mega funds are bearish about (see Table):
Solera Holdings (SLH), that is a provider of automobile insurance claims processing software and services to the insurance and collision repair industries, in which mega funds together cut a net 1.15 million shares from their 31.09 million share prior quarter position in the company; and
SAP AG (SAP), that is a leading German developer of collaborative e-business solutions for enterprise markets worldwide, in which mega funds together cut a net 0.63 million shares from their 11.82 million share prior quarter position in the company.
Furthermore, the following are additional computer software companies that are among the top holdings of mega funds in the group (see Table):
VeriSign Inc. (VRSN) is a leading provider of digital security products and services to website hosts, enterprises and e-Commerce service providers, in which mega funds together hold 64.67 million or 40.9% of the outstanding shares; and
Tibco Software (TIBX), that provides business application and database integration, process automation, management and optimization software, in which mega funds together hold 66.08 million or 40.1% of the outstanding shares.
Table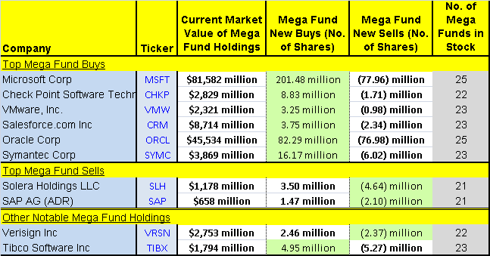 General Methodology and Background Information: The latest available institutional 13-F filings of the largest 25 mega hedge fund and mutual fund managers were analyzed to determine their capital allocation among different industry groupings, and to determine their favorite picks and pans in each group. These mega fund managers number less than one percent of all funds and yet they control almost half of the U.S. equity discretionary fund assets. The argument is that mega institutional investors have the resources and the access to information, knowledge and expertise to conduct extensive due diligence in informing their investment decisions. When mega Institutional Investors invest and maybe even converge on a specific investment idea, the idea deserves consideration for further investigation. The savvy investor may then leverage this information either as a starting point to conduct his own due diligence.
This article is part of a series on institutional holdings in various industry groups and sectors, and other articles in the series for this and prior quarters can be accessed from our author page.
Disclosure: I have no positions in any stocks mentioned, and no plans to initiate any positions within the next 72 hours.
Disclaimer: Material presented here is for informational purposes only. Nothing in this article should be taken as a solicitation to purchase or sell securities. Before buying or selling any stock you should do your own research and reach your own conclusion. Further, these are our 'opinions' and we may be wrong. We may have positions in securities mentioned in this article. You should take this into consideration before acting on any advice given in this article. If this makes you uncomfortable, then do not listen to our thoughts and opinions. The contents of this article do not take into consideration your individual investment objectives so consult with your own financial adviser before making an investment decision. Investing includes certain risks including loss of principal.