Never heard of The Buckle, Inc (NYSE:BKE)? Not many people have, even though the Nebraska–based retailer of medium- priced casual apparel, footwear and accessories is crushing same store sale estimates the way kids crack pumpkins on Halloween. The Buckle, which has posted double digit top line growth in a battered economy, operates 371 stores in 38 states and is fetching roughly a market multiple even though it is growing earnings much faster than the overall market, paying a higher yield, and coughing up an 18% return on capital: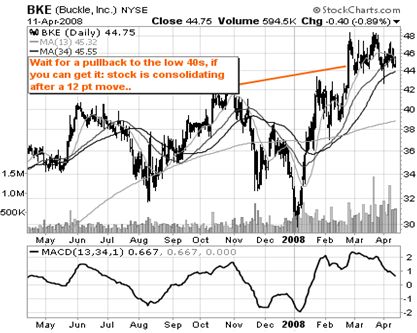 Earlier this month, teen retailers posted an average 5.2% comp decline in March; BKE stood out like a nun in a brothel when it posted a 20.9% increase (more than double the Street's estimate). Part of the company's under-the-radar appeal is due to its limited sell side coverage: only 3 analysts follow the company, which gets 45% of its sales from denim, a concept that has for done quite well with investors if you consider companies like Zumiez (NASDAQ:ZUMZ) and True Religion (NASDAQ:TRLG).
There are plenty of risks, naturally: BKE has no economic moat to protect it once its concept fades. Furthermore, its unit expansion growth is well behind its revenue growth, which has some growth investors wondering what the next leg of the story will be. Nevertheless, the company is firing on all cylinders in just about every retail metric that matters (March saw an 8% increase in transactions, a 1% gain in units per transaction and a 4% improvement in average pricing) and the buy side is weakly familiar with the story: management with skin in the game, above average returns on capital, and an excellent record of crushing estimates. On top of that, it's paying a 2.2% dividend.
Unlike competitors The Gap (NYSE:GPS) and Abercrombie (AFN), the company relies heavily on brand-name clothing, which accounts for about two-thirds of sales (the rest comes from private labels) and mitigates the risks of not knowing precisely what its fickle customers want. BKE is moving into high traffic shopping malls as well as moving "down market" to appeal to the younger set -- children ages 8 to 15 -- with apparel that can only be purchased online. The company plans to open about 20 new stores this year, suggesting that BKE could have as many as 500 units operating by 2012. Higher transaction volume and the right mix of fashion and pricing are driving above average comp growth and margins; on the last call, management asserted that it's getting more frequent visits from its regular shoppers and that has been driving the increase in transaction volume.
The increasing wealth and spending power of Generation Y is a story plenty of investors are looking to get in front of: niche specialty stores put a lot of money behind efforts aimed at taking a larger percentage of teen disposable income. The best players define a unique and portray a certain lifestyle. BKE looks like its resonating with its customers' needs flawlessly for now and there should be more institutional interest in the name by the summer, we think – we recommend that you, at the very least, put this stock on the backburner. 18.5x P/E to our FY 2009 $2.85 number gets us to $52/share and would welcome a pullback to strengthen the risk/reward.
Disclosure: Author has no position in BKE