By: Brendan Gilmartin
Overview
Bank of America (BAC) is scheduled to report 2Q 2012 earnings before the bell on Wednesday, July 18. The results are typically released at 7:00 a.m. EST with a conference call scheduled to follow at 8:30 a.m. Bank of America is a Dow component with broad market influence and therefore could have a heavy impact on the index futures and other key market gauges. Note that Bank of America is the last of the major banking institutions to report earnings for the recent quarter.

Outliers & Strategy
Key measures:
Bank of America is expected to post EPS of $0.14 in the 1Q 2012 period (range is $0.03 - $0.23). Revenues are seen rising to $22.97 bln (Source: Yahoo! Finance).
Revenues: Revenues are the next critical measure after EPS.
At a recent $7.82, Bank of America shares are trading at a steep discount to Tangible Book Value of $12.87 (as of 03/31/2012).
Recent News
07/11: Bank of America declared a regular quarterly cash dividend of $0.01 per share.
06/28: According to a report on Reuters.com, Citigroup cut estimates and targets on several large-cap U.S. banks, based on concerns in the Euro-Zone, widening credit spreads, and declining equity and commodity prices. As part of the call, Citi cut its price target on Bank of America from $9 to $8.
06/21: Moody's announced it lowered the long-term senior rating on Bank of America from Baa1 to Baa2 with a Negative outlook, based on increased risk and volatility tied to capital markets activities as well as the operating environment in Europe.
06/18: Bank of America and others could continue to face downward pressure from lower net interest margins, according to a report from Evercore on Barron's Online. The firm cited a flat yield curve and low rate environment as negative factors.
06/12: Director Charles Gifford purchased 482,794 shares of Bank of America for an avg. $7.36, according to an SEC Form 4 filing.

Technical Review
Bank of America shares are up more than 16% from the May 21 intraday low of $6.72. Friday's rally helped push the shares back toward the 20-Day SMA near $7.75, setting up for a possible re-test of resistance at $8.25 - a level at which the stock has failed on several instances going back to this past April. Should earnings disappoint, looking for an initial re-test of support at the 50-Day SMA near $ 7.50, with downside risk to $7.25 - coinciding with the 200-Day SMA. (Chart courtesy of StockCharts.com)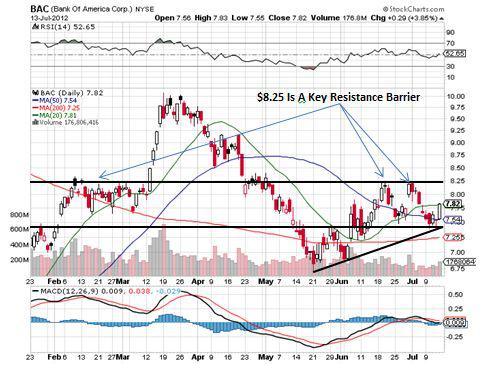 Summary
Despite the recent negativity surrounding the banking sector, stemming from the impact of the European debt crisis, a weaker U.S. macro backdrop, and declining capital markets activity, Bank of America shares have held up fairly well. The shares appear to be supported by evidence of a bottoming in the domestic market, recent insider purchases, solid results from its peers, and a $5 bln stake held by renowned investor Warren Buffett. Recently, Mr. Buffett told Bloomberg Television that Bank of America CEO Brian Moynihan is doing all the right things to push the institution back toward basic banking. So long as results on Wednesday (7/18) top forecasts, look for the shares to make a run back toward key resistance at $8.25.
DISCLAIMER: By using this report, you acknowledge that Selerity, Inc. is in no way liable for losses or gains arising out of commentary, analysis, and or data in this report. Your investment decisions and recommendations are made entirely at your discretion. Selerity does not own securities in companies that they write about, is not an investment adviser, and the content contained herein is not an endorsement to buy or sell any securities. No content published as part of this report constitutes a recommendation that any particular investment, security, portfolio of securities, transaction or investment strategy is suitable for any specific person.
Disclosure: I have no positions in any stocks mentioned, and no plans to initiate any positions within the next 72 hours.