This early Monday I want to focus on: What are the charts and the chat boards saying about some biotech stock favorites going for under $5/share? These low-flyers can be viewed as incredibly risky, but have also been bucking the overall bearish market of late with rewarding runs. To start the week, I am looking at Lexicon Pharmaceuticals, Inc. (NASDAQ:LXRX), Zalicus Inc. (ZLCS), Antares Pharma Inc (NASDAQ:ATRS), Astex Pharmaceuticals, Inc. (NASDAQ:ASTX), and high-risk iBio, Inc. (NYSEMKT:IBIO).
Lexicon Pharmaceuticals, Inc.
Since from under $2/share when I first called Lexicon, it has been on a lucrative rise. I hope some of you have considered ringing the register. I have read some expect Lexicon to break $4/share, but I think it has to retrace at some point. Irrespective, the chart becomes difficult because runs like this don't last forever. Nevertheless, day-traders may want to jump in and jump out.
Click to enlarge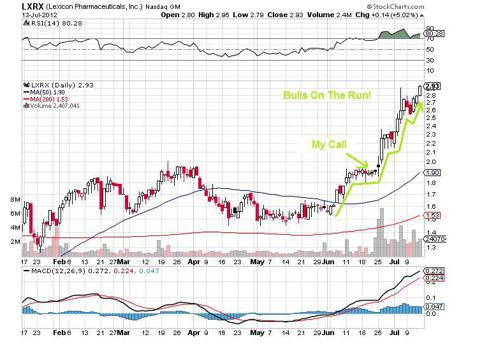 Zalicus Inc.

Weeks ago, Zalicus was a great favorite as it surged from under $0.80/share to a fleeting high at $1.60/share, before quickly settling down into the low $1.20 range. On Friday, when the market was bullish, Zalicus sank to $1.15/share. Despite chat board rumors that a bullish buyer was sinking millions into buying shares, strangely the announcement of the $15M Wedbush fund-raising is yet to be revealed. The prolonged delay probably has had some downward pressure on the share price.
I also think the price could lag because the results of Synavive phase 2B clinical trial won't be revealed until September, if not October, and the rumor that it will be August contradicts corporate statements. What Zalicus needs is a near-term catalyst to regain its sea-legs: Prednisporin going into Phase III and/or the 32 mg version of Exalgo would do nicely. Day-traders should wait before reentering this stock. Long-term holders will continue to dream of $3/share.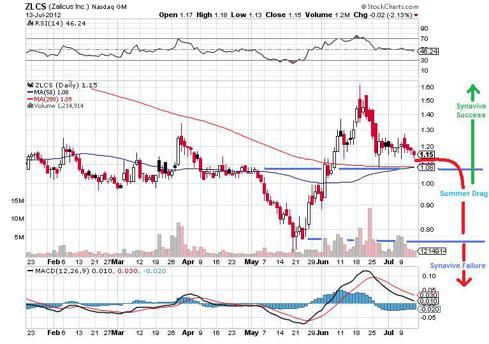 Antares Pharma Inc

I am entertained by the chat room talk on Antares over the weekend. 'Shorts' seem to be flooding the street with talk that Antares has had its day and that even long-terms are ringing the register and getting out. It actually makes me laugh. I think the 'Shorts' are getting very nervous because another near-break-even Q2 could be the trigger for institutions waiting to get in over $5/share.
Antares has been hitting heavy resistance above $5/share, but that shouldn't surprise anyone. Long-termers aren't going anywhere because the majority of them are in Antares for double digits. I myself have set a new target for $10/share by year-end. The situation here is one meaty news release from Antares is going to send this share price heading towards $7/share and I don't want to be out on that run. If news comes out this week, look for Antares to set a new high. What I see is bullish reloading signifying that on news, Antares could experience an even greater break-out.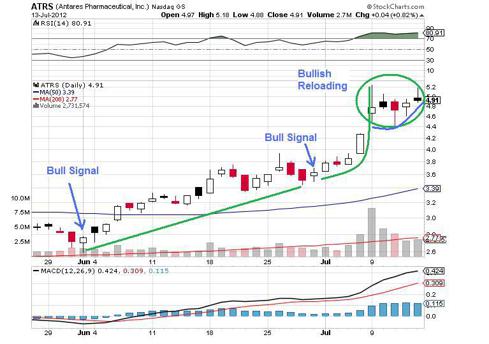 Astex Pharmaceuticals, Inc.
Here in 2012, I think Astex is heading back above $3/share. I called a 'Strong Buy' when the stock was below $2/share. On Friday's close, it was going for $2.25/share. When Astex breaks $3/share, many day-traders will wish they got in here and now. I venture this is also a great entry point for those who favor a long-term hold. Astex is flush with cash and Dacogen revenues continue. I don't see any downside here unless the overall market crushes the stock. Instead I see a nice bullish flag formation retracing to break out.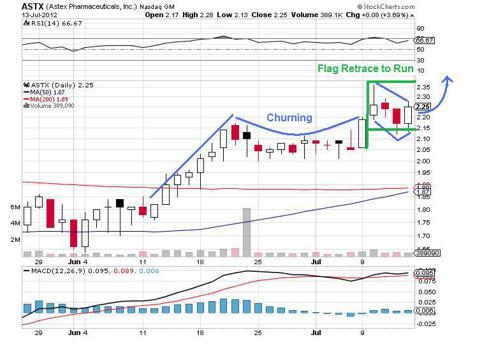 iBio, Inc.

A very high-risk biotech currently dipped under $1/share, I see a technical reason for a quick 20%-30% return. However, the risk of the stock going nowhere or falling lower must be calculated into how much the investor is willing to risk and potentially lose. That stated, I see bullish signs here and if enough traders come back it, a savvy investor might score big win. Certainly, positive news from iBio could light a fire under the stock. I tend to think it has bottomed. This is my most risky pick, but so was Zalicus when it was in the same range and suddenly popped as high as $1.60/share.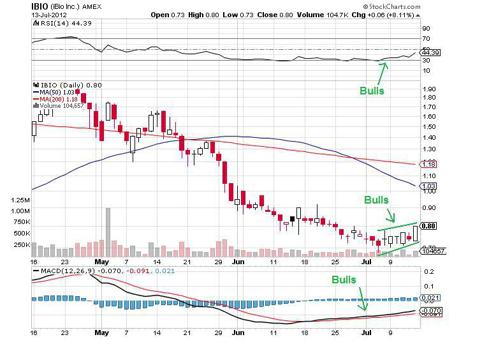 Wrap-Up
iBio represents the highest return at the highest risk. After iBio, Zalicus represents a stock retracing, but could also surprise investors in a bullish direction if investors receive news on an expected catalyst like Prednisporin. If this is the week for Antares news, then look for the stock to head towards $7/share. Astex represents a great growth opportunity. Finally, how far Lexicon can run with the bulls is yet to be seen, but it's certainly a hot biotech of late.
Disclosure: I am long ATRS.
Additional disclosure: Investors buy and/or sell at their own risk. I declare that I may day-trade any stock at any time referenced in this article. For me 'long' is until I sell. I do not 'short' stocks.