On July 9, I restarted the series of Dow Model articles I had left off for about a year. I had written it on July 5, when we were at Dow 12897. The bias was to the downside, which I confirmed on my Instablog of July 10 at 2:30, when we were at 12670. We hit an intraday low of 12496 on July 12, pretty close to my downside target of 12544. Indeed, on an S&P basis, while we reached 1328 intraday, my Fibonacci support of 1332 was confirmed - so far.
The move felt fairly homogeneous but once again, it was not. The Dow closes on Friday at 12777, and is down 0.96% since July 5. However, while the average of the individual components return is 0.1%, the standard deviation is 3.13%. Of particular note in terms of relative performance are:
The 5 leaders: Procter and Gamble (NYSE:PG) up a whopping 7% after dropping big last month on a cautious outlook (EPS due on 8/3 bmo), JPMorgan (NYSE:JPM), up 5.5% despite a bigger than expected trading loss, Merck (NYSE:MRK) up 5.3% because of hopeful phase III results from its osteoporosis drug odanacatib, McDonald's (NYSE:MCD) up 4.6% (EPS due 7/23 bmo), and Wal-Mart (NYSE:WMT) 4.0%.
The 5 losers: Hewlett (NYSE:HPQ) down 5.2% on continued weak PC demand, Alcoa (NYSE:AA) down 4.8% on weak earnings; Caterpillar (NYSE:CAT) down 4.4%, for the same reason plus the strong dollar, Intel (NASDAQ:INTC) down 3.6%, and IBM (NYSE:IBM) down 3.4% on expected European weakness in the financial vertical (EPS due 7/18 amc).
As a result, I have revised 19 trading ranges down, 8 up, and only 3 are unchanged : Verizon (NYSE:VZ), Disney (NYSE:DIS) and Bank of America (NYSE:BAC). The momentum changes have impacted our two ratios negatively. The MAC (3-9 day exponential moving average) goes from 2.37 to 2.17, a slight loss of momentum, and AA (not to be confused with Alcoa, this is a modified RSI Oscillator) goes from 2.37 to 2.43, slightly more topish.
Net net, the overall trading range moves downwards by some 100 points, from 12544-13143 to 12437-13041, and the Overbought/Oversold ration (OB/OS) moves up from 0.54 to 0.58.
This would indicate further risk to the downside, but as last Friday demonstrated, volatility is still high, and some stocks seem to be reacting well to bad news. So, let me show you how the Model can be perverted, at times, much like the Invisible Hand... It cannot anticipate breakouts. Clearly, if some of the bad news is priced in, like Procter or JPMorgan would seem to indicate, we can expect more sudden moves to the upside. This, actually, may be the reason why the OB/OS is so high - a number of stocks are getting closer to resistance. What needs to be watched is how many break it, much like the inverse scenario of last week.
Certainly, if we look at the overall Dow, 13000 seems like where the momentum is going. On the S&P, this would take us to 1385. I am positioning for such a breakout, but I'll be watching...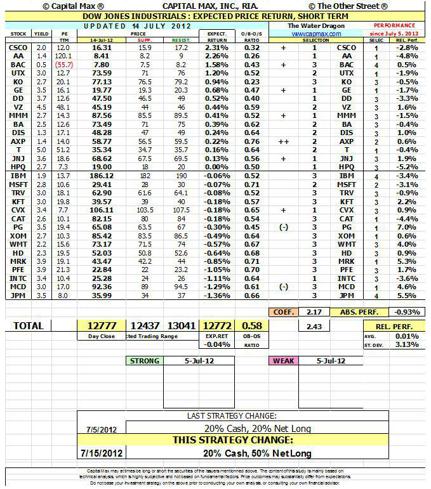 Disclosure: I am long AGM, EXH, EXTR, FIATY.PK, GVA, IMAX, IO, JOE, MXWL, ODP, PHM, PIKE, SANM, SLM, TOL, URS, WCC, WSBC.