MCG Capital (NASDAQ:MCGC), one of the oldest business development companies, is in a fight for survival. Last summer the stock was trading at $13-$14 a share. Today, MCGC is at a 52 week low of $7.37, about $5 a share below its NAV, which suggests the market expects over $300 million in write-offs on an investment portfolio of $1.575 billion Ironically, the company has already announced its first quarter dividend of 44 cents a share in 2008 and has reiterated guidance of $1.76 in distributions for the whole year. This calculates out to a current yield of 24%. Skeptics will say Mr. Market is projecting either a huge dividend roll-back or bankruptcy.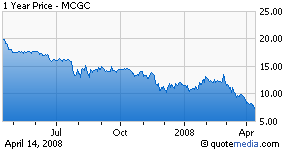 Rights Offering Status
What's more, MCGC is in the midst of a Rights Offering, which ends next week. When the Offering was launched, the stock price was at $9.60, and MCGC was projecting that the subscription price of 88% of the stock price (and after deducting out expenses) would bring in $77 million from 9.5 million shares. There are a number of BDCs with rights offerings in the market, and MCGC's ambitions for capital-raising were relatively modest: adding 14% to the current share count. This would be enough to pay down some debt and take advantage of higher-yielding investment opportunities in this cash constrained lending market. With the stock price headed down actual proceeds may be substantially off the Company's initial goals. Maybe MCGC will pull the offering. We don't know, but we suspect not.
Chance to Rethink
Previously we had advised staying away from MCGC because our concerns about the heavy reliance on non-cash income, and questionable credit quality. However, we used the opportunity of the Rights Offering and the availability of a Prospectus to have a new look at MCGC to determine if a change of opinion was warranted. Unfortunately, MCGC has a complex balance sheet and an idiosyncratic investment philosophy, which makes for turgid reading. What's more, there are a number of unresolved issues which have to be faced for which there are no easy answers. After many hours of analysis we came away surprisingly bullish on MCGC (at this price anyway) , much to our surprise. Nonetheless, there are a host of matters to worry about, which is where we'll start.
Liquidity: There's no doubt that we have to question whether the company will have enough financing in hand in 2008 to continue business as usual. Management has managed to over-leverage the company. At year end, assets covered borrowings by only 208%, versus the BDC minimum of 200%. In effect MCGC was tapped out at year end. What's more, three of MCGC's six different financing facilities are up for renewal this year. At any other time this would not be a concern. In today's environment, it's white-knuckle time.
Merrill Repayment: The problems began a couple of weeks ago when Merrill Lynch (MEL) did not renew its $200mn "Commercial Loan Trust-2", which was a vehicle established to warehouse loan assets for a prospective CLO ("Collateralized Loan Obligation"). With the market for securitizations non-existent, Merrill gave MCGC till August to pay back all outstandings on the line: $136mn at 12/31/2007. As of February the outstandings were already down to $111mn. Will MCGC be able to pay off Merrill? For the reasons given below, it is not a slam-dunk.
Good Bank/Bad Bank: MCGC has set-up a complicated set of financing arrangements which is tying its hands at a difficult time. Essentially, MCGC has a good bank-bad bank structure. In regards to the former, the Company has established three long-term securitizations, which have been stuffed with virtually all its highest-quality, current paying senior and subordinated loans to unaffiliated companies. These have been set up in bankruptcy-proof subsidiaries with MCGC supplying the necessary equity contribution. MCGC has managed to establish very favorable long term financing. In most cases the advances under the securitizations are covered only by 125% of assets. What's more, financing is at a small premium over LIBOR, which ensures MCGC is making a very healthy net interest margin. We calculate that there are $861mn of high quality loans pledged to the Good Bank securitizations (including $158mn to Merrill Lynch). The problem,though, from a liquidity standpoint is that MCGC cannot simply sell off any loan to create funds to pay Merrill. Assets are earmarked by securitization and the proceeds from the sale of one securitization cannot be used to pay down the obligations in another.
Glass Half Full: The good news here is that the Merrill assets are all performing. Management has hinted that several prospective lenders have been approached to refinance the loans, and term sheets have been received. Perhaps MCGC will have to overcollateralize at a higher level than before to get a deal done, or pay a higher margin.
Funding Trust Renewal: Then there is the annual renewal of the MCG Commercial Funding Trust, a $250mn warehouse facility, to worry about in November. Again, we're optimistic about renewal because advance rates on this facility are conservative (70% advances on senior loans and just 10% on non-senior investments). Anyway, MCGC is only half drawn on this facility, and all the loans in portfolio are current.
Cautious Confidence: We're cautiously optimistic that MCGC will be able to maintain its long term securitizations. Besides the good chance that a new lender can be found to pay off Merrill (or the loans can be sold), and the probability that the Funding Trust will renew, there is the $60mn-$70mn from the Rights Offering to count on as a backstop.
Bad Bank: The rest of MCGC's assets are unpledged: $714mn or 45% of the total. These assets are financed by the company's equity and unsecured Term Debt and Revolver, which total $105mn. You'd think $700mn plus of assets would be plenty and MCGC could readily sell some of these assets (just one-seventh) to pay off Merrill. Unfortunately, it won't be so easy because the unpledged assets are riddled with credit problems and most are illiquid. First, only $150mn of the assets are in the form of loans, the rest is Preferred and common equity. Of the debt, two-thirds are to companies who are not paying interest. Of the Preferred, another $150mn is non-performing (mostly in the same companies as the debt). Plus, there's the great unknown of the $151mn in Broadview Networks. The portfolio company is trying to go public, but there's no guarantee of success. Should Broadview falter (it is loss making and heavily indebted), of the $714mn in unpledged assets, only $314mn is problem free, and of that only 16% are loan assets. The rest are Preferred and common which mainly pay accrued dividends rather than cash. This explains why we call this the Bad Bank of MCGC.
HVB Line of Credit: In that context we have to worry if HVB will renew its $130mn Unsecured Revolver due in June. The bank group, which HVB leads, may require collateral or higher pricing or tighter covenants (or all). We're reasonably optimistic the renewal will proceed (even though we have no special knowledge) if only because the line was just increased in January of this year from $100mn to $130mn. Not that much has changed in the past 3 months except the general market miasma.
Earnings Outlook: Of course, should MCGC barely get by, will the company be able to maintain its current levels of profitabillity ? Some analysts are worried about the imminent IPO of Broadview, which will deprive MCGC of $30mn in annual revenue (or 16% of the 2007 total). MCGC will own the public stock of Broadview, but will lose the huge Preferred dividend income which the investment currently pays. We used to be concerned but now less so. We recognize that MCGC effectively does not count the proceeds from its PIK and dividend income in calculating its Taxable Income. It is the latter which is used to determine the dividend. In 2007, MCGC's GAAP Operating Income was $102mn. But if you stripped out PIK and accrued dividend income, the number drops to $53mn. However, MCGC had $24mn in distributions from taxable subsidiaries and $17mn in interest income on loans counted as non-accruing in GAAP, and realized capital gains of $22mn. Along with miscellaneous other adjustments, Taxable Income was $106mn without any contribution from non-cash income. This came to $1.7 a share, which is equal to the dividend for the year. Should Broadview go public, GAAP revenues will drop but not Taxable Income. What's more, MCGC will ultimately have a far more liquid and valuable asset in its shares of Broadview stock, which will allow capital gain realizations down the road.
Is the Dividend Safe?: This is not to say that 2008 Taxable Earnings are in the bag. Last year, MCGC was aided by realized gains,which look unlikely in 2008 (except for Broadview). Also, the cash realization of PIK and dividend income is very lumpy from year to year, as are the distributions from taxable subsidiaries and interest income on non-accrual loans. Still, management has reassured investors on two occasions that $1.76 is the projected number for 2008. Even if MCGC falls short it has always maintained the projected dividend in the past.
Creditworthiness: At the end of the day all of MCGC's current troubles can be traced back to its credit quality problems. Three years ago, management made an ill advised push to increase its number of Control Investments. At the end of 2005, MCGC had $337mn in Control Investments. Two years later the commitment had risen to $823mn, a $486mn increase. Over the same 24 months total investment assets only increased by $458mn as non-affiliate loans dropped. MCGC's theory was that by being a onestop sponsor the company could achieve superior returns. As many other lenders-turned-sponsors have learned, making a long-term profit is not easy in the buy-out world. Over the past 5 years, MCGC has recognized ($49mn) in net realized losses on Control investments. Moreover, much of the remaining Control portfolio has serious problems. Here's a brief overview.
How Bad Is It? Of the 20 Control and Affiliate (5%-25% ownership) investments with outstanding balances of $5mn or more, 4 companies are not paying interest and dividends and two are on our Watch List. That's 30% of the portfolio that's in some sort of trouble. Most notably, MCGC has managed to plow $141mn (!) into Cleartel Communications over the years (including $20mn in 2007) and has already written off $115mn, with no end in sight. Plus, there are 3 other major non-accruing loans in portfolio: including TNR Entertainment ($27mn), Working Mother ($12mn) and National Product Services ($19mn) , which shows as non-accruing in one schedule of the Prospectus -F 42-and current in another-Page 90). Then one has to add in $14mn of non-performing Preferred stock and common. If we throw in the assets on the two Watch List companies (alerted by MCGC's write-offs), there's another $47mn at risk. All of this adds up to $246mn or 30% of Control assets. We calculate that if all the non-accruing companies were paying on schedule GAAP Income would be $18.5mn higher, or nearly 20%. All these numbers are worse if Broadview, the biggest investment in the portfolio, should slip into the troubled company zone.
Non-Affiliate Comparison: Compare the above performance with the dollar volume of non-performing companies in MCGC's "Non-Affiliate investments". Out of $681mn in total assets, $13mn were non-performing: just under 2%.
Valuable Assets: Let's look at the portfolio another way to determine what it's worth. We calculate that there are $675mn of performing Non Affiliate assets and $577mn of Control/Affiliate assets, for a total of $1.252bn. This suggests possible write-offs of up to $323mn, or about $5 a share, which is where Mr. Market has the stock today. We also estimate these "good" assets should generate $150mn plus a year in interest and dividend income. Assuming another $10mn in other income and interest expense of $40mn and management expenses of $30mn, Net Investment Income would be $80mn, or just under $1.25 a share.
2008 Outlook: MCGC's management points out that they've successfully been through 3 credit cycles, which is not to be sneezed at. We're putting our head in the noose and guessing that in 2008 MCGC will complete its Rights Offering, retain its existing lines of credit (maybe adding some new sources) and marginally increase its total assets. Non performing debt and preferred, including Cleartel, will remain high but not get worse. Taxable Earnings will drop, but the dividend will be maintained at or near $1.76. If we're right, MCGC is a buy. If we're wrong, we're still confident the "good" assets have real value and the downside is limited.
Long-Term Outlook: However for there to be any upside in the long run, MCGC will have to continue to diversify its portfolio(underway) , de-emphasize its Control investments (unlikely at this time) , take Broadview public (possible) and make substantial headway in turning round Cleartel (too early to tell). At the moment, with the Company fighting for its survival, any upside seems a long way off.
Disclosure: Author is long MCGC.